The month of November has not been kind to the Detroit Red Wings.
After winning four of the final three games in October, the Red Wings have won just two games, as we have passed the halfway mark in November.
Luckily for Detroit, three of those losses were in overtime or shootouts, so the Red Wings managed to collect a few points and find themselves in fourth place in the Atlantic Division with 21 points in 17 games.
Besides the normal power-play issues, the Red Wings haven't been consistent from game to game. They started off November with a disappointing shootout loss to the lowly Buffalo Sabres, a loss to Ottawa and an overtime loss to the New York Rangers.
A win against the New Jersey Devils broke the three-game losing streak, but they couldn't keep that momentum going in a shootout loss to Tampa Bay.
Then, it finally looked like the Red Wings might be developing some sort of consistency when they played their best game of the season in a win against former Central Division rival Chicago.
However, those hopes quickly disappeared in a sloppy loss to backup goalie Dustin Tokarski and the Montreal Canadiens.
Secondary Scoring Hard to Come By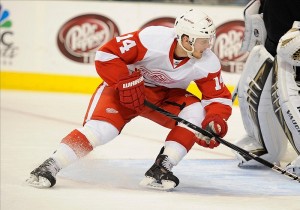 One of the biggest reasons for the Red Wings lack of consistency is the lack of secondary scoring. Riley Sheahan, who had 24 points in 42 games last year, has just three points in November and six on the year.
Justin Abdelkader had a big October with nine points in 10 points, but so far in November, has just two assists.
On the contrary, Tomas Tatar, who had a slow October with just two goals, has picked it up in November with five points in seven games. He and Johan Franzen are about the only two who can score on a somewhat consistent basis these days.
Gustav Nyquist appeared to be back to his scoring ways when the 2014-15 season started, but he has just two points — both coming in one game — in the month of November, and he's still shooting 20.5 percent on the season.
His high shooting percentage coupled with the fact he has scored one goal in the past seven games tells me one thing: he isn't shooting the puck enough.
More Shots
In fact, the team as a whole should be shooting a lot more. Taking a look at the games played this month, and one would assume they are getting plenty of chances, as the Red Wings have had 30 or more shots in 4 of 7 games.
However, the team's tendency to pass first and shoot later means they could be frequently getting close to the 40-shot mark each night.
Especially against Montreal on Sunday, Detroit tried to be too cute with its passes and went for the highlight reel play when a shot on goal would have most likely yielded a better result.
You can't score if you don't shoot the puck. Make the goalie work for it, especially a backup goalie in Tokarski who doesn't see a lot of playing time. If you get bodies in front and get pucks at the net, it's usually a recipe for success. It's better than the alternative of losing the puck in the offensive zone without getting a scoring chance.
Looking Ahead
The Red Wings' next three games will be on the road at Columbus, at Winnipeg and at Toronto. On paper, they should win all three, but it's also three straight road games, and Detroit might be a bit burned out by Saturday night in Toronto.
After that, six of their next seven games are at Joe Louis Arena, where the team has had most of their success this season, sporting a 6-2-2 record.
The long home stand could be a big boost in helping the Red Wings establish some consistency and see more secondary scoring from guys not named Pavel Datsyuk and Henrik Zetterberg.
Subscribe to our Red Wings stories to get email updates every time a new story is published.
Tom Mitsos is a Detroit Red Wings and Grand Rapids Griffins staff writer for The Hockey Writers. You can follow him on Twitter @tom_mitsos.