The Minnesota Wild missed Zach Parise, Marco Scandella and Jared Spurgeon like Alex Ovechkin misses his front tooth.
There was a big, gaping hole in the lineup without them.
All three of them played in a game Sunday afternoon for the first time since Oct. 30 and all three played key roles in the Wild's 4-3 overtime victory against Winnipeg.
The Wild went in a tailspin after a 7-3 start, losing four consecutive games, due largely to injuries and illnesses.
Chief among those was Parise's concussion, which caused him to miss five games. Spurgeon missed five games because of a shoulder injury before returning and scoring a goal in last Thursday's win against Buffalo. Scandella returned to the Wild blue line Sunday after a two-game absence, logged the third-most ice time on the team (24:58) and scored the game-winning goal in overtime on a hard point shot through traffic.
Wild coach Mike Yeo said after the game that the return of Parise and Scandella was a boost to the bench.
"What I like about Zach is you see the end result," Yeo said, "but there are things leading up to that that are the reason he scores goals. He doesn't take shortcuts."
The Wild have now won three in a row after the four-game skid, and with some of their top players back in the lineup, they were able to send defenseman Justin Falk and forward Jordan Schroeder back to Iowa of the AHL on Sunday.
Parise, Pominville reunited
Parise's return had the biggest impact on the Wild. He and winger Jason Pominville were reunited with veteran center Mikko Koivu and the line combined for six points against Winnipeg, including a pair of first-period goals by Parise and three assists from Pominville. Those two are now tied for the team lead in scoring with 12 points.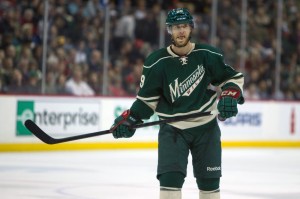 Parise showed his value by driving hard to the net to score his second goal. It's that type of effort the Wild has been missing and they need it to become contagious.
He had little rust to shake off, and the Wild will need him to bring that same effort to games at Philadelphia on Thursday and Tampa Bay on Saturday this week, if they hope to keep pace in a crowded and loaded Central Division.
The Wild went from looking like one of the best teams in the NHL (with their 7-3 start) to a team that looked lost without some key components in their lineup. With those players back, they look more like the team that opened the season with back-to-back shutouts of its biggest rival rather than a team that scored just three goals during a four-game losing streak.
Mumps the word
The Wild hope they are close to the end of mumps taking their players out of the lineup.
Defensemen Scandella, Keith Ballard and Christian Folin all missed multiple games because of the Illness, which causes fevers and swelling of the neck and jaw area. Folin was sent down to Iowa last week in part to rehab from the physical fatigue the mumps caused. Scandella said his neck was swollen so badly that it was difficult to eat or swallow food. He was happy to be back on the ice.
"It didn't look very pretty," Scandella said of his swollen jaw. "The excitement of the game and the adrenaline got me through. Your energy goes down from battling a virus like that, but once you're in a game, you don't think about that."
Scandella's return was badly needed for a defensive corps that is now without top-pairing player Jonas Brodin. He was placed on Injured Reserve on Sunday because of — you guessed it — mumps. He has missed three games and Yeo said the illness has hit Brodin harder than it did Scandella and others.