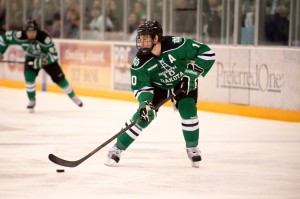 News broke yesterday, that the Calgary Flames had acquired former UND All-American forward Corban Knight (High River, Alberta) from the Florida Panthers for a fourth round draft choice in the 2013 NHL entry draft. According to TSN's Bob McKenzie, the Flames have also signed Knight to a two-year entry level deal.
Knight was originally drafted 135th overall by the Florida Panthers in the 2009 NHL draft.
Knight was a solid four year player with the University of North Dakota and in 41 games last season scored (16g-33a—49pts). For his career, he played in 157 games and racked up an impressive (52g-94a—146pts). Knight was an ace in the faceoff circle last season, winning 446 of 611 faceoffs (.729%). Knight also won 20 or more faceoffs six times last season.
Corban Knight is a very well rounded hockey player;  he's also a very nice person as well. Knight does everything with an infectious smile and was well liked and respected, by his former UND teammates. This is what former teammate and current Abbotsford Heat forward Carter Rowney had to say about Corban Knight.
"He's a good guy," Rowney said.  "He lives in the same building as me and everything. Great team player, everyone gets along with him. Always positive, no matter what's going on. He's never down on himself, never down on anyone else. He's just a positive guy."
Did I mention that Knight's always smiling?
Last season, during a Wednesday press conference, UND head coach Dave Hakstol was asked about his senior assistant captain Corban Knight. This is what the stoic head coach had to say.
"He's [Knight] a mature young man in every way," Haksol said. "That's one of the benefits of being a junior and a senior and taking the extra time to develop at this level before you step to the pro level; is being able to have that year where physically you're maybe a little bit ahead of the opponents that you're playing against. Certainly, mentally he's as toughest there is. Very quiet in the way he goes about it, but mentally as tough as anybody."
If you're still not convinced, the head coach had more to say about his star forward, "Corban is just a complete hockey player. "He's good in all three zones. There's a lot of element to his game that bring a lot of value to a team. I think one that he gets a lot of credit for is his ability in the faceoff dot. But there are a lot of areas of his game that are quietly similar to what he does in the faceoff dot. He's a very solid, reliable two way player that consistently puts out real good solid offensive numbers. He's very consistent player."
During his time at North Dakota, Knight was involved in off-ice activities that probably went unnoticed, but he didn't ask for any recognition either. Knight was also a top-ten finalist for the Hobey Baker Memorial Award, and was well respected in Grand Forks, Comunity.
"What you see is what you get," Hakstol said. "He's a great young man, always got a positive perspective. He always pays attention to how he treats people around him. He's very cognizant of that. He's always being a leader, not just in our locker room, but in the community. He does an awful lot of things in the community that go unnoticed. He doesn't do it with any fanfare – but he's always willing to help out.
How far can Corban Knight go? Only time will tell.  One thing is for sure, the Calgary Flames are getting a very good hockey player with a very good work ethic that will not take any short cuts, and will do it everything with a big smile on his face. The Flames have to be smiling as well to have landed Knight.
Eric is a 1996, 1999 graduate of the University of North Dakota. Eric covers the University of North Dakota Hockey and Division I college hockey. Eric is the Contributing Editor for Inside Hockey.