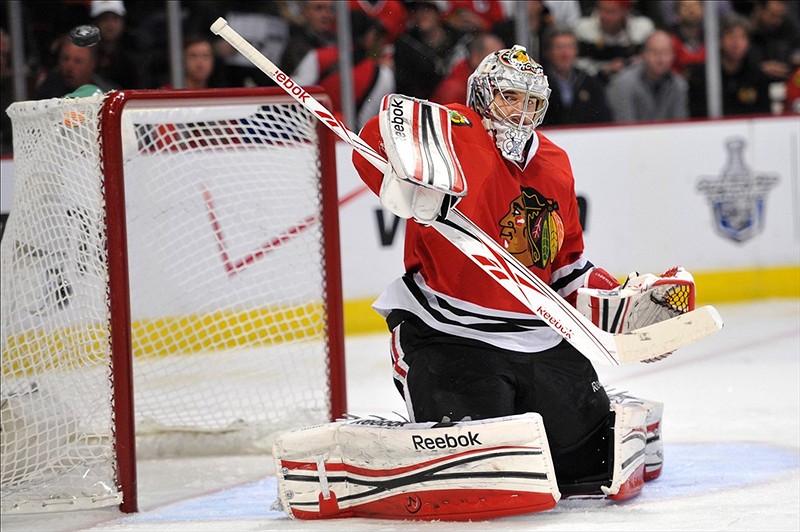 During last nights game against the St. Louis Blues, Corey Crawford was caught stumbling back to the bench after the first period. The intermission rolled around and Ray Emery started in goal at the start of the 2nd period and finished the game for Crawford. So what happened?
After the game, Joel Quenneville stated that Crawford's latest upper-body injury is unrelated to his previous one, so either A. Crawford's previous injury was falsely perceived as a "concussion," and this time around he truly does have one, or B. Crawford's previous injury was accurately perceived as a "concussion," and this time around he does not have one.
I would lean towards answer B (no concussion), judging by Joel Quenneville's reaction. At the same time, it was not helpful when he stated: "I don't think there was a defining moment or blow."
That is also discouraging to know, suggesting that this injury could be of the lingering variety. But by stating this injury is unrelated to his previous one (widely considered a concussion), what could this mean?
I have another suggestion. What if Corey Crawford has vertigo? Surely, the Blackhawks medical staff would not clear Crawford to play if he was still suffering from a concussion, and if there was no defining moment to spark the concussion symptoms again, maybe he has a medical condition such as vertigo.
I'm not a doctor, but before Crawford left the net, he was seen hunched over. As he lifted his head it was clear that he stumbled, perhaps due to dizziness and could easily be perceived as a concussion. However, this could be identified with BPPV (benign paroxysmal positional vertigo), and it doesn't take a doctor to see that. According to Mayo Clinic, here is the main symptom of BPPV:
"Symptoms of benign paroxysmal positional vertigo are triggered by specific changes in the position of your head, such as tipping your head up or down, and by lying down, turning over or sitting up in bed. You may also feel out of balance when standing or walking." [SOURCE]
With that in mind, take a look at the footage of Corey Crawford stumbling below:
This would need to be a fairly severe concussion for him to stumble like that, and I doubt the Blackhawks doctors would clear him to play if that were the case, nor would Crawford be able to pass the concussion test.
Now maybe it's a stretch to suggest this, but it isn't all that uncommon among NHL players. The story with Crawford sounds all too familiar with Anaheim Ducks goaltender Jonas Hiller. Hiller himself has been suffering from this condition for a few years now, although before the season started, he stated that he was symptom-free. Jeff Hackett, another goaltender diagnosed with vertigo, wasn't as lucky as Hiller and was forced to retire early.
All of this is pure speculation, so take it with a grain of salt. But if Crawford's injury is kept hidden from the media, perhaps it's something we all weren't expecting. But who knows, let's hope for the best, and that best certainly is not vertigo.
What do you think happened to Corey Crawford?