We've heard the speculation before. We know who will be available this summer. And despite the growing disapproval of Flyers coach Craig Berube, do we dare get our hopes up for Mike Babcock?
Is Berube already doomed? Would Babcock even consider leaving Detroit for Philadelphia?
Regardless of the answers, it'll be an uphill climb to woo the Stanley Cup-winning coach away from Hockey Town. Then again, the Flyers are used to those circumstances.
Why Philadelphia?
Sitting seven points back of the final Wild Card spot, only 15 games separates Flyers GM Ron Hextall from a pair of surgical gloves and the appearance of the team. The unsatisfactory season could potentially lead to the dismissal of coach Craig Berube. Especially with Mike Babcock's impending "free agency."
But with a sweet gig in Detroit already at his disposal, why would the 51-year-old bench general even consider leaving what's comfortable?
It's simple: Money, and lots of it.
Babcock will become the highest-paid coach in NHL history. He deserves to be the highest paid. There's already rampant speculation within the Canadian hockey media that $5 million annually (nearly twice what Chicago's Joel Quenneville currently makes as the highest-paid head coach) might be the price tag for Babcock's services. — Drew Sharp, Detroit Free Press
That's a steep price to pay for a head coach in the NHL, even if he has won a Stanley Cup and a pair of Olympic gold medals. But how did the Flyers find themselves in this liberal rumor mill to begin with?
Craig Berube switching everything up again. I fully expect Lappy to center the checking line to start the third. He'll get PK time, too.

— Tim Riday (@TimRiday) March 7, 2015
While most are aware of the holes that plague the Flyers, both on the roster, and via the salary cap, the team has flatlined under Craig Berube. Through 64 games, Philly has dropped games to six of the NHL's seven worst teams in terms of overall team points. With an opportunity on Mar. 21 (at Edmonton) to make it seven-for-seven, it should come as no surprise Berube's job may be in jeopardy.
The disappointing season can be attributed to a number of factors, with Berube hardly standing incompetently idle. After all, it's not as if he's not trying. In spite of current team needs, though, the second-year coach still has had plenty of talent playing for him.
Claude Giroux and Jakub Voracek have combined for 127 points, while Steve Mason has stood on his head throughout the year with a .922 save percentage in 40 appearances. In spite of those advantages, the Flyers have far too often squandered points away, points that are coming back to bite them in the back side right about now.
"I think it's our compete level," Flyers forward Wayne Simmonds said after Sunday's 5-2 drubbing against the New Jersey Devils. "We don't come to play every night. If you don't play, sometimes you can have a couple off shifts a game, but that's the extent of it. You can't be going 20 minutes without playing the right way or 40 minutes or whatever it may be. We have to compete harder."
As Flyers fans know all too well, this has been an ongoing narrative this season. And while Berube can only do so much – he's not actually playing, you know – that simply can't happen on an NHL coach's watch, not in Philadelphia anyway.
What is has to be disconcerting to the organization is that the players are talking about having to compete harder. There is one thing with not playing well, but not playing hard is inexcusable. And it's not the media saying this. Simmonds couldn't have made himself any more clear on the subject. — Marc Narducci, Philly.com
Mike Babcock, on the other hand, found himself in a similar position no more than a season ago, from the aspect of a team in transition, that is. The Manitouwadge, Ontario native absorbed the blows of deploying numerous inexperienced players en route to Detroit's 23rd consecutive post-season appearance.
Sure, the decorated coach still had a veteran presence, including Niklas Kronwall on the blue line, while finding a buried treasure in Gustav Nyquist. But Babcock didn't have Mason in net, who won 33 games last season to Jimmy Howard's 21.
The point is that Babcock was handed a team that was supposed to be in a rebuilding phase. Not only did Babcock lead that team to the playoffs, finishing one point shy of the sixth-seeded Flyers, he's built off of that achievement this season, positioning the Red Wings for a likely first-round series with home ice advantage.
The case for Mike Babcock isn't the hard part; it's actually getting him that stands the test. And you can bet the Flyers won't be the only bidders, should Berube be shown the door after the season.
Competition for Mike Babcock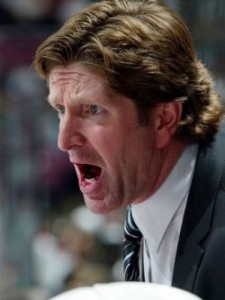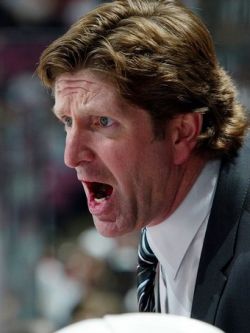 Although it may not be easy to lure Babcock to Philadelphia, his expensive price tag is certainly within Flyers owner Ed Snider's means.
Snider, who's responsible for bringing the Flyers to Philadelphia in 1967, not only owns the team, but serves as the chairman of Comcast Spectacor.
Snider's net worth of $2.5 billion instantly makes the Flyers a formidable suitor, should they choose to pursue the coaching free agent. It's a good thing too, since they'll have plenty of company, whether it's from the Toronto Maple Leafs, or another dark horse team.
The notion that Babcock wants no part of a rebuild is dismissed by MLSE upper sources. They believe Babcock has the mentality of a mountain climber. He loves the great challenge. And this is comparable to being at the base of the impossible mountain. — Steve Simmons, Toronto Sun
While the money may not be an issue for a team like Toronto as well, other factors play into the Flyers' favor in comparison to the Leafs.
Toronto is in the process of taking a stick of dynamite to their roster, as their season has been another utter and complete disaster. The Leafs are not close to competing for a Stanley Cup, and the media there has battled the personnel there in what feels like an ongoing boxing match.
Why in the world would Mike Babcock want to go there? If it's a challenge he's looking for, there's no shortage of one with the Flyers. Their blue line is in need of an overhaul, while the salary cap remains to be an unforgiving enemy. It's enough to satisfy Babcock's alleged itch for a challenge, while staying closer to contention than he would in Toronto.
The same can actually be said about his current home as well. He can either stay where he is, or jump over to Philadelphia, while being abundantly compensated.
The latter, of course, is gaining traction.
https://twitter.com/pattisonavenue/status/537775823710064640
"I think Craig Berube has done a tremendous job with the Philadelphia Flyers," said TSN's Bob McKenzie. "But I could see a guy like Ed Snider, or I could see the Toronto Maple Leafs. I could see the Boston Bruins, if they decide to go in a different direction with a new general manager and a new head coach. …
"I don't know that Anaheim would normally spend that kind of money, but if they're not successful in the playoffs and they decide to go in a different direction from Bruce Boudreau, (Babcock has) been there before, and that's a real good team. I just think, definitely, there's more than one team — more than the Toronto Maple Leafs would get the checkbook out to get a guy like Mike Babcock."
McKenzie wasn't the only voice whose pointed out Philadelphia's candidacy. In the same conversation, aired on nicholsonhockey.com, Darren Dreger echoed McKenzie's sentiment.
"Hey, Philadelphia — nobody is talking about Philadelphia. … Ron Hextall has made some pretty bold moves here. Obviously, they've got to bring some other pieces in. And you've got Ed Snider, who's just frothing at the mouth for a Stanley Cup championship before his days are over. And if he thinks Mike Babcock might be the piece to push this team into that conversation, then he'll spend the money to do it."
If fans cheered the return for Braydon Coburn, could you imagine the reaction to Hextall pulling this one off? It may seem improbable now, but if you're Detroit, the Flyers must be viewed as a dangerous threat.
What better payback for 1997?
Andy is a contributor for The Hockey Writers, covering the Philadelphia Flyers. He holds a Bachelor's Degree in Communications from Walsh University. He enjoys spending time with his family, golfing, and reading. He is married with a daughter. You can follow Andy on Twitter @ADudones.