Left Handed Defense
When the San Jose Sharks were struggling last regular season and in the playoffs, their weakest area on paper was obvious. They had extremely limited left-handed defense depth behind Marc-Edouard Vlasic. Brad Stuart was having a miserable year, Scott Hannan is only a No. 6 defensemen at best, and Matt Irwin was going through a sophomore slump.
It was puzzling that they didn't fix this need at the trade deadline last season nor during this past offseason. It was crystal clear when Vlasic went down in the Kings series, just how badly they missed him. Obviously every team will miss a star player when he's out, but the Sharks should have had a much better contingency plan.
Perhaps that improved contingency plan is 19-year-old rookie Mirco Mueller. Before training camp started, I had Mueller penciled into the opening night lineup largely because San Jose didn't acquire a left-handed defender during the offseason. After a couple of uneven performances to start the preseason, it seemed like he would be headed down to AHL Worcester. However, Mueller steadily improved as the preseason wore on and has indeed made the roster out of camp.
Vlasic 2.0?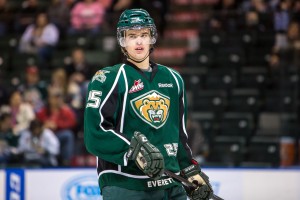 A strong skater with a defense first attitude, Mueller has been compared to Marc-Edouard Vlasic stylistically. With great skating ability and a big frame (6'3, 205, and growing), he has the tools to develop into a legitimate top-four defenseman.
As of right now, Mueller is an unknown, not yet playing in an NHL game. However, if he can repeat what Vlasic did as a 19-year-old in 2006-07 and play a full NHL season at a high level, the Sharks might be as good as anybody without making any more additions.
In our inaugural addition of Sharks Diagnosis that was filmed a couple of days ago, I contended that the Sharks were either one legitimate defenseman or winger short of competing with the other top teams. Perhaps Mueller emerging though would mean the Sharks would already have enough talent in house.
Mueller Pushes Burns Back to Forward?
Mueller having a stellar rookie campaign would make it extremely easy for the Sharks to move Burns back up to forward. Doug Wilson was adamant about Burns move back to defense this offseason but it wouldn't be surprising at all to see the Sharks' Chewbacca moved back up to forward.
As Fear The Fin points out, Burns' transition to forward in the middle of the lockout shortened season was a seamless one. If Mueller establishes himself as a legitimate top-4 defenseman, moving Burns back up front would be a simple move.
@El_Brian @ViewFromBensch He did but considering how seamlessly he made the switch midseason in 2013 it's probably not a huge deal.

— Fear the Fin (@fearthefin) October 4, 2014
The Sharks would then feature three stellar forward lines:
Tomas Hertl—Joe Thornton—Brent Burns
Patrick Marleau—Logan Couture—Matt Nieto
James Sheppard—Joe Pavelski—Tommy Wingels
And a stellar top four defense:
Marc-Edouard Vlasic—Jason Demers
Mirco Mueller—Justin Braun
Obviously the Sharks could very well keep Burns at defense even with a breakout year from Mueller. In this case the Sharks defense would be incredibly deep, arguably the best unit in the NHL. That defense would have a third pair featuring the puck moving Demers who scored 34 points last season, earning top pair minutes with Vlasic. If the Sharks go this route, they would still be wise to acquire a scoring winger, to balance out the forward lines.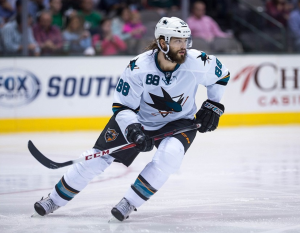 But Burns at forward was such a dynamite force with Joe Thornton, it has many wondering what the Sharks are thinking moving him back to defense. While he is a tremendous top-4 defenseman, he is no Drew Doughty, Shea Weber, or Duncan Keith. At forward however, he is a freak of nature, with his butt checks and nasty long reach on the fore-check giving defensemen fits. Obviously, yours truly is in the camp that believes Burns should have stayed at forward. His unique wild stallion style is better suited up front.
Now if Mueller can have a great rookie season, the chances we see Burns at forward again increase significantly. A tremendous showing from Mueller at defense and Burns move back to forward would make this Sharks team as good as any previous incarnation and as good as the best teams in the league.