It's not always easy being an optimist–especially when high hopes clash with realism.
For some reason though, I still feel like the Montreal Canadiens have a fighting chance against the Washington Captitals in the first round of the 2010 NHL Playoffs.
I think that a lot of the reason that I believe in the team is because they have been counted out all year long by all of the professional analysts.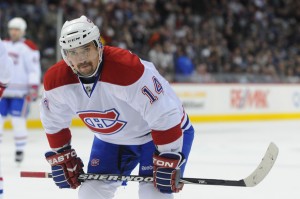 First, according to them, the team was far too small and would never be able to contend and make the playoffs.
Then, if being small wasn't a hindrance enough, the Canadiens lost their best player in Andrei Markov in the very first game of the season. The pros changed their predictions of the Habs just missing the playoffs, to them finishing last in the Eastern Conference.
Well, guess what? The Montreal Canadiens are in the playoffs. Sure, they may have backed their way into them (familiarly), but they still proved their critics wrong.
Do you think that they have gotten any respect for their feat? Perhaps the very same people who had counted them out have admitted that they were surprised by the fight in the little team and the drive to win, no?
Nope.
The Montreal Canadiens are being given the same chance in the playoffs as they were given in making them.
Even though the Canadiens split their season-series with the great Alexander Ovechkin and his Washington Capitals, it is expected that they won't have a shot. They are predicting a slaughter.
When I was a very young boy I was taught that goaltending wins the Stanley Cup. As Tomas Plekanec pointed out, the Montreal Canadiens should have the edge in that category.
Jaro Halak, after his abysmal performance after posting back-to-back shutouts, will probably be on a short leash in the playoffs. Thankfully, if he falters–which I hope he does not–the Canadiens have a more-than-capable "backup" goalie in Carey Price (whom, by the way, faced off against the Caps in every game this season).
Also, the Habs are due! They are a team that has consistently gone on runs all season long–win three, lose two, lose three, win four–why should it stop now?
Perhaps my arguments are not as pointed as others, but they are valid, nonetheless.
In all likelihood, the Habs are not going to advance past this series, but, in my opinion, to count them out completely before even watching them play (as has been done before), is an ignorant analysis.