During this current five-game road trip along the east coast, the Arizona Coyotes are running into some familiar faces. The Coyotes saw three former teammates on Tuesday night in New Jersey, including Lee Stempniak, who got an assist on the game-winning goal in overtime for the Devils. Later this week, Arizona will get to see Kyle Turris as the Coyotes travel to Ottawa to face the Senators. In between those two games, Arizona will get their first look at former defenseman Keith Yandle as the Coyotes take on the New York Rangers.
Desert Defenseman
Yandle was a fourth-round pick by the Coyotes in the 2005 NHL Entry Draft, selected 105th overall. He played in nine seasons with Arizona (2006-2015), collecting 65 goals and 246 assists in 558 games. During his time in the desert, Yandle became a vital component of the power play, notching 23 goals and 120 assists on the man advantage. In addition to being a vital asset to the power play, Yandle has earned the reputation of an ironman, having played in 476 consecutive regular season games (448 with Arizona and 28 with New York). The last game he missed was on March 22, 2009 in Anaheim with the Coyotes, where he was a healthy scratch in a 6-2 loss to the Ducks.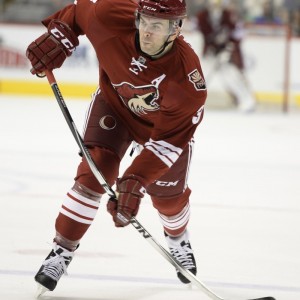 Playoff Performances
In postseason play, Yandle holds a couple of distinctions with the Coyotes. He was the first Coyote to score a playoff goal in Glendale when he wired a power-play goal past Jimmy Howard in Game 1 of the 2010 Western Conference Quarterfinal against the Detroit Red Wings. Yandle also currently owns the most recent playoff goal for Arizona when he beat Jonathan Quick in Game 5 of the 2012 Western Conference Final against the Los Angeles Kings. While Yandle made an impact on the scoresheet in all three of Arizona's playoff runs from 2010-2012, his best performance came last postseason with the Rangers. Yandle recorded 11 points in New York's 19 playoff games last spring, with seven of those points coming in the Rangers' Eastern Conference Final showdown with the Tampa Bay Lightning.
A Win-Win Trade
Yandle's departure was a big loss for Arizona's offensive production, especially on the power play. However, they are beginning to reap the rewards of their end of the trade with the arrival of Anthony Duclair. Duclair spent 18 games with the Rangers last season, picking up seven points (one goal, six assists). In just one-third of that time with the Coyotes, Duclair has matched those seven points (five goals, two assists) and is one of the early season leaders in rookie scoring alongside teammate Max Domi, Chicago's Artemi Panarin and Detroit's Dylan Larkin. Just as it will be Yandle's first game against the Coyotes wearing Ranger blue, Duclair will be in Madison Square Garden for the first time as a visitor looking to build on his already impressive start.