Perhaps the start for goaltender Mike Smith might have been deceiving. In his first three games, the veteran Smith allowed just two goals, and recorded three straight victories.
That boosted the Arizona Coyotes into one of their best starts in recent years and delivered a healthy dose of optimism into a team which was pretty much dormant last season.
Until the opening week of December, Smith continued his stellar play. That's when the veteran net-minder began to feel the effects of a significant stomach injury. That likely occurred in Montreal on Nov. 19, but Smith continued to play and ignored the injury.  On Dec. 1 at Nashville, he surrendered four goals in a defeat and subsequently gave up 10 goals in his next three games. That's when his condition declined dramatically, and abdominal surgery was performed last week.
At the same time, the Coyotes, as a team, began an abrupt fall grace.
Coming into Saturday's home contest with the Islanders, Arizona dropped seven of the previous eight games, and was 12 standing points behind the Pacific Division-leading Los Angeles Kings.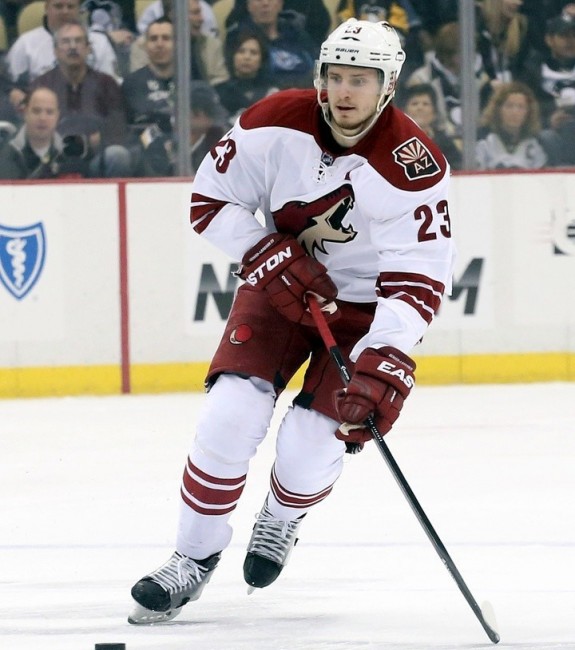 After the surgery which puts Smith out of action for up to two months, the baton now falls to Anders Lindback and Louis Domingue. Prior to the Islanders contest, the Coyotes allowed 40 goals in their previous nine games and averages out to nearly 4.5 goals a game.
When Lindback showed up for practice Friday not feeling well, Domingue thought he had an opportunity to step between the pipes. Told he would indeed start against the Islanders, Domingue intensified his pre-game preparation. Then, the 23-year-old from St-Hyacinthe, Quebec promptly showed he can make a timely and important contribution.
"A game like this can boost your confidence," Domingue said after recording his first NHL shutout and a 1-0 victory over the New York Islanders. "Everyone played a strong game, and we put pressure on them in the offense end."
Last season, Domingue came up from the minors and played a minor role. In seven games, he recorded a 2.73 goals against average and recorded a 1-3-1 record. Now with Smith sidelined and golden opportunity ahead, Domingue plans to take full advantage.
Taking Advantage
"When I was called up last season, I didn't know what to expect," he said. "Now, it's different, and I know what to expect. That helps me prepare and you're always ready for each game. That goes for being a starter or not."
After allowing seven goals in a 7-5 defeat to Columbus last Thursday night, coach Dave Tippet said it was time for captain Shane Doan and assistant captains Martin Hanzal and Oliver Ekman-Larsson to step forward. "Leadership," was what Tippett called this call to action and the leaders responded. Ekman-Larsson scored the only goal, and game-winner, against the Islanders late in the first period, and then followed up with strong play in front of Domingue.
"In the last few games, we gave up too many bad goals," said Ekman-Larsson, who scored on the only shot he took. "We talked about getting better front of the goalie and limiting their chances. Now, if we play our game and play like we did (Saturday), we'll put some wins together."
If Tippett wants his team to engage in a "structural game," the Coyotes implemented that strategy. Going forward, Arizona still faces the challenge of playing a strong two-way game on a consistent basis. In defeating the Islanders Saturday, the defense clearly helped Domingue. Led at the blue line by Connor Murphy, who recorded a plus-5 in his last three games, and Michael Stone, the Coyotes kept the puck from reaching Domingue on a consistent basis.
After the Islanders win, Tippett said he saw better execution and that his "leadership team" clearly made a difference. That included Hanzal, who returned from missing the last four games due to lower body injury. Against the Islanders, Hanzal skated 15:05 and won 70 percent of the face-offs he participated.
If "leadership" stepped up, so did Louis Domingue. In turning away 25 shots, Domingue became the youngest goalie in franchise history to record a shut-out. Though he made key saves on John Tavares and Travis Hamonic down the stretch, Domingue came up big with a right pad save to stop Casey Cizikas' shorthanded break-away late in the second period with Ekman-Larsson off for tripping.
"We defended very well," Tippett said. "When we did break down, I thought the key point of the game was the breakaway that Louie stopped. Any time a goalie plays well, it gives your team confidence."
Playing his position soundly and moving the puck in a crisp manner, Domingue did all the right things Saturday. He will likely receive a chance to continue his magic Tuesday night. That's when the Leafs skate into the desert. Here, he could face Jonathan Bernier, who shut out the Kings at home Saturday, for his first win of the season.