It was almost a year in the making. The Arizona Coyotes' home opener against the San Jose Sharks on Thursday night marked the first NHL game this season with fans in attendance. Not cardboard cutouts, not virtual fans, but actual honest to goodness happy humans. The announced crowd of 2,274 at Gila River Arena was a little bit under the maximum amount of spectators allowed under special COVID-19 guidelines, but it's a great start. The Arizona-San Jose game was the first NHL contest to be played with fans on hand since March 11, 2020.
Last week, the Coyotes announced that they would offer a limited seating capacity for the club's January home games played at Gila River Arena. Glendale officials approved 25 percent capacity, a maximum of 3,450 fans allowed in – 25 percent to start the Coyotes 25th anniversary season.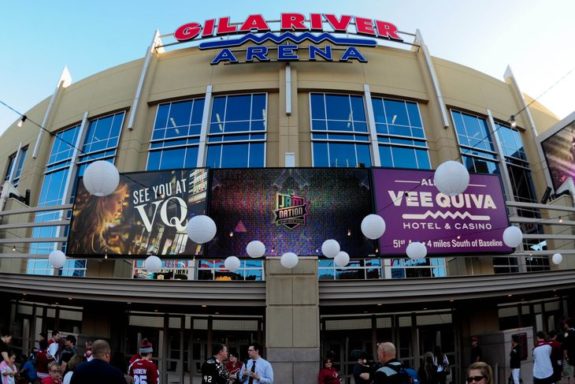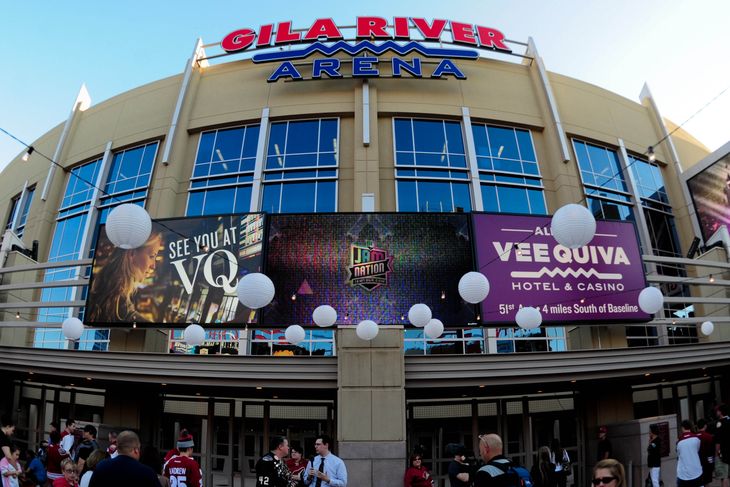 Before opening night, the Coyotes implemented several measures to help keep the crowd safe. For now, the plan is to determine seating capacity on a month-by-month basis. The hockey club, the City of Glendale, and Gila River Arena will work together to come up with the best possible situations as the season moves on.
Safe & Sound
There are safety restrictions put in place for now, which include socially distanced seating, digital tickets, cashless transactions, touchless parking, sanitizing stations, special food prep, and a ban on bags. Fans must also wear a mask when not eating or drinking. 
So, is it worth all the trouble? Melissa Brown thinks so.
An Arizona paralegal and avid hockey fan, Brown was in attendance for the big opener. "It was definitely different," Brown told The Hockey Writers. "There was some confusion about where we needed to go in and about downloading the health app before we could enter. Our main entrance is usually filled with a bunch of different things going on and it was empty. We were not able to watch warm-ups from the glass either, but overall, I felt it was a great experience and the Coyotes did a great job to keep us fans safe."
People want their safety, sure, but for so many, getting back to living is just as important. "I was worried a little bit, but I love hockey so much, and after last year I needed to have somewhat of my happiness back for my own sanity," Brown said. "They had staff cleaning all over the place. Fans were limited in the team shop, food had to be ordered via an app, and you were told when you could pick it up. They had hand sanitizer stations all over the place."
---
Latest Coyotes Content:
---
While Brown sat in the stands, others enjoyed Thursday's tilt from the new all-inclusive four and six-person minisuites/loges at Gila River Arena. The team bills the suites as "safe, secure, affordable, and ideal for small family/friend gatherings or to entertain and reward your best clients and employees."
Home Suite Home
Donna Weisheit, who works for her family's business, Apex Refrigeration & Boiler Co., took in Thursday's matchup from one of the suites. She's been a 'Yotes backer since they came to town back in 1996, but it was a 2000 whiteout game with her dad that made her into a diehard. Her family has been season ticket holders since the 2006-07 campaign. "I loved being back at the game," Weisheit told The Hockey Writers. "It was great to see the guys on the ice and fans in the seats. It was strange having the upper bowl closed off and not as many fans, but once the puck dropped it felt like normal and that was the best part."
While some are staying away from sporting events during the pandemic, Weisheit was undeterred. "I was not worried about going to the game," she said. "I practice social distancing and I wear my mask out in public when I can't be socially distant. I'm also fortunate our season seats are in a suite. My older brother has cancer and because of the suite and how Gila River Arena is handling safety protocols, he was also at the game with his wife and daughter. They did a great job with social distancing and moving everything to touchless entry."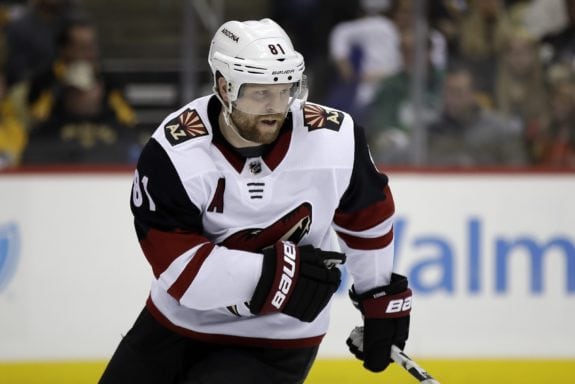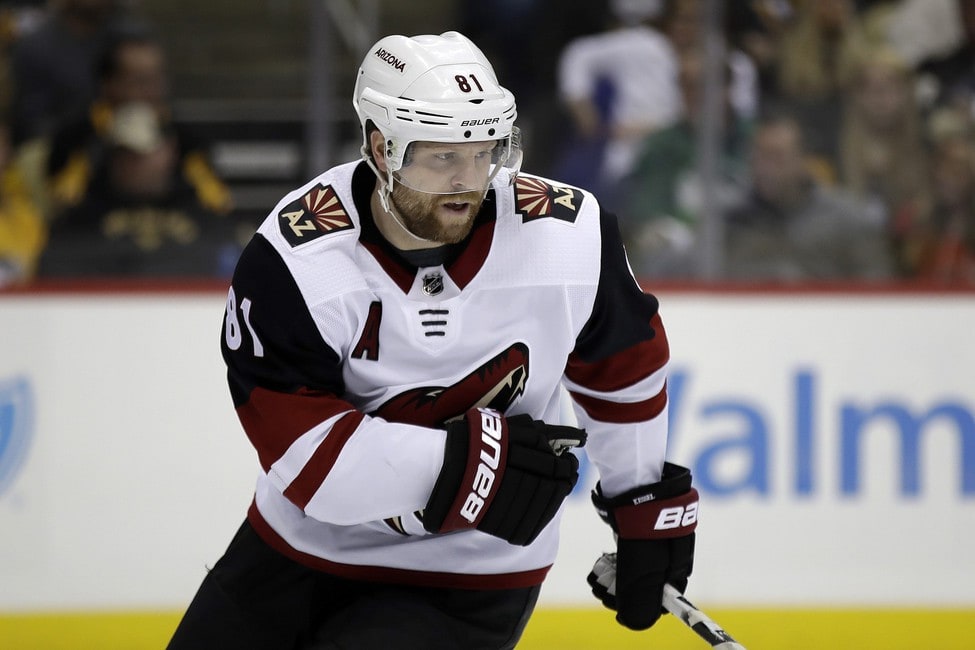 While fans had different experiences on Thursday, there is one common theme everyone in the stands and suites seems to agree on… the next game can't come soon enough.
"I was so glad I went," said Brown. "It was an exciting game. Just to hear the sound of hockey and feel the coldness of the ice when you walk in made me very happy. I will be back on Saturday."
Weisheit echoes those sentiments.
"I am so happy I went to the game and will be at every home game as long as I'm healthy and the Coyotes and Glendale allow fans," she said. "My family has a running joke when it comes to scheduling birthday parties, baby showers, and weddings, to always check the Coyotes schedule, because if they want me there, they know the event has to work around me being at the games."
Sure, quarantines and months of seclusion have made hockey fans even more appreciative of the game they love, but COVID-19 or not, the bond between fans and players in the desert was already so strong. That's why they couldn't wait to come back.
Reason to Howl
Brown usually loses her voice at the games cheering for her favorites Nick Schmaltz and Antti Raanta. Weisheit usually leaves the rink pretty raspy as well. She cheers for them all, but perhaps just a little louder for Oliver Ekman-Larsson. "My family has been fortunate where we have gotten to know him away from the ice and he is one of the best people you will ever meet," said Weisheit. "When we found out my brother had cancer last year, Oliver sent a video message to my brother wishing him luck with treatments."
Perhaps those who are against fans returning to live games just don't understand what these players and games mean to so many people. While Arizona may not have the largest fan base in the NHL, they certainly have a fiercely loyal one.
Despite an exciting third period comeback from the home team, San Jose wound up winning the opener, 4-3 in a shootout. The Coyotes fell short on the scoreboard, but, considering the Yotes played well, friends and families returned to the arena in person, and everyone had a safe, fun night, you could argue Thursday was actually a huge win for Arizona.
---
---