With two victories in the two games since returning from stomach surgery, the play of Arizona goalie Mike Smith signaled a change in his team's direction. Aside from making athletic saves between the pipes, Smith's importance to his team goes behind what he does in the crease.
While goalies tend to focus on stopping the puck and direct traffic in front, Smith, over the length of his career, has cultivated an overlooked, but vital, component. At times, Smith's ability to handle the puck seems like a sixth skater, and the Coyotes continue to benefit from his overall aptitudes.
Like a valuable worker who can multi-task, Smith offers a similar, dynamic skill set. One of his significant contributions is stick-handling. Known as one of the more proficient goalies in moving the puck, that dimension of his game seems to lift the Coyotes to another level.
His ability to drive the disc quickly along the dasher boards and cleared from the crease area helps his teammates generate speed up the rink. That, in turn, eliminates prolonged fore-checking from opponents, and gives Smith the opportunity to control the game.
Plus, his passes are generally sharp and well-defined. That was evident Thursday night as Smith's dexterity helped the Coyotes to their third straight win and a 3-1 victory over the San Jose Sharks before 13,005 in Gila River Arena.
"What make (Smith) so valuable to us is ability to puck the put directly on your stick," said defenseman Connor Murphy. "You look down, and all of a sudden, it's right there. What amazes me is how fast you get the puck from him."
That translates getting the puck quickly into the neutral zone. As a result of Smith's direction and ability, the Coyotes eliminated several San Jose chances, particularly in the first period, and held the Sharks to four shots on net for the opening 20 minutes. That was one shot over the Coyotes' season mark of three allowed, set twice. The last time Arizona allowed three shots in a period was in St Louis on Dec. 8.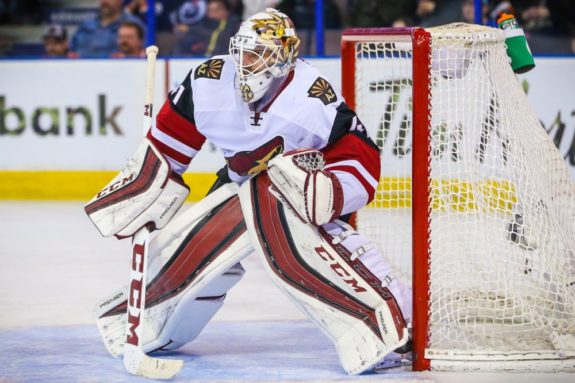 For now, Smith's ability to produce movement reflects the team's overall approach.
"Teams against us are getting minimal chance," Smith said after raising his season mark to 12-9-1. "We're moving the puck very well and the defense, in front of me, is very active in the offensive end."
Doan's Production
Plus, it helps to have a veteran like Shane Doan scoring at near a career pace. Already the franchise leader in goals and points, Doan continues to rack up important goals.
His latest game-changer transpired Thursday night when Doan scored the game-winner against the Sharks with 1:31 left in the game. That's when his shot from a difficult, far right angle, deflected off the right elbow of Sharks' goalie Martin Jones and slide into the net for Doan's 25 of the season. That snapped a 1-1 tie. Later, Antoine Vermette hit the empty net at 19:06, and the Coyotes had their two goal, winning margin.
Known for his strong play around and behind the net, many of Doan's goals have come from difficult angles. Yet, as Tippett said after the Sharks' game, "25 goals is 25 goals. You can't take that away" For Doan, his present total of 25 is the most he's scored in any season since the 39-year-old popped in 31 during the 2008-09 campaign.
"I think someone said of the 25, I may have scored 10 legit goals," Doan smiled. "I think that game-winner rolled off his back. I'm really not sure. To be honest, I'm not sure how that went in."
For now, the Coyotes have picked up seven points in their last four games, but continue on life-support within any Stanley Cup playoff conversation. Until the math says they're finished, its business as usual.
"You're not out until you're out, right?" Tippett asked. "Right now, we're just taking care of ourselves."
With 12 games remaining and seven points behind the Avs for the final Western Conference playoff spot, the Coyotes' season now rests on their rejuvenated means of winning, and finding help from unsuspected sources.
Mark Brown is a former sports editor for daily newspapers in the Philadelphia and Cincinnati markets. He was named Best Sports Columnist, honorable mention 2004 by the Associated Press Society of Ohio. He is a contributor to major daily newspapers, including the Chicago Sun Times, Philadelphia Inquirer, Honolulu Star-Bulletin, Milwaukee Journal, Arizona Republic, Nashville Tennessean and the Associated Press. He was a Featured Columnist for bleacherreport.com and covered the Arizona Coyotes.