On Feb. 8, 2018, the Arizona Coyotes went into the third period on the road against the Minnesota Wild trailing 3-1. They scored three unanswered goals to win in overtime, 4-3.
On Tuesday night, the Arizona Coyotes went into the third period on the road against the Minnesota Wild trailing 3-1. They scored three unanswered goals to win in regulation, 4-3.
The win back in February catapulted the Coyotes to an outstanding finish to the 2017-18 season, as they went 16-9-3 the rest of the way. Could Tuesday's win have the same effect on the team in 2018-19 after a tumultuous week in the desert?
Coyotes Week in Review
After their disappointing 2-1 defeat at the hands of the Boston Bruins back on Nov. 17, the Coyotes started the new week with a Wednesday night home game against the Vegas Golden Knights. Derek Stepan scored in the first and third periods to provide Arizona's scoring output for the night, but he was matched by goals from Max Pacioretty and Tomas Nosek during the second period. The game went into overtime – Arizona's fourth OT contest of the season – but this one was over before it started. The Golden Knights dominated possession during the entire 3-on-3 period and won it on Pacioretty's second of the night by a score of 3-2.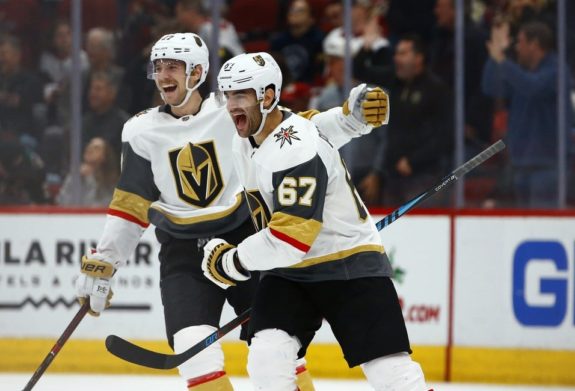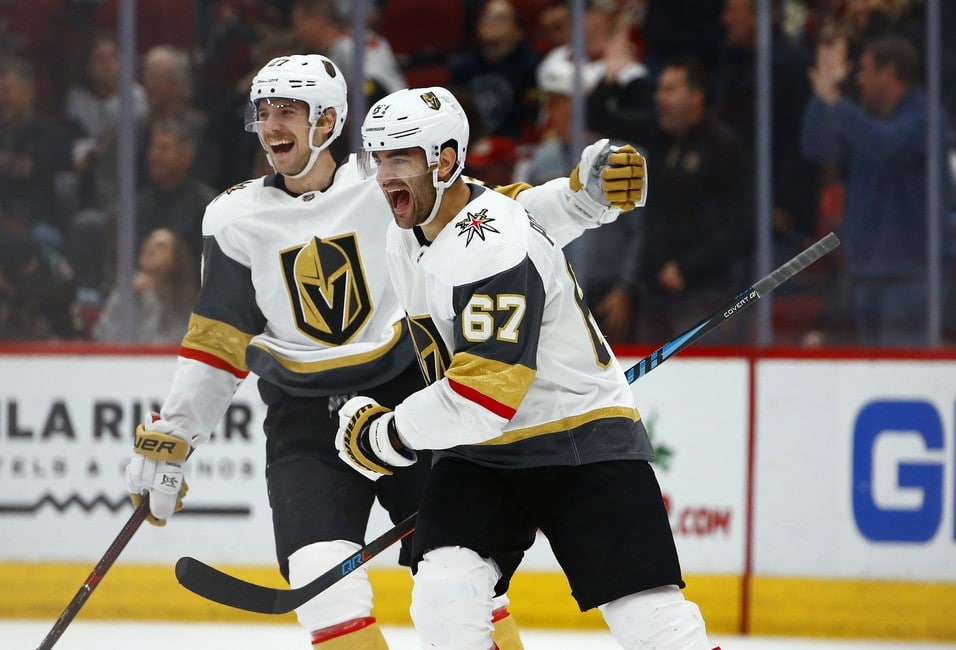 The Coyotes then suffered back-to-back embarrassing defeats on home ice. First, the Colorado Avalanche came to town on Friday evening and quickly jumped all over Rick Tocchet's squad – J.T. Compher scored two shorthanded goals on the same penalty kill in the first period to lead his team to an easy 5-1 victory. Then, former Coyote Mike Smith and the Calgary Flames came to town on Sunday, and things didn't go much better. Entering the game, you had to believe that the Coyotes couldn't have performed any worse than they played on Friday, but they quickly proved all of us wrong. Noah Hanifin scored a shorthanded goal in the first period, and T.J. Brodie and Mark Jankowski added shorties in the third period (once again on the same penalty kill) to send Arizona to a second-consecutive home-ice blowout, this time by a 6-1 margin.
Their disastrous homestand over, the 'Yotes headed out to Minnesota to take on the Wild in the first game of a short two-game road trip. The Coyotes again fell behind early, as Minnesota led 3-1 after two periods while holding Arizona to just seven shots in the first 40 minutes. However, the Coyotes mounted a furious comeback during the third period, scoring three unanswered goals to win in regulation by a 4-3 final score.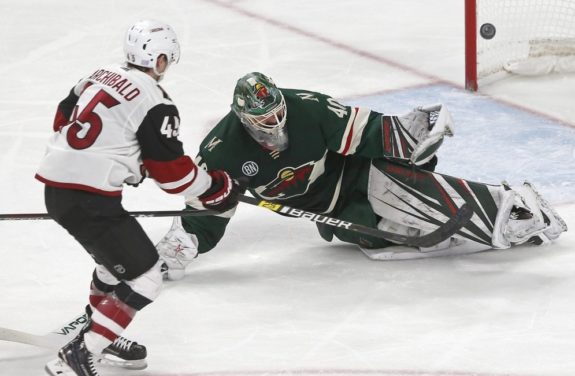 A Look Ahead
Following their come-from-behind victory over the Wild on Tuesday, the Coyotes will travel to the Music City for a Thursday night tilt against the Western Conference-leading Nashville Predators. The Coyotes hosted the Preds earlier this month and narrowly beat them on home ice by a slim 2-1 margin back on Nov. 15. One could argue that the 'Yotes were badly outplayed in that contest, though – will they be able to slow down a potent Predators offense which generated 46 shots on goal in the earlier matchup between these teams? We'll find out at 7:00 P.M. local time (6:00 P.M. in Arizona) when the puck drops at Bridgestone Arena.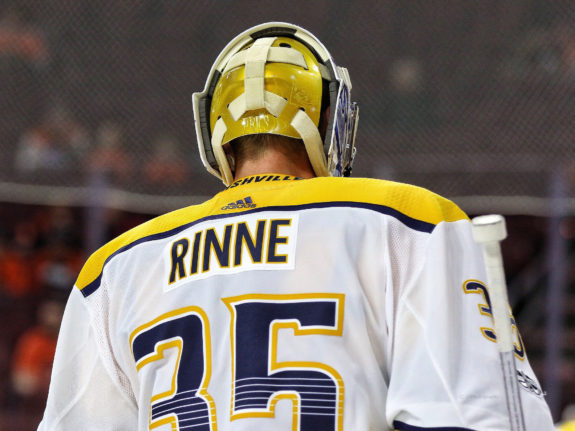 After wrapping up their short two-game roadie in Tennessee, the 'Yotes will return home for a Saturday night meeting with the St. Louis Blues. It's been a struggle in St. Louis this season – the Blues have just eight wins this season and already made a coaching change, firing Mike Yeo back on Nov. 20. Interim coach Craig Berube hasn't been able to fare any better, though – the Bluenotes have lost two of three since Berube took over behind the bench and weren't competitive in either of the losses. This one should be interesting as two struggling teams will look to use one another to get back on track and jump back into the playoff hunt – puck drop is scheduled for 6:00 P.M. in Glendale.
The Coyotes will then make the short trip over to the Staples Center for a Tuesday night matchup against the Los Angeles Kings. Like the Blues, the Kings also have made a coaching change this season, dumping John Stevens on Nov. 4. Willie Desjardins is filling in as the interim coach, and although he's been able to lead the Kings to a few wins, he's caught a lot of flak for his usage of Ilya Kovalchuk, who has played fewer than 10 minutes in each of the last two games, including just 6:20 on Sunday night against the Edmonton Oilers. Will the Coyotes be able to take advantage of the turmoil in Los Angeles and escape from enemy territory with two points? Puck drop is scheduled for 8:30 P.M. local time (7:30 P.M. in Arizona) in L.A.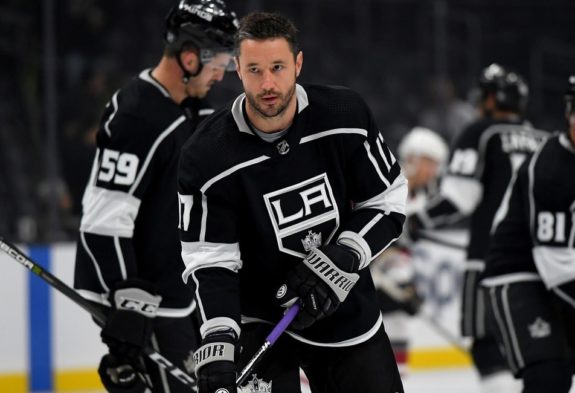 Perlini, Strome Shipped Out
In a move that came as no surprise to those who have followed the Coyotes over the past few seasons, general manager John Chayka clearly saw enough of first-round picks Dylan Strome and Brendan Perlini, sending them to Chicago in return for Blackhawks' forward Nick Schmaltz, who himself is also a former first-round pick.
Strome, who was selected at No. 3 overall in the 2015 NHL Entry Draft, struggled to earn consistent playing time throughout his entire tenure in the desert. He played well at the OHL and AHL levels since being drafted, but, outside of a 10-game stretch at the end of last season, was unable to carve out a role for himself in the Coyotes' lineup, likely due to his below-average skating abilities, which may never be a strength of his game. Also working against Strome is the fact that he was selected behind Connor McDavid and Jack Eichel and ahead of players like Mitch Marner, Noah Hanifin, Ivan Provorov, Mikko Rantanen, Brock Boeser, and others. These players all have made significant impacts with their teams, while Strome had 16 points to his name in a Coyotes sweater. Many in Arizona were running out of patience with the 21-year-old Strome, and it's clear that general manager John Chayka was among them, too.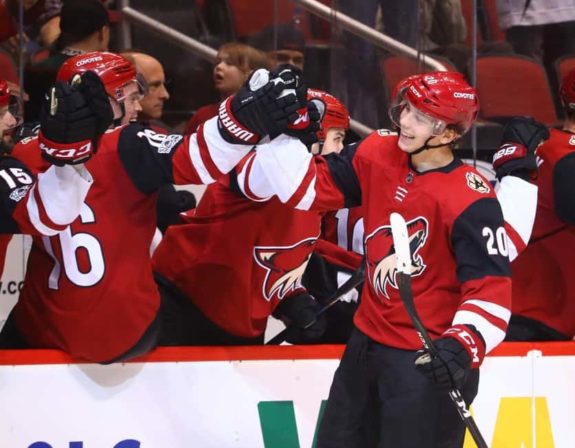 As far as Perlini goes, I believe he has the potential to be the best player in the trade. Unlike Strome, who has done nothing to show he was deserving of being the third overall selection in 2015, Perlini has shown flashes of being the fast, hard-hitting, goalscoring power forward many projected him to be when he was selected at 12th overall in 2014. Overall, though, Perlini hasn't been able to string together enough consistent performances to warrant his high draft position. Like Strome, Perlini was also selected ahead of impact players like Dylan Larkin and David Pastrnak. These were two bad misses by former general manager Don Maloney, and Chayka was right in trying to trade both players while they still had some amount of value.
As far as the player the Coyotes received, Nick Schmaltz should be an immediate upgrade over Perlini and Strome. Whether or not he'll be the better player in the long run remains to be seen, but Schmaltz will be an improvement now in the short term. He posted 52 points last season, and while his numbers are down in 2018-19, he's still on pace for 40 points, even with a shooting percentage of 6.1% which is less than half of his career average of 13.4%. If Schmaltz can come in and contribute to a power play which has converted on just 15.3% of its chances (27th in the league), then Coyotes fans should be happy with the outcome of the trade.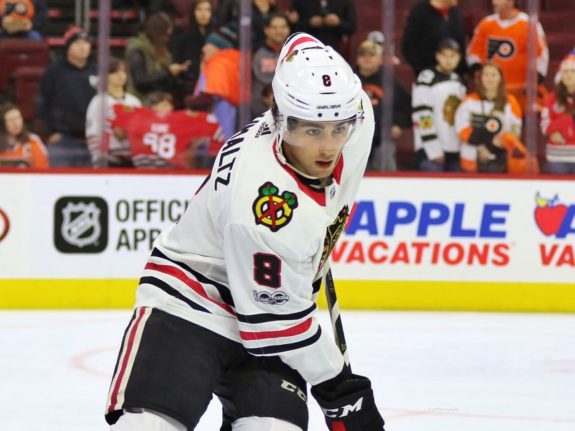 Pacific Division Roundup
Judging solely by the numbers, the Pacific Division has been the worst in the NHL this season. It is the only division in the NHL with zero teams with 30 or more points, but all that means is it'll be a tight race all season long. With no clear leader, no one really is out of contention yet.
Anaheim Ducks (11-10-5, 27 points)
Last week: 3-1-0 (4-3 W vs VAN, 2-1 OTW vs EDM, 5-2 L at NSH, 3-1 W at TBL)
Analysis: What a week it was for the Anaheim Ducks. Entering with just eight victories in 22 games, the Ducks won three of four, including a road game in Tampa Bay against the Lightning, to climb back above the .500 mark. We wrote the Ducks off as too old and washed up to be competitive after their seven-game skid from Oct. 20 to Nov. 1, but Anaheim has sure proved a lot of people wrong with their play over the last two weeks or so. John Gibson and Ryan Miller both are playing well at the moment – if they can continue to keep pucks out of the net, the Ducks will have a chance to contend all season long.
Player of the week: Nick Ritchie – 2 goals, 2 assists, +3
This week: Wed at FLA, Fri at CAR, Sun at WSH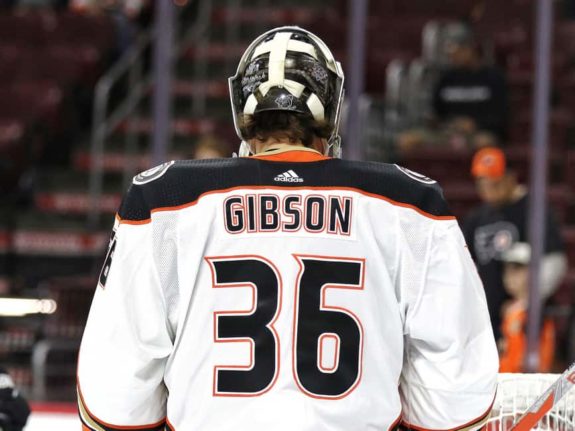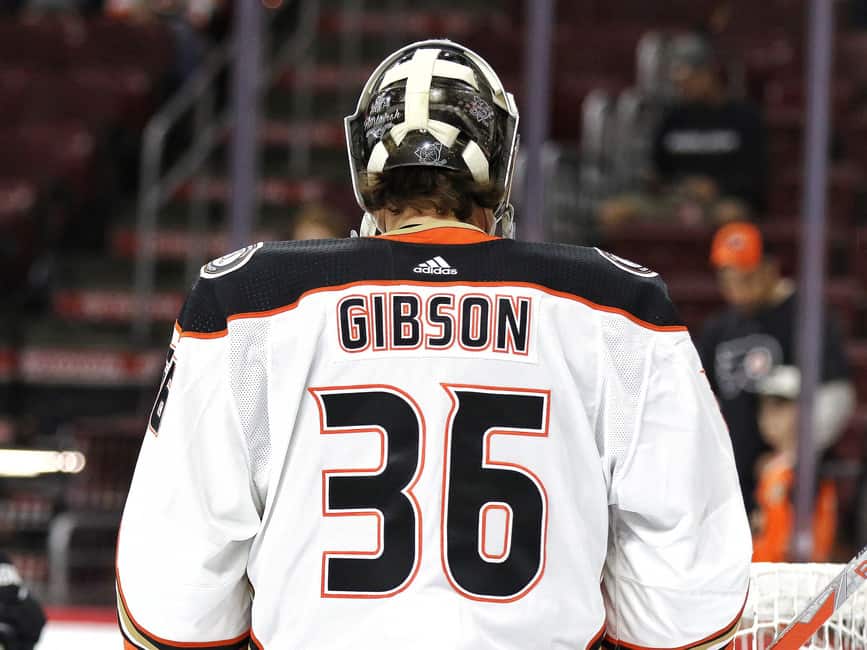 Calgary Flames (14-9-1, 29 points)
Last week: 2-1-0 (6-3 W vs WPG, 2-0 L at VGK, 6-1 W at AZ)
Analysis: Pardon our terrible joke, but the Flames are officially red-hot – they've won four of their last five, with their lone defeat being a shutout at the hands of Marc-Andre Fleury at T-Mobile Arena on Friday night in Vegas. Even Mike Smith chipped in a victory over his old team on Sunday in Glendale. Everyone is making a contribution for head coach Bill Peters and the Flames find themselves atop the Pacific Division as a result.
Player of the week: Mark Jankowski – 3 goals, assist, +3
This week: Wed vs DAL, Fri vs LA, Sun at CHI, Tue at CBJ
Edmonton Oilers (11-11-2, 24 points)
Last week: 1-1-1 (2-1 OTL at ANA, 5-2 L at LA, 1-0 OTW vs DAL)
Analysis: The Oilers fired Todd McLellan on Nov. 20 and brought in Ken Hitchcock to take over behind the bench, but not much has changed since then. Despite having the best player in the world on the roster, the Oilers are 2-1-1 under "Hitch" and can't score or defend consistently. Give Hitchcock some time to implement his system, but don't expect him to be a miracle worker in Edmonton.
Player of the week: Oscar Klefbom – Goal, 2 assists, 19 shots
This week: Thu vs LA, Sat vs VGK, Mon at DAL
Los Angeles Kings (9-14-1, 19 points)
Last week: 2-2-0 (7-3 L vs COL, 4-2 L vs VAN, 5-2 W vs EDM, 2-1 OTW at VAN)
Analysis: The Kings were better last week, but they still find themselves in the same position they were in a month ago – five games below .500. Dustin Brown and Anze Kopitar have begun to heat up, but Los Angeles needs Jonathan Quick healthy and back in the lineup to dig themselves out of this hole.
Player of the week: Dustin Brown – 4 goals, assist, +1, 13 shots
This week: Thu at EDM, Fri at CGY, Sun vs CAR, Tue vs AZ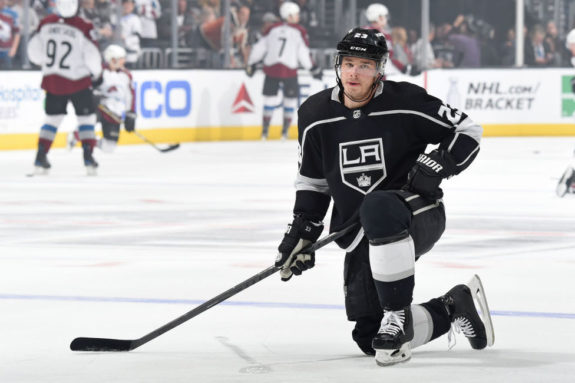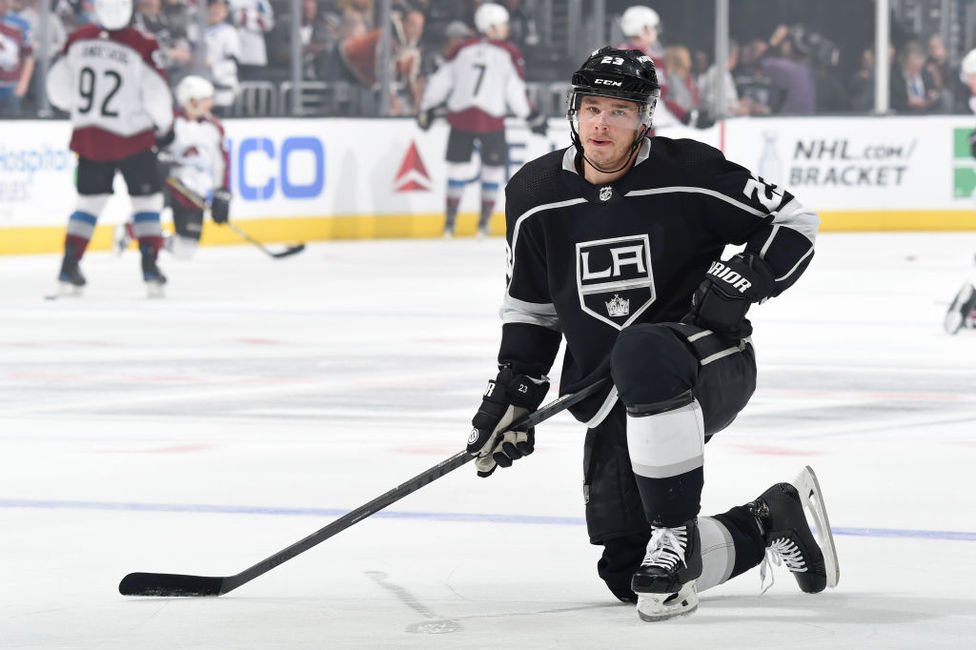 San Jose Sharks (12-8-5, 29 points)
Last week: 1-1-1 (4-0 W vs VAN, 6-0 L at VGK, 3-2 OTL at BUF)
Analysis: The Sharks did indeed win the finale of their six-game homestand to close it out with a 4-1-1 record, but they promptly lost the first two of a five-game road trip to fall back behind the Flames in the Pacific. San Jose's total of four road wins puts them in the bottom third of the NHL in that category – they'll need to be better away from the SAP Center if they wish to have home-ice advantage beyond the first round of the Stanley Cup playoffs come April.
Player of the week: Erik Karlsson – Goal, 2 assists
This week: Wed at TOR, Sat at OTT, Sun at MTL
Vancouver Canucks (11-13-3, 25 points)
Last week: 1-2-1 (4-3 L at ANA, 4-0 L at SJ, 4-2 W at LA, 2-1 OTL vs LA)
Analysis: The Canucks snapped an eight-game skid with a 4-2 victory over the Kings on Saturday, but they proceeded to lose their next contest (also against Los Angeles) in overtime, 2-1, dropping them to 1-7-2 over their last 10 games. Goaltending has been an issue in Vancouver – can head coach Travis Green get things turned around before it's too late?
Player of the week: Nikolay Goldobin – Goal, 2 assists, +2
This week: Thu vs VGK, Sat vs DAL, Tue vs MIN
Vegas Golden Knights (13-12-1, 27 points)
Last week: 4-0-0 (3-2 OTW at AZ, 2-0 W vs CGY, 6-0 W vs SJ, 8-3 W at CHI)
Analysis: Don't look now, but the Golden Knights are rolling once again. They've won four straight, six of their last eight, and have scored 14 goals in their last two games. Marc-Andre Fleury has looked more like himself as of late, and new addition Max Pacioretty is heating up as well. After posting two points during his first 14 games in Vegas, "Patches" has 11 points in his last eight contests. It's Knight Time once again in Sin City.
Player of the week: Max Pacioretty – 4 goals, 3 assists, +7, 12 shots
This week: Thu at VAN, Sat at EDM, Tue vs WSH
A lifelong Phoenix resident, Louis has been following hockey since 2010, has covered the Arizona Coyotes since 2015, and has been playing hockey since 2020. So far, Louis has visited eight NHL cities, and one of his personal goals is to eventually make it to all 31 NHL arenas. For any questions or concerns, contact the writer via Twitter @LouisPannone.