After spending the majority of the last month of the season with a head injury, Corey Crawford has bounced back for the Chicago Blackhawks with some stellar performances in the net. Crawford played in the last game of the season against the Columbus Blue Jackets, when the Hawks fell 5-4 in overtime. However, in that game, Crawford made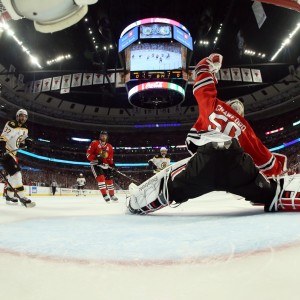 some good stops against the 26 shots he faced. He proved that he was going to be tough to beat in the playoffs, just as he has been throughout the season. Crawford ended the regular season with some very impressive numbers. He finished fifth best for save percentage in the entire NHL, fourth best for the most amount of wins for a goaltender, and first overall with shutouts. It's been argued that this has been the best season of his professional career so far.
Crawford's Playoffs
While we await Game 4 of the first round series against the St Louis Blues, Crawford has been pretty hard to beat so far. In Game 1, he faced 18 shots and saved 17 of them. The only goal he allowed was David Backes' game winner in overtime. In the second game, Crawford faced a few more shots than in the first. He made some spectacular stops, that included an incredible kick save in the first period which helped him become the first star of the game. With his huge net presence, and not to mention the return of Duncan Keith, the Hawks tied up the series with a 3-2 victory over the Blues.
In the third game of the series, Crawford proved to be a brick wall at times, denying the Blues at almost every turn making 33 out of 36 saves. Despite this, and probably not helped by a Patrick Kane double minor high sticking penalty towards the end of the game, the Hawks fell to the Blues, giving the Blues the edge in the series.
Goalie Match Up
In all three games so far, the Blues and the Hawks have been fairly evenly matched. Take a look at Crawford and how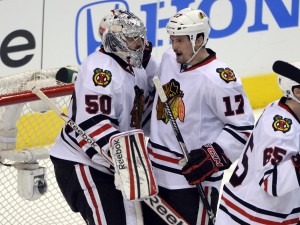 strong he has been between the pipes, and then look at the Blues' goalie Brian Elliott. In the third game alone, Elliott faced 46 shots and only allowed two past him. In the previous match ups before that, Elliott showed hewas tough to beat as well. In the following games of this series, if both Elliott and Crawford continue as they are, there won't be many goals allowed for either team. Crawford has had a fantastic season so far and he needs to continue what he's doing to top the Blues in the first round.
I currently live in Luton, United Kingdom and I am big a fan of the Milton Keynes Lightning (English Premier League) and the Chicago Blackhawks.
I write match previews and other articles for the Milton Keynes Lightning website and I also help to write and put together articles for the match night programme.
I am a Media Performance graduate but my passion lies with ice hockey