During the Christmas break, I will be spending time with family in my childhood home of Edmonton, Alberta: Formerly known as the City of Champions. This didn't come as a shock to me because that moniker has been synonymous with winning. Edmonton's sports teams have won many championships between the late 1970s and the early 1990s. The CFL's Eskimos were a football juggernaut back then, having won five straight Grey Cup Championships. The Oilers who had merged from the defunct WHA to the NHL took only four years to reach the Stanley Cup Final, and five to win it's first of five Cups.
Since then, things have been somewhat gloomy. While Edmonton has progressed socially and economically, their sport teams have floundered. The Eskimos are forgotten for the most part. They haven't won a Grey Cup in nine years.
As for the Oilers, it's been 24 years since they last won the Cup. They've been marginal ever since, with exception of their surprising 2006 run to the Final. They haven't reached the postseason going into its eighth year now. Under the microscope in this 2014-15 season so far, what can go wrong in Edmonton has definitely gone wrong, with perhaps no end in sight to their losing woes.
Who's the blame for the mess that the Oilers are in? Let's examine four possible culprits:
Blame Coaching?
Some Edmonton fans had their wish come true before Christmas. Dallas Eakins, a rookie coach that was highly touted by GM Craig MacTavish, was shown the door by MacT in less than one and a half seasons. Thus continues the endless coaching carousel that started with MacTavish (fired as coach after 2009), Pat Quinn (God rest his soul), Tom Renney, Ralph Kruger, Eakins, and now Todd Nelson…well, sort of. After Eakins' firing, MacTavish appointed Nelson as the new head coach, with himself also behind the bench if that makes any sense. Every time a new coach is appointed, old playbooks and strategies are thrown out and replaced with new ones. How can the young core evolve in the game when the teachers keep changing?
Here is Dallas Eakins' highlight as coach of the Oilers for that brief period:
Blame the Players?
Speaking of player spat with Eakins, perhaps the current core group (Hall, Jordan Eberle and Ryan Nugent-Hopkins) and rest of the team should shoulder the entire blame for this dismal season so far. Personally, I would like to see Eberle go. He was a wonder kid in the junior ranks, playing for a marginally good Regina Pats team, before excelling with Team Canada being a part of the 2009 World Junior excitement. But Eberle's talents are being wasted, even while playing alongside Hall and Ryan Nugent-Hopkins. To date, the core has been unimpressive.
Hall has a times played reckless, giving away the puck at the worst opportune time. The Nuge is trying his hardest, but he needs a supporting cast that has been anything but supportive. And the man forgotten in this whole mess is Nail Yakupov, another top draft pick that has played subpar since he arrived in Edmonton.
The defense has been anything but defensive. Newly signed Andrew Ference was given the Captaincy, when many thought Hall should have. Behind Ference there's really no solid names. Who's going to remember Jeff Petry, Mark Fayne, or Oscar Klefbom down the road? There is Justin Schultz, but he's starting to become a liability on an already weakened defence.
As for the goalies, there are some holes in the Ben Scrivens and Viktor Fasth tandem. Together, they've only won seven games out of 32 so far. What's most disheartening was that many of those games were winnable if not for last second defeats, like this one against Arizona:
Throughout that long losing streak, the Oilers clearly looked disinterested. When Leon Draisaitl was clobbered from behind by Chicago's Michal Rozsival, nobody came to defend him. The same thing happened when Fasth blew a gasket on his team after was lit up by Anaheim. Did his team respond? Nope. These examples clearly tell you all that you need to know about the Oilers.
Blame Management?
Oiler supporters want this Christmas wish: Kevin Lowe fired. Craig MacTavish fired. Easier said than done. While owner Daryl Katz is still calling the shots, many outside the organization (fans and media) are appealing to him to make these changes before it's too late. However, it's been eight years late and counting. Something needs to change in upper management.
And I feel bad that the association with the Oklahoma City Barons is going to end. But then again, it doesn't make sense to run two AHL caliber teams.
See Dear Daryl Katz.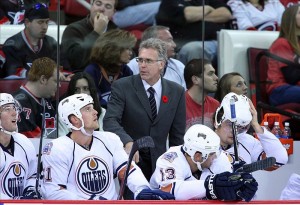 Blame Edmonton?
Having grown up in three neighbourhoods and graduating from the local University before moving to Saskatchewan, the thing I get about Edmontonians is that they are proud of their city. They want to succeed whether it's in business, work or sports. Edmontonians demand the best from each other. They feel a strong sense of civic pride whenever the local sports teams do well. So it's no surprise that the fans who come to Rexall Place and pay their tickets expect no less than a victory from the Oil. That's easier said than done.
Are Oiler fans too hard on this young group? Perhaps they should learn about how other fans have learned to be patient enough to stick with their team through good and bad. Take their old rivals the New York Islanders for instance. After decades of near-ruin thanks to the dictatorship of Mike Milbury and Garth Snow in his early years, the Isles have seemed to turn things around under Jonathan Tavares' leadership in the past three seasons. Unlike the Oilers core, Tavares is just one guy, and he's putting the whole team on his back to make the team relevant again. Today's Isles are not the same Isles from the glory days, but they're making a splash all the same so far this year.
Maybe Oiler fans should do the same too. They need to let go of their glory days because those days are long gone. Watching the Oilers walk to the dressing room to the chorus of boos last month was very sad to watch. If management doesn't change, the fans should focus on demanding change with the team itself. Some suggestions:
Offer full support for the new coach Nelson
demand changes to the roster (especially the goalies) through better trades
Demand the revamping of the scouting team
Demand more salary resources to get qualified free agents (and convince them to stay in Edmonton for the long haul)
And if things don't change, don't go to Rexall Place or sell your tickets.
If nothing's going to happen now these improvements better happen soon, or this will be another bitter winter for people in the former City of Champions.
Merry Christmas!