Because of its cultural diversity a lot of hockey players generally have unique and memorable names. Whether it's Tuukka Rask or Pekka Rinne or Sergei Bobrovsky for whatever reason, they have cool names that stick with us. Then, there's Craig Anderson; one of the most average or common names out there. But there is nothing ordinary or average about the Mr. Anderson that is the goaltender for the Ottawa Senators. He may be just temporarily keeping the crease warm for the future goaltender of the Sens, his backup Robin Lehner, maybe, but in the meantime his solid play is currently allowing the team to hang around in the middle of the pack in the Eastern Conference despite their coach getting axed early in December.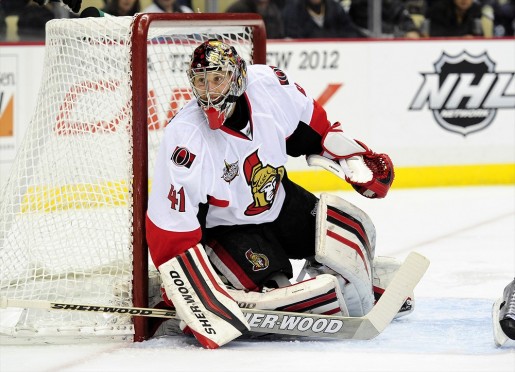 Nothing came easy for the now 33-year-old Anderson; he had to work hard to make it to the NHL and now is an 11-season veteran; he has been a starter in the league for three franchises. He was drafted twice (Calgary 1999, Chicago 2001) and played in his first game in 2002. In 2005-06 he was claimed off of waivers three (3!) times and in the end was back with Chicago as Nikolai Khabibulin's backup. After a trade that June he was Tomas Vokoun's backup with the Panthers in Florida, which in turn led to a nice payday with the Avalanche in Colorado — where he guided them to the playoffs in his first season as a full-time starter (38-25-7). The Avs then gave up on him the next year and traded him to Ottawa in 2011 where he has finally found a home; before this season he signed a three-year extension. Now in his fourth season with the Sens, Anderson has helped them make two playoff appearances already.
After a recent 34 save, 2-0 shutout against the New Jersey Devils, The Hockey Writers caught up with Craig Anderson; he did it all that night, almost scored a goal into an empty net in the game's final minute. "It was so close," he told the group of reporters after the game. "You wait a whole career for a chance like that, it may never happen again — a chance to take a shot at the net. The first time I've really had the opportunity to try it (in a game)." We asked him about his long path to the NHL, the goalie camp he runs during the summer and what it's like being an American player in a Canadian city among other things.
Craig Anderson takes a shot at the empty net…and just misses:
The Hockey Writers: Do you feel like you've finally found a home in Ottawa after bouncing around a bit earlier in your career?
Craig Anderson: Yeah this is going on four-five years now for me here; it's one of those things, timing…timing is everything. And making the most of your opportunities; when things don't go the way you planned, you make the most of it and you learn from it. Then when things start to go a little sideways or sour for you in a new location, you're able to balance it and turn the ship around, and be a good piece of the puzzle for that team.
THW: As an American guy what's it like playing for a Canadian team after playing for franchises in Florida, Colorado & Chicago?
CA: It's enjoyable; the Canadian markets, the Canadian fans know a lot about the game — they respect the game. In Florida the fans come out and support the team, but I don't know if everybody at the game really knows what's going on. Where as you get to a Canadian city, I guarantee 90% of the fans at that game either played hockey or grew up and watched hockey with their parents, or they played on the pond in the backyard. Some way, shape or form nine out of ten kids, if not ten of ten, play hockey in Canada.
THW: We heard that you run a goalie camp in the summertime; can you tell us a little bit about that?
CA: When I first started playing pro hockey in the NHL, I was told by Trent Yawney that you'll never give back enough to the game that the game has given to you. I've really taken that to heart and gave back as much as I can to the kids, and I try to make it an enjoyable experience. I try to pass on some of the knowledge that I've learned; it's fun for me to go out there and score some goals, shoot some pucks on some kids (smiles) and they get a kick out of it too. One of the week's we have men's league goalies out there too and they love it. You sit there and you talk about hockey, the pro game, and they are just in awe that they are able to A- be on the ice and be taught by a goalie that plays in the National Hockey League and B- but also to get to hear some stories about it.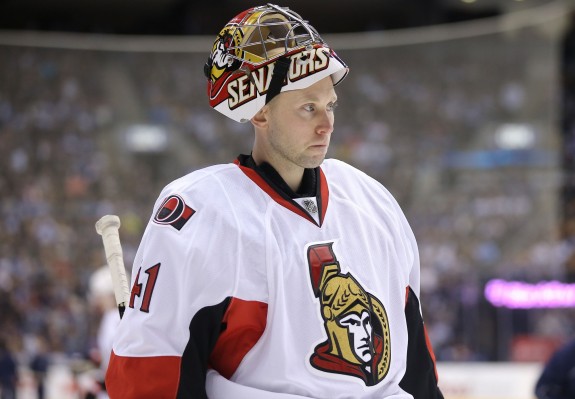 THW: In Florida is where you just about cemented an NHL spot for yourself, were those some fun times in your career?
CA: It was fun for me; it's a place where if you weren't happy going to the rink there was problems because the sun was out every day (smirks). Like I was saying before, you make the most of your opportunities and for me I always got to play on the road when I was a member of the Panthers. There's a lot of energy in those buildings you are playing in and whatnot; it was exciting for me, it taught me how to play on the road, how to win on the road. It was one of those things where you learn from every experience and you keep moving forward.
Dan Rice can be reached via Twitter: @DRdiabloTHW or via Email: drdiablo321@yahoo.com
Dan Rice is in his 9th year of reporting for THW & has covered NJ Devils home games for 15+ years at various websites. He began his journey working for legendary broadcaster/writer Stan Fischler from 2002-04 & completed an internship at the ECHL; he also has been writing features for the NWHL (nwhl.zone) website since 2016.