When it comes to those blasted shootouts, the Flyers are on quite the run. Thursday night's shootout loss to the Florida Panthers marked their 10th straight loss in the skills competition; a streak that began on Jan. 16th of last season. It's been nearly a full calendar year since the orange and black collected two points after going post-overtime – Dec. 30th, 2013, to be exact. Oh, but there was a hockey game before their latest shortcoming.
Another Snoozer
On the heels of their historic 20-round shootout win on Tuesday night, the Panthers dominated the first period, taking a one goal lead – scored by Scottie Upshall – into the dressing room. It could've been much worse, though. Florida overpowered the Flyers with 12 first period shots on goal to Philly's eight. Florida's lead in shots, though, didn't depict how smothering their forecheck was. Even Sean Bergenheim had an apparent goal waved off for a hi-stick.
That domination, although not as severe as the first period, would sustain throughout the tilt. But even with the tight-checking Panthers clogging the Flyers' passing lanes – especially in the neutral zone – Jakub Voracek was able to tie the game in the second period with his 12th of the season.
The Flyers would avoid another late-game disaster, gaining the overtime point. But that's where the positive ends, as the Panthers lulled Philadelphia to sleep with a shootout victory in their 22nd game decided by one goal.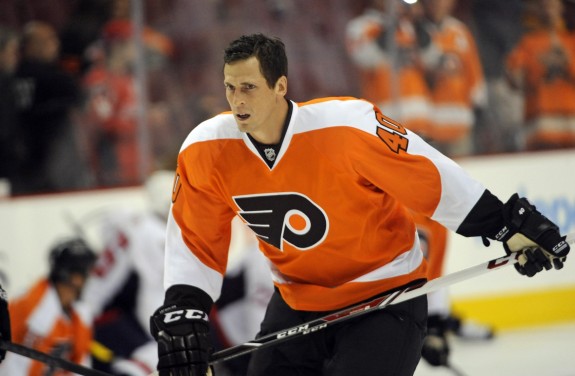 Le-'Cat'-valier
After sitting out for seven grueling games, Vinny Lecavalier returned to play the team that he's dominated throughout his 16-year career. Lecavalier's 72 career points against the Panthers stand as the most points scored by an opposing player. But despite throwing together a string of energized shifts with Pierre-Edouard Bellemare and Zac Rinaldo on the fourth line, the second-year Flyer was held scoreless for his sixth straight game.
RW Vinny Lecavalier, back in the lineup after being benched for seven games, was scoreless with no shots and a minus-1 in 11:48 of ice time. All three of his shot attempts were blocked. — Randy Miller, NJ.com
The former Stanley Cup winner didn't play as bad as the stats say, however. Lecavalier played with a noticeable jump in his step, while creating early opportunities, like his saucer pass from behind the net that unfortunately skipped over Rinaldo's stick.
12-18-14: Lecavalier Postgame http://t.co/tLyjO1QuoG

— Christine Thompson (@Christi16863498) December 19, 2014
Replacing Scott Laughton on the second power play unit, Lecavalier was a non-factor, seeing no time on the man advantage. Philly's one and only power play was an abbreviated one, as the Flyers were killing off a penalty of their own. But then came that blasted shootout (really, I can't stop using that phrase).
Head coach Craig Berube's decision to send Lecavalier out to lead-off the Flyers' shootout lineup ended up indicative of their now 0-5 mark on the season. As it turns out, Jakub Voracek would stand to be the only Flyer to find the back of the net whatsoever for Philly, driving home the equalizers in both the second period, as well as the third stanza of the shootout.
But when you're as bad at shootouts as the Flyers are, names like Dave Bolland stick it to you like a Hulk Hogan body slam. And even though Steve Mason dropped his eighth decision in his last 10 games – fourth straight in the shootout – he was terrific again on Thursday. With Voracek's lone goal, Mason has now been given one goal or less for the fifth time in his last 10 starts.
"We got one point and again left another one out there," said Mason after dropping to 6-10-5. "There were some good things and some bad things, but overall, we've got to up our intensity. We've got to create more."
After exploding for a combined nine goals against New Jersey and Carolina, the Flyers' struggles with teams from the Sunshine State continued. In losses to Tampa Bay and Florida, Philly has now scored twice in a combined 125 minutes – not counting Voraceks shootout goal, of course. But you know the script – not enough "effort," more "intensity," and on down the line, as several players have repetitively said.
Instead of sitting tied for fifth in the Metropolitan Division with Columbus' overtime loss in Washington, the Flyers will have to settle for sharing the division's sixth spot with New Jersey. But even with their modest gain in the standings, Berube's squad sits eight points out of the Eastern Conference's last Wild Card spot.
Tidbits From the Homestand Finale
Panthers Take Season Series
Despite gaining three points in three games against the new look Panthers, the Flyers have now dropped the season series to the team from Sunrise by a 1-1-1 mark for the second time in three seasons. The two teams have now traded wins in seven straight games dating back to Feb. 21st, 2013.
Viewing options tonight:
1) flyers/panthers
2) jags/titans
3) watching lights blink
4) watching paint dry
5) stabbing my eyes out

— Michael Bennett who is not retired yet (@mikeb927) December 19, 2014
Jake Voracek Watch
Jake Voracek's second period goal not only kept the top line forward from being held scoreless in consecutive games for the first time this season, it also brought him into a three-way tie among the NHL's top points scorers. With Dallas idle on Thursday, both Voracek, and Pittsburgh's Evgeni Malkin drew even to Tyler Seguin with their respective 38th points of the season.
I'M NOT BUD, I'M VORACEK

— Steph Driver (@StephaliciousD) December 19, 2014
Luongo Rules
Florida goalie Roberto Luongo improved his all-time record against the Flyers to 7-8-2 after a 25-save performance on Thursday night. Dating back to Dec. 3rd, 2009, the former Vancouver captain is 5-2-0, and is 4-5-2 throughout his two stints with the Panthers against Philadelphia. Luongo's 385th career win ties him with Mike Vernon for 12th all-time in career wins. So there you have it… the Flyers are another answer to a trivia question.
https://twitter.com/ReluctantSE/status/545740519905972226
Pack Your Suitcases
Philly's last two losses especially sting as the Flyers will now embark on an eight-game road trip. The Flyers will carry their 3-9-3 road record to Toronto before their visits to Winnipeg, Minnesota, Nashville, Arizona, Colorado, Carolina, and New Jersey.
https://twitter.com/Katia_2428/status/545037425060638720
I like our chances. What about you?