Artemi Panarin set the stage for the latest chapter in the USA-Russia hockey odyssey when he proclaimed, "We're in a fighting mood to play the Americans. We need to teach those college kids a lesson." However, that's the furthest the 1980 comparisons would go. There would be no miracle finish in this one. After two scoreless periods, Russia topped USA by a score of 4-0 in the second semifinal game at the 2015 IIHF World Championship.
Ovie the Ringer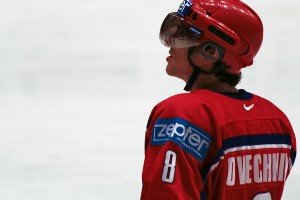 Once again, we find Alexander Ovechkin riding in on his white horse to save mother Russia, after being eliminated early in the Stanley Cup playoffs. Arriving just in time for the semifinals, Ovechkin made his presence felt in the game, including scoring the second goal of the game.
Aside from Ovechkin, goaltending was another big story in this one, especially the play of Connor Hellebyuck. He was faced with a barrage of shots through the first two periods and came up big time and again. His duelling partner Sergei Bobrovsky was also up to the task keeping the game scoreless through two frames.
Is Connor Hellebuyck related to Jim Craig?

— Szymon Szemberg (@Sz1909_Szemberg) May 16, 2015
The two teams traded blows in the way we wished Floyd Mayweather and Manny Pacquiao had done a few weeks earlier. Both teams generated multiple scoring chances, but neither the Russians or Americans wanted to be knocked down.
However, the damn eventually broke for Team USA when Sergei Mozyakin went bar down in the third period.  From there, the game was all Russia's as they continued to pour it on until the final buzzer.
"In the third period, we just kept playing our game," said Russian defenseman Dimitri Kulikov. "[USA's] inexperience allowed us to put some pressure on them and make them make a mistake."
Super Star Showdown
It's too bad Gary Bettman wasn't available for interview after the game because we all have to be wondering what he's thinking seeing his two stars Sidney Crobsy and Ovechkin battling for a championship in mid May that's not the Stanley Cup.
The international hockey stage has been given a special treat, that the fans in Prague will surely enjoy. This has to be a matchup IIHF President René Fasel must have only dreamed about.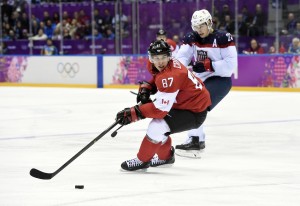 In the end, this tournament played out as expected (even if not with the players we expected) and we'll have a new chapter in the severely over hyped Crobsy-Ovechkin rivalry.
Crosby looks to become the 26th member of the Triple Gold Club, while Ovechkin looks to capture back-to-back world championships. This would be the first time a country won consecutive titles since Russia did it by winning in 2008 and 2009.
"I bet a lot of people were betting on a Russia-Canada final and now it's happening," said Kulikov. "It's going to be a fun game."
The Championship concludes tomorrow with the medal games. The Czech Republic battles USA for bronze at 4:15 p.m. CET (10:15 a.m. EDT), while Russia and Canada go for gold at 8:45 p.m. CET (2:45 p.m. EDT).
Keep it locked here and follow me on Twitter as we'll wall-to-wall coverage of the bronze and gold medal games from Prague.
As an American based in Amsterdam, Joe provides a unique hockey insight, bringing a global perspective to the game. Joe has several years of experience covering the game on both a domestic and international level, including being credentialed for multiple World and World Junior Championships.