Will the real San Jose Sharks please stand up? Starting out the gates 10-10-4 with a rough 16 of their first 21 games on the road, the Sharks bounced back with a blistering hot 9-1 stretch through most of December. All of a sudden however they have now dropped three in a row (0-2-1) against three straight divisional opponents. Losses to the Ducks, Kings, and Canucks, three teams directly in San Jose's path to the playoffs is nearly as bad of a three game skid as you can find. They haven't played terrible by any stretch, but were just so-so against Anaheim, rather weak against the Kings and so-so against Vancouver. Over the past three games the Sharks have scored just four goals. Joe Thornton has points on three of them. His line isn't the problem.
Nieto on Fourth Line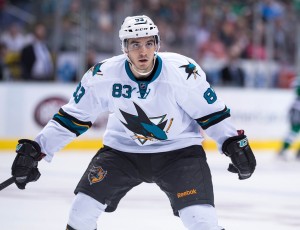 The Sharks' second line of Patrick Marleau, Logan Couture, and Tommy Wingels has gone ice cold. With the return of an impact player like Matt Nieto from injury, there was a perfect opportunity to shake up the second and third lines. Instead, San Jose Sharks head coach Todd McLellan started Nieto, the league leader in Corsi-for percentage, and the Sharks' most prolific even strength forward (leads all Sharks forwards in goals for per 60 minutes), on the fourth line against Vancouver.
Nieto had some jump early and he eventually got some shifts late in the game on the Joe Thornton and Joe Pavelski line. He took the spot of Tomas Hertl, who hasn't been great lately but certainly not hindering the success of the Joes. Some better luck and Hertl would have a couple more goals the last few games. Nieto has had some earlier success on the Thornton line this season but the second line was the group in need of a jolt. Marleau, Wingels, and Couture have now combined for a mere three points in the last seven games. Compare that to Thornton, who has seven points in the last seven games all by himself.
Back to Nieto for a moment though, it needs to be driven home just how good he has been. In 27 games now, he has just nine points, and a mere five at even strength. Twenty-seven games with just five even strength points. For comparison's sake, Thornton has 23 even strength points in 36 games. Rounding up for Nieto, in equal games played, he would have seven even strength points. Thornton has three times as many points as Nieto, yet the advanced data tell us that the Sharks score more goals with Nieto on the ice than Thornton. The Sharks score 2.55 goals per 60 minutes of five on five ice time with Nieto on the ice, and just 2.17 goals per 60 minutes when Thornton is on the ice. This indicates that Nieto has been a even bigger contributing factor to the Sharks' five aside offense than Thornton but has had some of the worst luck imaginable when it comes to picking up points. Some down right pitiful, inconceivably bad luck.
You could make a strong case, that five-on-five, Nieto has been the best Sharks forward this season. And upon return from injury, Todd McLellan started him on the fourth line. With his team struggling to score goals coming in, just 12 regulation tallies (not including an empty netter) in their past six games, their most prolific scoring forward skated most of his shifts on the fourth line. Again, the NHL leader in Corsi-for percentage, a player creating opportunities himself, not riding the coattails of linemates, started on the fourth line. Earlier this season McLellan ribbed me for bringing up Corsi in connection with Nieto. It is remarks like that, and personnel decisions like playing Nieto on a fourth line that make me think the Sharks staff are behind the times.
Vlasic & Tennyson over Braun & Irwin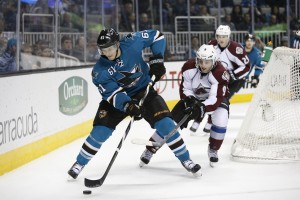 Not only was slotting Nieto on the fourth line puzzling but the continuation of Marc-Edouard Vlasic on the power-play is inexplicable. Justin Braun is by far the more offensively gifted blue-liner, yet he has been riding the bench this season come power-play time. The last couple years Braun saw much more power-play time than Vlasic but this year they have flip flopped. Vlasic hasn't gotten any better offensively in recent years, nor has Braun gotten any worse. Points come and go, Vlasic had a hot start offensively last season, but even then Braun still had more offensive flair and always will. Braun is the one with a knack for getting shots through to the net from the point, stick-handling through people in traffic, and distributing nice passes on the power-play. Vlasic is phenomenal, but none of these traits are strengths of his. Braun is a better fit on the power-play and so is Matt Irwin. The latter of which would bring a booming shot to the Sharks second unit. Instead, career AHLer Matt Tennyson has been playing opposite Vlasic. While Tennyson does have offensive skill, Irwin and Braun have built in chemistry together from their days in Worcester and Irwin's biggest strength is power-play. Tennyson didn't make the opening night Sharks roster, Irwin did. Not getting power-play time behind a recent call up certainly can't do much for Irwin's confidence. Having been mostly scratched in recent weeks, Irwin getting into the lineup but not getting a shot to do what he does best is a bit of a head scratcher.
McLellan gets a lot of praise from media around the league as being a top-5 NHL coach. Outsiders will cite regular season record, special teams performances, but that's about all they have not watching the Sharks on a nightly basis. When you look at the various small decisions made each and every night, it leaves me far from convinced McLellan is any better of an NHL coach than Darryl Sutter, Dan Bylsma, Bruce Boudreau, Peter Laviolette, Barry Trotz, Guy Boucher, Mike Yeo, Alain Vigneault, Joel Quenneville, Mike Babcock, Claude Julien, Dave Tippett, Ken Hitchock, Lindy Ruff, or any number of other NHL coaches.
Andrew has been credentialed to cover the Sharks since 2010 and the 49ers since 2012. He graduated with his BA in Broadcast Electronic Communication Arts in 2013 from San Francisco State University.