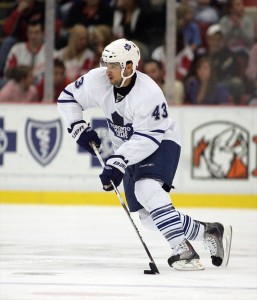 The Toronto Marlies' season has come to an end, and so have the restrictions that keep coach Dallas Eakins firmly within the organization.
Written into his last contract extension was a clause that prevented Eakins from seeking a National Hockey League position until the end of the 2012/2013 season. While he does technically have two years left on his current deal, he now has an out, and the freedom to explore any opportunity he is presented with.
In his four seasons behind the bench of the Toronto Marlies, Eakins has developed into a very good developmental coach. This fact is evidenced by the number of players he has guided into the Maple Leafs' lineup, especially during this lockout shortened season.
The likes of Matt Frattin, Jake Gardiner, Korbinian Holzer, Ryan Hamilton and Mark Fraser all owe a large part of their development and promotion to Eakins, as he has established a culture of respect, hard work and accountability within the lower levels of the Maple Leaf organization.
No player, however, has improved more under the tutelage of Eakins than Nazem Kadri, who finally enjoyed a long-awaited breakout season for the Blue and White this year. The 22-year-old London native's attention to detail and overall and confidence level were greatly improved over previous seasons and it showed in every aspect of his game.
Starting with calling him out on the first day of Marlies training camp in September for not being in good enough shape, Eakins kept Kadri on a tight leash, while still giving him room to create and develop his offensive game.
Eakins even resorted to making Kadri a healthy scratch in an AHL game in November in an attempt to motive the young centre, and it worked.
Since that game, Kadri played with more fire and determination, eventually making the jump to the NHL and recording 44 points in 48 games, good for second on the Leafs behind superstar Phil Kessel.
Kadri's plus-15 rating was also second on the team behind Mark Fraser, another Marlies product, who recorded a plus-18 in 45 games played. Nazem had improved his decision-making and defensive play, something directly attributed to working closely with Eakins and his staff.
It was obvious from the start of the season that Kadri had made the jump from prospect to legitimate NHL'er, and he was a major contributing factor towards the Maple Leafs ending their 9 year playoff drought.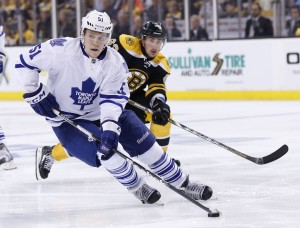 His improvement, as well as the contributions of Frattin and Gardiner throughout the season and playoffs point to the importance of having a solid minor league system and having a good instructional coach leading it.
One could even make the argument that Eakins was the Leafs MVP (most valuable person) this season, as the club would have looked much different without the young players that he helped take the next step in their careers.
Eakins is arguably one of the better coaches in the AHL and will be high on a few team's lists of potential candidates to fill head coaching positions, given his newfound freedom.
There are coaching vacancies in Vancouver and Dallas currently, with Eakins surely in contention for both jobs. There are also other potential openings that don't yet exist, but may come available following the playoffs.
Disappointing seasons for the New York Rangers and Winnipeg could lead to coaching changes sooner than later. As well, with the Phoenix Coyotes ownership situation yet unresolved, Dave Tippett has not renewed his contract and may not be back as coach.
The one thing working against Eakins is his competition's experience level. Coaches like Lindy Ruff, Guy Boucher, Alain Vigneault and Paul Maurice may be more attractive for teams looking to fill their coaching vacancies.
This could work to Toronto's advantage, as having a coach like Dallas Eakins leading their AHL affiliate has proved to be beneficial to the organization as a whole.
It may not be this summer, and it may not be next, but eventually Eakins will get a head coaching job in the NHL and the Toronto Maple Leafs organization will have to find somebody to fill the large footprint he will undoubtedly leave.
A graduate of Wilfrid Laurier University, Kevin is the Senior Editor of Maple Leafs Central and has previously worked as a Toronto Maple Leafs contributor for The Hockey Writers. Kevin can be contacted at k.am.pentz (at) gmail (dot) com.