There are several images that stick out from the 2013 IIHF Women's World Championships. Jenn Wakefield's backhand top-shelf shootout goal to help seal a preliminary round victory for Canada over the United States. Amanda Kessel's bottle-popping game-winner in the third period of the gold medal game. The victorious Americans bounding toward their goaltender as the horn sounded, a shower of sticks and gloves in their wake, the signature of nearly every hockey championship.
But the tournament's most lasting image might be a snapshot from the U.S. players' post-game celebration. It might be a picture of an elated band of Americans triumphantly holding up a banner with one simple declaration: "HOCKEY IS OURS". Before becoming the Americans' prop, the banner had donned the boards at ScotiaBank Place as an advertisement and an all-too-premature Canadian claim. At some point in the United States' euphoria, it was gleefully ripped down in a rush of emotions that only a gold medal can bring.
In reality, the U.S. players tearing down and posing with that banner was nothing more than some good-spirited fun. No anger or hard feelings, just a bunch of ecstatic women enjoying themselves after a huge win. But symbolically, that picture says a thousand words. It tells a story of one country boldly declaring it has a right to a victory, to an entire sport, because of what it's done in the past, and another just as boldly putting that idea to rest, with a resounding performance in the present. That picture says a lot about what might have gone wrong for Team Canada.
The Issue At Hand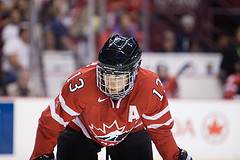 After ten World Championships and three Olympic gold medals, there is no denying that the Canadian women's national team has historically been a world powerhouse. And they still are, without a doubt. But the fact of the matter is, they've lost four of the last six gold medals in major international competitions. Questions have risen about the state of the program and what needs to be done to ensure continued dominance, and understandably so. How does a country with such a rich history endure that kind of downward trend?
One theory is that Canada can no longer compete with the U.S. when it comes to player development, that Canada just isn't producing enough of the right players to be better than the U.S. Many others, though, are of the opinion that the problem lies not in player development but in player selection. The Canadians have the right players; they just might not have all of the right players on the roster. That implies that there are "wrong" players on the roster, and who might that be?
The aging veterans. The old guard. The players who built this storied Canadian program to what it is now, but who are now in the twilight of their careers. Jayna Hefford, Caroline Ouellette, Hayley Wickenheiser. There's no denying the impact that these players have had on the Canadian glory of the past. For a long time, they were part of the solution, the answer to the complicated riddle of winning a gold medal. But they might now have become part of the problem, as Hockey Canada seems to insist on building a team around a core of players whose best years are behind them.
It's hard to watch Jayna Hefford's slick passes and sharp vision and say she shouldn't be on the roster. But it's just as hard to watch Amanda Kessel blow by Hayley Wickenheiser in the neutral zone on a gold medal-winning play and say that the Canadians shouldn't be giving their younger players a chance. Like picking players based on reputation and past performances, it would be just as ill-advised and senseless to select players solely because they're young. But if Canada is going to capture Olympic gold in 2014, a changing of the guard may be in order.
The United States: A Measuring Stick and a Model
Sometimes in sports, it can be dangerous for a team to concern itself with the moves its rival makes. But in women's hockey right now, the U.S. is by far the biggest threat to Canada, and vice versa. And while Canada has seemingly been on the decline in recent years, the Americans are steadily tracking upwards. The Canadians have their own program and their own philosophy, but if they want success, it is imperative that they remain above the United States. So it may be in the Canadians' best interests to use Team USA as a measuring stick, and to pay attention to how and why the Americans are winning.
Here's two things we know about the U.S.: with their oldest player being 31-year-old captain Julie Chu, they're the face of youthful vibrancy; and they're meticulous about putting the right roster together in a way that Canada is not. The U.S. held a tryout camp prior to the 2013 World Championships. Canada did not. That's one striking difference between the two countries.
The other striking difference is how little Team USA seems to value experience, compared to the Canadians. In 2012, the U.S. cut Olympian Molly Engstrom from the World Championship roster while Michelle Picard, then a freshman at Harvard, made the cut. And this year, two-time Olympian Caitlin Cahow was sent home while Lee Stecklein, a freshman at Minnesota, suited up in Ottawa. Kendall Coyne and Hannah Brandt both made World Championship rosters out of high school, in 2011 and 2012 respectively. And Jincy Dunne's 15 years of age did not discourage USA Hockey from inviting her to try out for this year's squad.
There are, of course, examples of Canadian youngsters making the cut for the senior team. 18-year-old Marie-Philip Poulin was the hero in the Olympic gold medal game in 2010, scoring both goals in the 2-0 victory. The difference is that the U.S. has made it a point to build the team around its young players, while the opposite is true for Canada. And the problem for Canada is that the past accomplishments of their veterans mean absolutely nothing against the current ability of the Americans.
Looking Ahead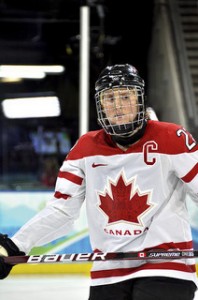 With the 2014 Winter Olympics in Sochi quickly approaching, Team Canada will put the 2013 World Championships behind them. They'll instead focus on the next challenge: winning a fourth-consecutive Olympic gold medal next February. But there was a lesson to be learned in Ottawa this past April, and in the total gold medal count within the last six years. It is crucial that they remember it, even as they look toward Sochi. Especially as they look toward Sochi.
After the World Championships in April, we saw the retirements of three different Canadian women's national team players: Sarah Vaillancourt, Kim St-Pierre, and Cherie Piper. It would be a bit of a stretch to call that a changing of the guard, though. Neither St-Pierre or Piper have been on World Championship rosters since 2011, and Vaillancourt retired from the national program due to injury.
Five players that were not on the Canadian 2013 World Championships squad have been added to the roster of 27 players that will train together and prep for the Olympics during the 2013-2014 season ; those five are forwards Vicki Bendus, Mélodie Daoust, and Jenelle Kohanchuk, and defensemen Brigette Lacquette and Tara Watchorn. All are between the ages of 20 and 23, but have had plenty of exposure to tough competition. Daoust, who plays for McGill University in the CIS, has played some games in the Canadian Women's Hockey League with the Montreal Stars. Lacquette has two years of NCAA experience, while Kohanchuk, Watchorn, and Bendus have all graduated from the NCAA within the last three years. These five players bring a healthy mix of current talent and experience, which will really benefit Canada.
There are several other young Canadian players who will most likely be of great help down the road. The three that immediately come to mind are Quinnipiac forward Kelly Babstock, Clarkson forward Jamie Lee Rattray, and Clarkson defenseman Erin Ambrose. All have already displayed an impressive amount of skill and have the potential to make an impact on the international stage.
The bottom line is that Canada does not need to completely overhaul their roster and cut every player above a certain age. But it may help them considerably to expand the roles of their younger players, both on the senior team and in the pipeline, because of how well they can perform now, instead of how well they could perform yesterday.
The future is bright for the Canadian women; it's time they move forward and embrace it.
Gabriella is now in her third season of covering NCAA and international women's hockey for The Hockey Writers. She is the founding editor of At Even Strength, a website dedicated to providing full-time coverage and analysis of women's hockey. She is currently working towards a degree in Communication at the University of North Dakota, and is also interning with UND Athletic Media Relations. She can be reached on Twitter (@gabfun) or via e-mail (gfundaro10 [at] gmail [dot] com).