Goaltending Woes Have Helped Dallas To a NHL Worst Goals Against Per Game
The Dallas Stars came into the season with high expectations coming off a six game first round series with the Anaheim Ducks in the playoffs. Despite losing the series the Stars showed their potential as many expected the Ducks to run over the Stars before the series started but that was not the case. Heading into this season the Stars were hoping to build on their success from last season and work towards their goal of winning the Stanley Cup. This season has not started how the Stars envisioned as they currently sit 12th out of 14 teams in the Western Conference with a record of 9-12-5. Only Arizona and Edmonton are trail Dallas in the Western Conference.
Dallas has not had a problem putting the puck in the back of their opponents net as they are a offensively gifted team led by the two-headed monster in Tyler Seguin and Jamie Benn but they have had a great deal of problems defensively. Dallas is ranked dead-last in the league for goals against per game. As you can see below they give up a league worst 3.58 goals a game (……YES, they really are ranked behind Buffalo and Edmonton). A large part of that is due to their poor defensive play as a team but their goaltending certainly has been less than stellar.

(NHL.com)
Current Goaltending Situation
Kari Lehtonen is supposed to be the undisputed number one netminder in Dallas but he has been struggling greatly this season. Coming off a great season last year which saw Lehtonen finish with a 33-20-10 record,  .919 save percentage and 2.41 goals against average. This year has been the opposite of a success so far. The of native Helsinki has a winning record of 9-6-5 this season but with has a dismal .903 save percentage and 3.13 goals against average.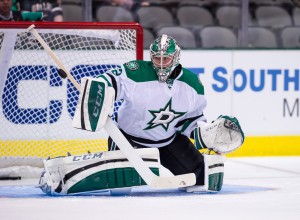 The Anders Lindback experiment failed. It failed miserably. After a decent two year stint as Tampa Bay's backup Dallas signed Lindback this past offseason. Lindback was put on waivers on Wednesday after posting going winless in Dallas. His statline in his five games with Dallas: 0-5-0, 4.63 GAA and .861 save percentage. Those numbers are simply not good enough for the NHL level, leaving Dallas with no other option than to waive him. Lindback has joined the Stars top goaltending prospect Jack Campbell in Texas of the American Hockey League.
Jussi Rynnas got called up from Texas yesterday after Lindback was waived and got his first start of the season last night. Dallas again had trouble defensively as they lost 5-2 to Detroit. Rynnas stopped 24 of the 29 shots he faced in his second career NHL start. Rynnas was having a good season in Texas but it is yet to be seen if he can translate that level of play to the NHL.
Potential Trade Targets for Dallas
Jim Nill, the General Manager of Dallas,  who is no stranger to making moves will not surprise anyone if he attempts to improve his goaltending via trade. Dallas has not and will not win very many games if they are going to continue to surrender over 3.5 goals per game. I am going to take a look several goalies I believe will be available on the market this season and that could be a potential trade target for the Stars.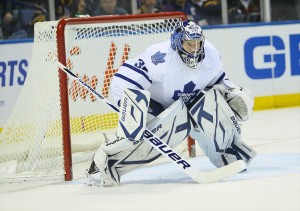 James Reimer – The Toronto goaltending situation is always a hot topic of conversation. Bernier who is a pending restricted-free agent, has played well this season . The Maple Leafs are going to heavily use him to see exactly what they have him in before investing longterm in Bernier therefore Reimer could be expendable. James Reimer's name has been involved in trade rumors since the day Bernier was traded to Toronto from Los Angeles. Reimer could come into this situation in Dallas to compete for the number one gig with the struggling Kari Lehtonen. Having the added competition in net it should push Lehtonen to play to his potential. Reimer is capable of playing large amount of games and certainly would be an upgrade over Jussi Rynnas and Anders Lindback.
Niklas Backstrom/Josh Harding – Heading into this season many people were uncertain what the Minnesota crease would look like but it is clear now that Darcy Kuemper is the number one goalie for the Wild.  Josh Harding broke his foot before the season began in an off-ice incident which left the door wide open for Niklas Backstrom to claim a spot in the top 2. Harding has recovered from his injury and was recently placed on waivers and cleared. He is playing for their AHL affiliate Iowa. Last year Harding was playing tremendously prior to having his season end due to his health. Minnesota will probably look to move Harding or Backstrom at some point this season to improve their roster elsewhere. Both Harding and Backstrom would bring a great veteran presence to backup Lehtonen which is something that Dallas currently does not have. Harding is the better goalie in my opinion so he would be preferred over Backstrom.
Viktor Fasth – Everyone knows changes are coming in Edmonton, it is just a matter of when the hammer starts dropping. It has been another miserable season for the Oilers. Edmonton may make some substantial moves in the near future and one of those could be acquiring a goalie due to the combination of Scrivens and Fasth low level of success thus far.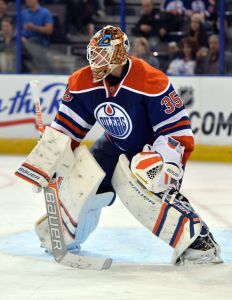 If Edmonton acquires a goalie one of Scrivens and Fasth will most likely be shipped out of town. Fasth, I believe is the expendable option here. Fasth could come into Dallas and be a reliable backup. He has played well through his two year career in the NHL prior to this season. Fasth would be certainly be an improvement over Rynnas and Lindback.
Martin Jones – The Los Angeles Kings are currently blessed with Jonathan Quick and Martin Jones. Jones, who 24 years old,  has played exceptional in his limited amount of starts behind Quick who is one of the best netminders on the planet. Jones would not come very cheap but that is because of his potential to develop into a great starting goaltender. Similar to what Los Angeles did with Jonathan Bernier they could do to Jones and deal him for assets instead of paying to re-sign him. Jones is set to be a restricted free agent at the end of the season. If Dallas acquired him they would have to give him a fairly large raise, but it would be well worth it. Jones would be a significant improvement to the Dallas crease for this season and many years going forward.
The addition of a goaltender would be welcomed in Dallas. The team needs to play better defensively in order to have any sort of chance at a playoff spot. An improved Stars blue-line along would help the Stars immensely. This season is not over by any means for the Stars but they certainly need to improve and do so quickly.