I didn't bother setting an alarm. My life no longer revolves around the Edmonton Oilers' schedule.
When I finally took the time to watch the team's Friday morning press conference — tuning in to the archived version a few hours after the fact — my initial reaction was: "Well, that's a half hour of my life I can't get back." Followed closely by: "I'm glad I didn't wake up for that . . . and I feel sorry for anybody who did."
For those who missed it, general manager Craig MacTavish addressed the media with a clear message: "We're frustrated. We know we suck (again). It is what it is, so deal with it."
More or less, that was the just of it. Did I miss anything? See for yourself, and draw your own conclusions:
To me, it was much ado about nothing. A meaningless presser.
MacTavish offered no real sense of direction, no reason for optimism. He didn't even name drop Connor McDavid as a potential saviour.
He talked at length about accountability, yet boldly defended everybody employed by the organization — from himself to embattled sophomore coach Dallas Eakins, to regressing first overall pick Nail Yakupov to freakin' Nikita Nikitin. Norris Trophy nominee turned healthy scratch Justin Schultz's name wasn't mentioned once, in any context. Make of that what you will.
MacTavish refused to admit it was a mistake starting the season with only two established NHL centres — Ryan Nugent-Hopkins and Boyd Gordon — and he made a point of arguing with Mark Spector over whether Nikitin was earning his $4.5-million salary. That was laughable, but the chuckles from other reporters unfortunately weren't audible.
There is nothing funny about the state of the Oilers, though. MacTavish did acknowledge that his hands are essentially tied in terms of making trades. He could do a lateral move here or there but no deals that would actually push the team toward playoff contention now or in the near future. Tax breaks aside, Edmonton still isn't a desirable location for elite unrestricted free agents — Benoit Pouliot, Mark Fayne, Andrew Ference and Gordon are NOT elite. Players with no-trade clauses aren't going to waive them to come to this cold, losing environment.
Reality is, the Oilers are in the midst of another lost season and it might get worse before it gets better — if that is fathomable, marred in an 11-game losing skid and still winless in 16 tries against Western Conference opponents (0-12-3-1). This team hasn't made the playoffs in nine seasons — yes, I'm already counting this one — not since going all the way to Game 7 of the Stanley Cup Final in 2006.
With three full days off between games, and with the fan base as restless as ever, MacTavish tried to face the fire ahead of hosting the San Jose Sharks on Sunday. But he really didn't have a leg to stand on and he struggled with the pogo-stick approach. One hop forward, two hops back was the theme.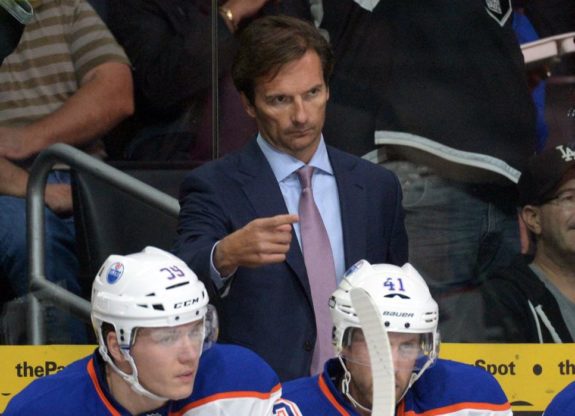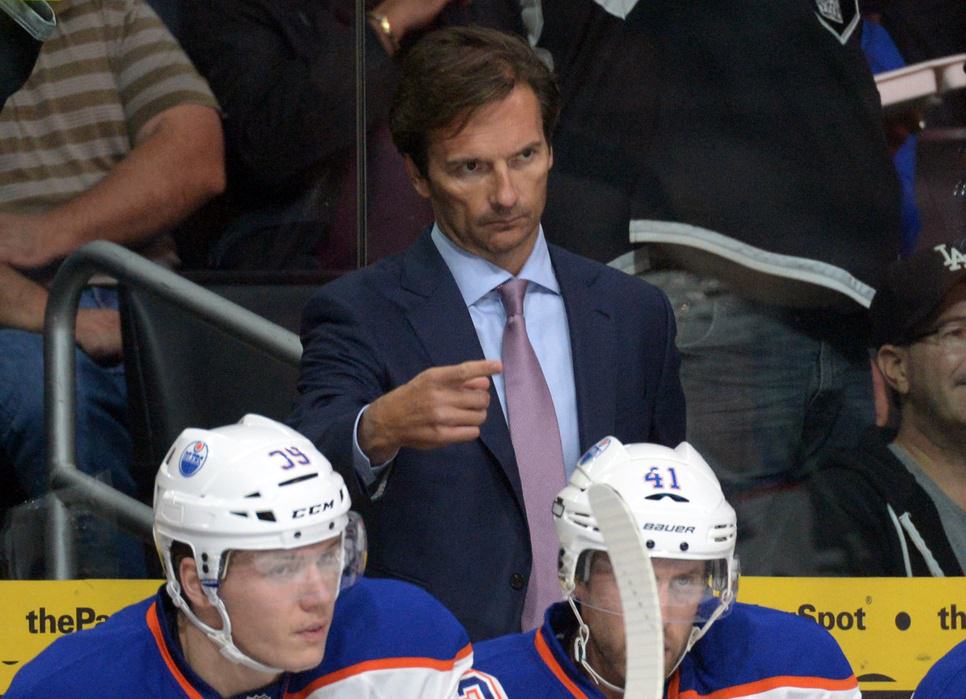 He didn't give Eakins the same vote of confidence he has in the past — everybody is being evaluated on an ongoing basis, MacTavish said — but he didn't give the impression that he was contemplating another coaching change. He insisted the message would be the same with or without Eakins delivering it, and that it was on the players to execute the game plan.
He didn't throw any specific players under the bus either. He was adamant that he still believes in this young core — led by Taylor Hall, Nugent-Hopkins, Yakupov and Jordan Eberle — that they are continuing to develop, albeit slower than anticipated. He thinks their consistency is improving and that it will translate into results sooner than later. Visually, he says, the Oilers are a better team than the standings indicate.
Therefore, MacTavish plans to stay the course, keep their draft picks and avoid sweeping changes to personnel on or off the ice. That's taking a page out of Steve Tambellini's management-for-dummies book. Sit on your hands and hope for the best.
For the Oilers' sake, McDavid better be the real deal — the next Sidney Crosby — and he better not pull an Eric Lindros, although it would be hard to blame the kid given the gongshow that Edmonton has become.
Larry Fisher is a sports reporter for The Daily Courier in Kelowna, British Columbia, Canada. Follow him on Twitter: @LarryFisher_KDC.