With their team in the thick of the hunt for both the Pacific Division lead and one of the final playoff spots in the Western Conference, Dallas Stars GM Joe Nieuwendyk made two interesting moves on Sunday, first signing 2009 3rd-round draft pick Reilly Smith to a three-year, entry-level contract, and then adding him to Dallas' NHL roster as opposed to it's AHL roster.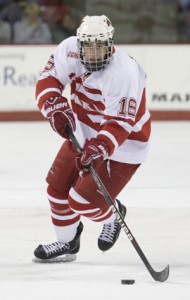 Smith, 21, was drafted 69th overall in 2009, had 30 goals and 48 points in 39 games this season with the Miami University Redhawks, and is currently a finalist for the Hobey Baker Award as the best player in NCAA Division I hockey. He also had 54 points in 38 games last season. A winger that is capable of playing both sides, he's also established a strong reputation as a 200-foot player that can play well on both the powerplay and penalty kill.
The most notable aspect of the signing, however, is that Smith was assigned directly to the  Dallas Stars, opposed to the AHL's Texas Stars.
"I think he's a player that can help our hockey club," said Nieuwendyk, reported by Andrew's Stars Page. "I can look back on my own experience (coming out of Cornell), when I joined the Calgary Flames for the last nine games of the season. It was a very valuable experience for me. It was one of the important things in my career. I have a past history with that. That has a lot to do with it.
"He's had a phenomenal year in college. He has some elements of skill and goal scoring ability. I think it is a low-risk move on our part."
Smith coming to Dallas raises a few interesting thoughts.
Dallas already has 15 forwards on the NHL roster, so that doesn't leave much room for Smith. Jake Dowell, Toby Petersen and Ryan Garbutt were healthy scratches for the Stars on Saturday versus the Calgary Flames, while Tomas Vincour was also a healthy scratch for the team on Thursday versus Vancouver.
Even if Smith doesn't play in Dallas this season, this move might show that Nieuwendyk considers Smith to be the team's best forward prospect. Alex Chiasson, the team's 2nd round draft choice in 2009 ahead of Smith, is expected to head to the Texas Stars since his NCAA season just finished, while Austin Smith, a 2007 5th-rounder that led all NCAA players in goals this season and is also a nominee for the Hobey Baker, was assigned there the other day. Worth noting is that Austin Smith is generating a lot of buzz as a front-running candidate for the Baker, having scored 36 goals and 57 points in 39 games, while Reilly Smith is not, but it's clear who Nieuwendyk thinks is the better player overall right now.
Also worth noting is that Reilly got the call-up ahead of Scott Glennie, Matt Fraser and Colton Sceviour, three of the team's best forward prospects that have accumulated professional playing experience in the AHL.
Where Smith might play in the team's pro lineup, if he gets the shot, is also something to keep an eye on. With Morrow still battling injuries, being dropped down to the 4th line on Saturday versus the Flames to help his recovery, there could be an opening in the team's Top 6. Adam Burish, Tom Wandell and Tomas Vincour have all played there at various points this season, but none have been able to prove that they are currently good enough to stick there. Though Smith has a strong enough two-way game to mesh with the 4th line, it's not out of the question that head coach Glen Gulutzan will give some serious consideration to playing him on the 2nd line.
If Smith doesn't suit up at all for Dallas, it would still give him some good experience hanging around and training with the pro team, which would give him a good head start in competing for an NHL roster spot next season.
But, if Smith does happen to suit up for the Stars and is able to contribute some solid depth minutes for the team, it could give Dallas another valuable asset as they set their sights on a playoff berth.