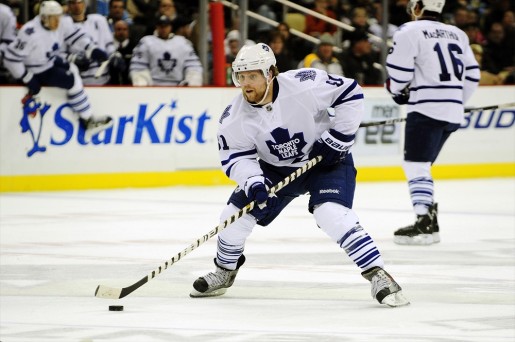 Maple Leafs Panel is a weekly feature that is published every Monday here on The Hockey Writers. It is a feature where THW Toronto Maple Leafs correspondents Lukas Hardonk, Mark Ascione and Alex Mamalis answer three questions that concern the Maple Leafs each week. To catch up on previous editions, click here.
Alex is absent this week, so we welcome Greg Thomson to the panel.
Question: The Maple Leafs' season has officially gone down the gutter. Is there anything worth the Leafs to play for now? 
Lukas Hardonk: It doesn't matter how poorly the Leafs do, it makes absolutely no sense for them to "tank" the remainder of the season only to achieve a high first round draft pick. You must remember that this is a season gone wrong and not a rebuilding stage. The team entered the season with playoff hopes and had a great chance to reach their goals, only to collapse at the All-Star break.
Looking for something the Leafs can play for is easy. For one, they can still salvage some respect with what you might consider to be a strong finish. Say, going 4-2 or 5-1 to round out the season. As well, youngsters like Jake Gardiner and Carter Ashton need look at these last six games as if they are part of this fall's training camp; they must remember that roster spots for next season have not been locked up.
Mark Ascione:  Essentially, everyone should be playing for their jobs next year. Though most of these guys are under contract for next season, they need to give management a reason to believe in them. A guy like Mike Komisarek, who has struggled throughout his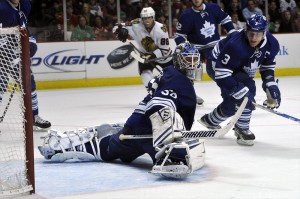 entire time in Toronto, Phil Kessel and James Reimer among others all need to play well for their own reasons, while some of the call-ups should be trying to make themselves unforgettable for the upcoming training camp.
Unfortunately, those are all mostly individual goals because there isn't very much to play for as a team and there isn't much difference between finishing ninth or 15th other than drafting position. This collapse has really killed any momentum the team had as a whole.
Greg Thomson: The players still have something to play for with roster spots on the line for next season. With the exception of Phil Kessel, Joffrey Lupul and Dion Phaneuf, there are no guaranteed jobs heading into the fall, so every player will be trying to make an impression on Randy Carlyle in order to solidify themselves in the minds of the coaching staff before training camp opens.
In particular, youngsters such as Nazem Kadri and Carter Ashton, along with fringe players like Cody Franson and Mike Komisarek, must find their niche within Carlyle's system or else they will find themselves demoted to minimal roles.
Not only do the players have to play for next season, they have to at least be a factor in the playoff race and stay competitive to influence which teams advance to post-season play. It will also give the Leafs an opportunity to gauge their level of compete versus the top teams in each conference, so they can determine how far off they are in the rebuilding process.
Question: Many people have wondered if the Leafs should strip Dion Phaneuf of his captaincy after this season due to the Leafs' lack of success under his leadership. Should Phaneuf remain the team's captain?
Lukas Hardonk: Ron Wilson once spoke of Phaneuf's leadership qualities during his time as head coach, noting that he was a strong presence in the locker room and that he was someone his teammates could look up to as a leader. Whether he still possesses those qualities or not is something that only a select few know, and yours truly isn't one of them.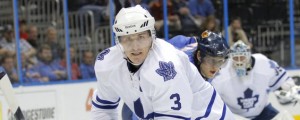 What is obvious though is the quality of teammates he has played with over the two and a half seasons. Not in terms of personality, but rather skill. No one can judge if he should be the captain or not based on where the team has finished in the standings each season. That said, is it not fair to at least give him one more season as captain?
Mark Ascione: A qualified yes. I don't see anyone else on this team who stands out as a captain. Kessel is offensively gifted, but he's not a leader. There are some who are very hard workers, but none of them guys have the personality for the 'C' or are still too young. Frankly, there does not seem to be a lot of leadership on this Leaf team anywhere, so perhaps it's unfair to pick on Dion alone. But, it's something that needs to be addressed, or this team is unlikely to improve.
I question how effective a leader Dion is. Everyone is different and perhaps it's unfair to compare, but Phaneuf seems to exhibit none of the public 'leadership' Leaf fans saw from Sundin, Gilmour, Clark and Sittler. When Dion was playing well, he led by example on the ice. They say he's vocal in the room, but you don't see it in his interviews, so I'm not sure.
To be honest, removing him as captain is a delicate thing. If they intend to keep him on the team, changing captains is sure to create a media storm asking about factions in the room, about management lacking confidence in their high-paid defenceman who is supposed to be a cornerstone of the team. That, and lack of a better candidate, means Dion is likely to be the captain for the foreseeable future.
Greg Thomson: Despite having a negative image surrounding his personality in front of the media or around the public, Dion Phaneuf displays all of the major characteristics that Brian Burke requires from his team. Truculence, belligerence, pugnacity and testosterone─all words synonymous with Leaf fans.
As long as Burke is directing the ship, and that'll likely be for at least another season or two, we likely will not witness a captaincy change. The general manager has repeatedly spoke out in support of his captain and admittedly, why should he do anything else? Not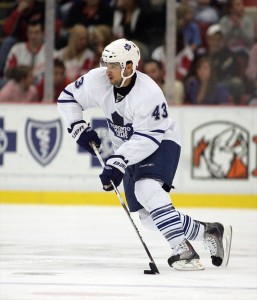 only does Phaneuf embody the type of player that the blue and white stand for his physicality, but he has also regained his offensive touch, with 42 points through 76 games─his best point total since he notched 60 points in 2007-08.
Question: Nazem Kadri now has a shot at the NHL under a coach not named Ron Wilson. Should he be given some extra time due to that or should things just go on business as usual when it comes to a potential transactions involving Kadri?
Lukas Hardonk: The good news for general manager Brian Burke and his staff is that Kadri's contract doesn't expire until next summer, which gives them some time to decide on what they are going to do with the youngster. At the same time though, a decision has to be made relatively soon as his trade value will soon begin to drop if he continues to fail to stick in the NHL.
Looking at Kadri and Carlyle specifically though, no one can really determine whether Kadri is better suited for Wilson's system or Carlyle's. Wilson's allows for more of an up-tempo, offensive game with Carlyle likes his team to buckle down and battle hard. Those are both attributes that Kadri possesses, albeit inconsistently. Should he be given time? Yes. The real question is how much, and the remainder of the 2011-2012 campaign seems to be the sensible answer.
The only problem is that requires a call-up, which at this point would be an emergency one for the Leafs. Because of that, it appears as though Kadri will play out the rest of the season with the AHL's Toronto Marlies.
Mark Ascione: Kadri had a nice game the other night against the Rangers, but as an emergency call-up, he's been sent back to the Marlies. I am not sure if it was Wilson alone or the whole of management that felt Kadri is not ready for the NHL. Regardless, he's had a successful year in the AHL and that has to be good for him. I'm confident that unless some deal Burke cannot refuse comes along, Kadri will get a fair shot at training camp next season.
That said, I will make one caution. There's been talk about how Kessel will have trouble with coach Carlyle due to the defensive system the coach requires and the line-matching he employs. If a proven 35-goal NHL player is going to have trouble, I am going to say Kadri,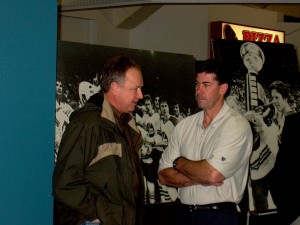 who has been kept in the AHL because his defensive game is lacking, is likely to have a lot of trouble in Carlyle's system. I think the 2012-2013 training camp will give us a good indication of the kind of year Kadri will have under the new coach.
Greg Thomson: Kadri is progressing at an average rate. Through six drafts dating back to 2005, the likes of Jack Skille, Kyle Okposo, Jakub Voracek, Colin Wilson, Jeff Skinner, Mark Scheifele and Kadri have all gone seventh overall. Of the seven players, Okposo, Voracek and Skinner have gone on to become perennial 15-20 goal and 40-plus-point scorers. Wilson is a third line centre capable of putting up over 35 points on a deep Nashville team and Skille is playing bottom-six minutes for the Florida Panthers.
Judging by the progression of Kadri and his commitment to becoming a well-rounded, two-way forward, he shouldn't be expected to exceed the 45-to-50-point barrier, in addition to his role as a shootout specialist.
Considering that teammate Joffrey Lupul didn't peak until this season after being drafted in 2002, with Mike Komisarek in the same spot one year earlier, Kadri should continue to be developed at a gradual pace under Randy Carlyle and should be given and extended stint with the big club. He has improved on every call up and there is no reason for that not to continue, as long as he contributes at both ends of the rink game in and game out.
Follow the panel on Twitter: Lukas Hardonk, Mark Ascione and Alex Mamalis. Follow Greg Thomson as well.
Lukas, a student at the University of Ottawa, covers the Toronto Maple Leafs on a part-time basis for The Hockey Writers. Contact Lukas at lukas.hardonk@gmail.com or follow him on Twitter, @LukasHardonk.