Dallas Stars head coach Glen Gulutzan has freely admitted that the Stars have openings on their roster up for grabs. These spots will likely be won by prospects who have spent the lockout playing with the AHL's Texas Stars, and they will be won in a truncated and frenzied training camp.
Who stays and who goes will ultimately be decided by the coaching staff and management, but other than those few openings, and barring a surprise or two, the Stars roster is fairly set in stone.
Let's take a look.
The Top Six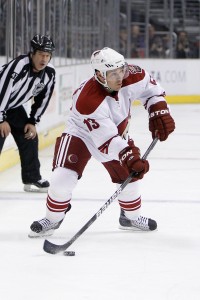 Returning players will make up the bulk of the Stars' roster, but the top six should feature three new faces: Jaromir Jagr, Ray Whitney, and Derek Roy.
Three new players in the top six should speak to the overhaul the Stars have undergone in Joe Nieuwendyk's quest to return the team to the playoffs. All three will be under intense scrutiny for different reasons.
Derek Roy is returning from shoulder surgery and a below average 2011-2012 season with the Buffalo Sabres, where he apparently lost favor with fans and management alike.
Ray Whitney scored 77 points last season, with 20 of those coming on the power play (a thing the Stars desperately needed to improve), but you can't mention Ray Whitney without mentioning his age. He's turning 41 in May, and after being signed to a two year deal, will remain with the Stars until he's 42.
Of course, Ray Whitney has scored 587 of his 1003 career points since turning 30 years old, so I think that proves that age has not affected him like it affects most players.
And then there's Jaromir Jagr. Was his signing just a publicity stunt? Is it a cheap way to get more fans in the seats? I don't think so, but the cynics have and always will.
Jagr will also turn 41 this year and after a respectable 54 points in his comeback season with the Philadelphia Flyers, Stars fans should hope for something similar.
Jagr was lauded for his leadership in Philadelphia and his chemistry with linemates Scott Hartnell and Claude Giroux, who both enjoyed career years. Stars fans should also hope for the future Hall of Famer to have the same effect on his likely linemates, Loui Eriksson and Jamie Benn, both former All Stars who have grown and steadily progressed with each passing year, with Benn hitting a career high 63 points in 2011-2012 and Eriksson passing the 70-point threshold for the third straight year.
The Bottom Six..or Eight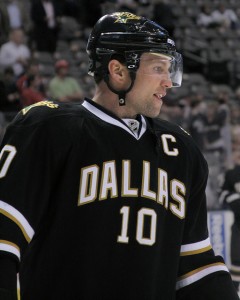 While any given game night will normally feature six forwards in the bottom half of the lineup, the Stars will likely have eight players competing for these six spots throughout the season.
Cody Eakin, the young center acquired in a draft day trade from the Washington Capitals, and the Texas Stars' co-leader in scoring with 23 points in 34 games, has seemingly secured himself a spot as the Stars third line center, with captain Brenden Morrow all but guaranteed to be on the left wing.
The third line's right wing spot is not as set in stone, but a safe bet would be Tomas Vincour. Vincour's polished defensive game is what gives him the best chance at this spot, but with just 12 points in 71 NHL games, the Stars would surely love to see more production out of the young Czech winger.
The fourth line gets a bit trickier. Vernon Fiddler played all 82 games last season and there's no reason to believe he wouldn't play in every game this year, so he would seem to have the center spot locked up and could move up in the lineup if necessary.
Eric Nystrom was also a staple in last season's lineup and spent most of it on Fiddler's left wing; his career high 16 goals were a boon to a Stars team that essentially acquired him for free in a trade with the Minnesota Wild. Unless his game regresses or his spot is won by another player, it wouldn't be a stretch to see him as an every day player again.
This leaves three players. Tom Wandell was given a qualifying offer by the Stars in the offseason, but most see that deal as his last chance with the Dallas Stars organization. Normally a center, Wandell will have to compete for ice time wherever he can find it and make the most of it.
Ryan Garbutt, who was called up from the AHL last season and impressed enough to remain with club and play 20 games, inked a new two year, $1.15 million contract in the offseason. Labeled as a center, but able to play the wing, Garbutt will be in a dog fight to earn playing time as well.
This leaves one more player, and maybe the toughest to predict, but this final spot will go to Alex Chiasson, the rookie currently playing with the Texas Stars. Why Chiasson? He's built for an energy role despite having a higher ceiling than that. He can be effective where, for example, Texas Stars co-scoring leader Reilly Smith could not and he could benefit tremendously from NHL experience in a bottom six role.
The Defense
The Stars' defense is much easier to predict and with six defenseman signed to NHL contracts, there should only be one spot open.
Alex Goligoski, Stephane Robidas, Philip Larsen, and Trevor Daley are all shoe-ins for a consistent spot on the roster night in and night out, but the final pairing will be fought over between Mark Fistric, Aaron Rome, and rookie Brenden Dillon.
We repeatedly heard all last season that Brenden Dillon is ready for the NHL and he should easily win a spot in training camp. If that turns out to be reality, then Mark Fistric and Aaron Rome will be the two defenseman competing for the sixth spot on game days.
No matter what happens, that bottom pair will be a revolving door of defenseman who can earn playing time.
Jordie Benn was solid in his three NHL appearances last season and Jamie Oleksiak has been fantastic in his first year in the AHL, but it's not known if they will be invited to camp, and if they are, it'd take a spectacular performance (or a spectacular fall from grace by another defenseman) to win a spot on the NHL roster.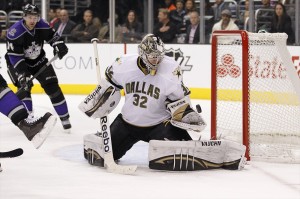 The Goaltenders
Kari Lehtonen is the unequivocal starting goaltender for the Dallas Stars, the only question here is: who will be his backup?
Richard Bachman is the reigning back up, ousting former Stars goaltender Andrew Raycroft from that position last season, but Bachman has remained inactive during the lockout. Conversely, Cristopher Nilstorp, the 28 year old Swedish goaltender signed during the offseason, has performed above expectations with the Texas Stars.
His impressive 14-10-0-4 record with a 2.22 GAA and a .914 SV% means Bachman won't be able to coast through camp with the back up job secured.
There will be a battle for the back up spot between Nilstorp and Bachman, the type of battle that will make each goaltender play that much harder. It's the best type of battle an organization could want, as competition is always beneficial.
And there you have it. Things can and more than likely will end up being different in some way from what you read above, but this basic outline of the 2013 Dallas Stars is here and it should provide a glimpse into just what kind of team they will be.
It's going to be an exciting year, and the talent just might be enough for the Stars to return to the playoffs.
Either way, hockey is back, and we should all be happy.