Rejoice, oh hockey fan. The lockout is over, a new season will soon be upon us, and with it, an opportunity for the Ottawa Senators to prove that their 2012 playoff appearance was no fluke.
Going into last season, many believed that the Senators were destined to battle it out with the rest of the league's lesser-thans for a shot at Nail Yakupov. In the end, they clinched the 8 seed in the East and managed to push the heavily favoured Rangers to a decisive Game 7, which was won by the narrowest of margins.
Coming out of the lockout, it's difficult to know what to make of this group; will they return to the rink to once again stake a claim in the East's top 8, or will they fall back and descend into draft lottery territory?
Well, as we shall see, there's two sides to that coin.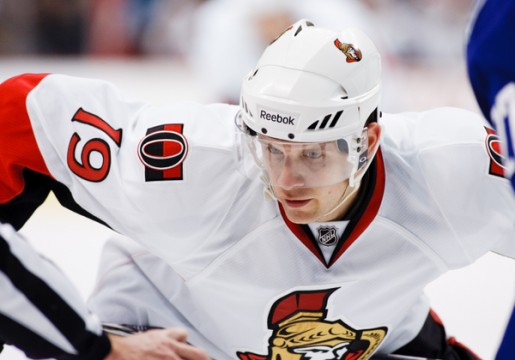 Roster Composition
When comparing the Game 7 roster from last April to what could be the 2013 opening night roster (as per Ken Warren of Senators Extra), one notices that the core of the lineup that pushed New York to the limit remains largely intact. The biggest moves that Ottawa made over the summer were dealing Nick Foligno to the Columbus Blue Jackets for Marc Methot, and signing Kyle Turris to a long-term extension.
Among the rest of the dearly departed are Filip Kuba (FLA), Matt Gilroy (AHL), Zenon Konopka (MIN) and Jared Cowen, who is out for the year after suffering a hip injury down in Binghamton. Apart from Methot, other newcomers include Mike Lundin & Guillaume Latendresse, both of whom were signed as free agents prior to the start of the lockout. On top of that, the Senators are likely to promote one or two D-men currently playing with the Baby Sens, most likely 1 or 2 of a group consisting of Mark Borowiecki, Patrick Wiercioch and Andre Benoit.
But barring a free agent signing (PK Subban anyone?) or some sort of trade (keep in mind the Sens were in the hunt for Rick Nash), Ottawa will be relying on a familiar cast of characters to get this team back to the playoffs. That means up front, they'll need big, injury-free years from Jason Spezza & Milan Michalek; they'll need Turris to continue to emerge, and a significant contribution from Daniel Alfredsson, their aging Captain; they'll need big efforts from secondary players like Zach Smith, Colin Greening, Peter Regin & Latendresse; and they'll need someone to step up and turn a few heads, a role that probably will be filled by Jakob Silfverberg, who could get a look on the top line early on.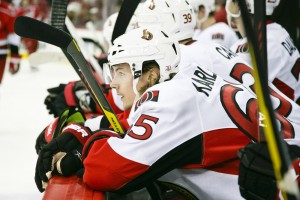 On the defensive side of the puck, Craig Anderson will be called upon to continue to play bigger than his reputation, and will be backed up by either Ben Bishop (the stop-gap) or Robin Lehner (the future), both of whom seem capable of pushing for a #1 job.
It will also be vital for Karlsson to remain on top of his game, and his 34 points in 30 SM-Liga games with Jokerit would suggest that already in fine form. Sergei Gonchar will need to contribute and liven up the PP (unless the rumblings of him returning to the Penguins become a reality), and the hope is that the AHL guys can compliment Methot and Chris Phillips to round out the bottom 3.
This cursory glance at the roster, however, is subject to change as a result of the outcome of whatever kind of training camp will take place, and the reality is that the Senators can only control so much in terms of the playoff race; they still have 14 other teams to contend with.
The Rest of the East
Of last season's playoff teams, I think it's safe to pencil in the Rangers, Penguins, Bruins & Flyers as returnees, and a strong argument can be made for Ovechkin and the Capitals as well (although there may be a bit of a learning curve under new head coach Adam Oates).
Among the other teams that qualified, however, there's serious questions about the now Parise-less Devils (despite having advanced to the Cup Final a year ago), and the Panthers, like the Senators, rose earlier than expected in their rebuild, and the possibility of regression is very real. All three teams would have to be placed firmly on a very tenuous bubble as a new season begins.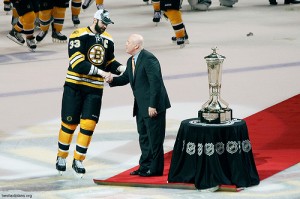 In terms of last season's non-playoff teams, there are certainly a few breakthrough candidates. One has to think that the Hurricanes are poised to make a big jump, having added another Staal in Jordan and taking a gamble on a one-year deal for Alex Semin. It would be surprising if they didn't challenge for Southeast Division title, and there certainly exists the possibility of some sort of serious playoff run under Kirk Muller.
One also has to think that Terry Pegula will do everything in his power to get the Sabres back into the playoffs, especially in light of his stated goal to bring championships to the city of Buffalo. One should also not forget that the Lightning are not very far removed from being one goal away from the Cup Final, and the acquisitions of Anders Lindback, Matt Carle and Sami Salo should shore things up defensively for this offensively talented bunch.
Among the likes of the Islanders, Canadiens, Jets & Maple Leafs, it's conceivable that any one could make a jump up into playoff contention, and certainly the addition of an impact player such as Robert Luongo would make the world of difference for Toronto (or Florida, for that matter). Odds are that this group will remain near the bottom of the conference, but in a condensed season, literally anything is possible.
And that's the key. As of right now, the whole proposition of handicapping the 2013 NHL season is a complete crap shoot. It would appear as though the Senators will be battling no fewer than 5 and as many as 10 teams for 3-4 playoff spots, and any number of factors could come into play and either help or hinder their quest. Injuries, trades, free agent signings (goodness knows Ottawa has the cap space), a slow start, surprise teams, unexpected performances (both excellent and poor) – it's all on the table, and all bets are off once the puck drops.
Does Ottawa have a decent shot at returning to the playoffs? Sure. But it will be a tough go, and every point will count in a division-heavy, conference-only schedule.
What's for sure is that we're in for a compelling few months, even if we aren't necessarily treated to hockey in its finest form. And while all the questions burn, most can agree that it's just good to be talking actual NHL hockey again.
Follow Ian on Twitter for more hockey commentary and updates.