The Dallas Stars found themselves in the 24th overall ranking in the NHL's final standings this year, with only 79 points in total. It came as a surprise to fans, who wondered how this could happen after finishing the previous regular season in second place. With 109 points in 2015-16, they even made it to the second round of playoffs until the St. Louis Blues eliminated them in Game 7.
That was the year the Dallas Stars were solid playoff contenders.
This year though, the same thing could not be said. They experienced a lot of turbulence in their lineups early on, mostly a result of chronic injuries that prevented all but two players from playing a full 82 games. After finishing second overall for most goals against and 16th overall for most goals for, a 15-spot drop in the rankings from the previous year, it became clear to everyone they'd lost their ability to defend and score.
These performance metrics could be a result of poor or inconsistent goaltending, and perhaps that's one reason why they just signed goalie Ben Bishop to a six-year deal. However, netminding is probably not the cause for decreased scoring. Instead, it likely has more to do with their penalty kill.
PK Percentage Lowest in League
Jim Nill, the Stars' general manager, joined the organization in April 2013, and now he's heading into his fifth season. Since his arrival, the Stars have actually decreased their minor penalties each year. In fact, back in 2013-14, they were playing an extra minute shorthanded per game, on average.
Although they had one of the lowest penalty-killing times in the league, they ended up ranking last for penalty kill percentage, third for most major penalties and tied for second for most goals against at four-on-five. Only the Colorado Avalanche were scored against more often during penalty kills. Interestingly, the Stars had roughly the same amount of road times shorthanded in 2015-16, as they did this year but somehow doubled their number of home times shorthanded in 2016-17.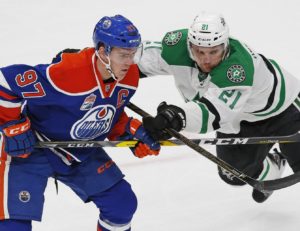 They actually could have had an even smaller penalty kill time if it weren't for Antoine Roussel too. The left-winger ranked eighth in the league for most penalty infraction minutes (PIM), 12th for most penalties and 12th for most major penalties this year. To make matters worse, he only played in 60 games. In December, he missed four games (Dec. 23, 27, 29 and 31) and his team just happened to win three of them. On March 2, 2017, he endured a hand injury in a game against the New York Islanders and that took him out for the rest of the season. Before his hand injury though, the Stars won every 2.56 games played. After it, they won every other game.
Coincidence? Perhaps.
Regardless, Roussel's behavior and corresponding kickbacks still don't explain the team's negating penalty kill percentage. As it turns out, Nill may have been too hasty with his trades and perhaps not hasty enough to re-sign his once-pending unrestricted free agents. When he started managing the club, a series of major changes in their special team units began and it's led them to where they are today. This year, there were five players who saw at least 60 shorthanded minutes who didn't see that many minutes in previous seasons:
Radek Faksa
Lauri Korpikoski
Dan Hamhuis
Esa Lindell
Stephen Johns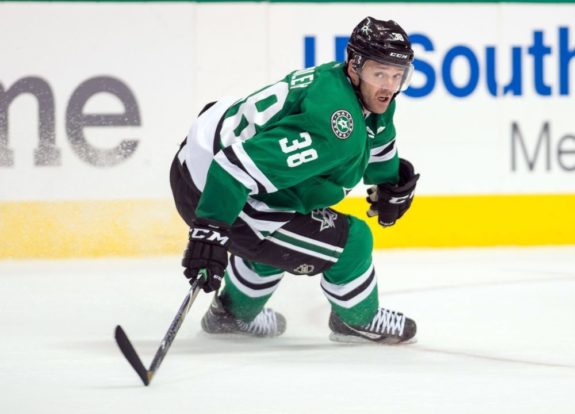 These players replaced Vernon Fiddler, Colton Sceviour, Alex Goligoski and Jason Demers, all of whom were among the top penalty-killing players in terms of shorthanded minutes played throughout the 2015-16 season—the season that Dallas saw the best penalty-kill percentage since Nill's arrival.
Furthermore, they ranked second overall for most faceoffs in both the 2016-17 and 2015-16 seasons. They had 126 more defensive zone face-offs and 123 fewer offensive zone face-offs in 2016-17 than in the year before. Forcing a stoppage in play in order to generate a face-off can be an effective tactic in gaining puck possession but not when plays are being stopped in the defensive zone.
The difference in faceoff locations is due to decreased puck possession in general. For a team who has a league-high faceoff count, one might assume they could control where they happen. If the Stars' strategy to gain puck possession includes the generation of faceoffs in an effort to win them and thereby gain control of the puck, then that would certainly be a priority for their special teams.
So part of the issue is simply winning them.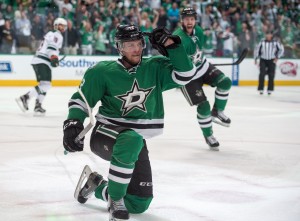 In 2015-16, Fiddler did the vast majority of faceoffs on the penalty kill and he finished the season with a 45.8 percent shorthanded faceoff win percentage. This year, Faksa performed the majority of penalty kill faceoffs and received a shorthanded faceoff win percentage of 42.7 percent.
Clearly, winning faceoffs on the penalty kill isn't their biggest concern.
It would seem that Nill traded or decided not to re-sign their veteran special-team players in order to obtain younger ones that could go on to play important roles for many years to come. Although this is how rosters are sustained, perhaps it was simply too much change in too little time. That, plus the team's abnormally high injury rate, which couldn't have been foreseen, all contributed to their inability to maintain Stanley Cup contention or even a decent ranking in the league's overall standings.
Stars Find Hope Again
With the recent hiring of head coach Ken Hitchcock, who previously coached the Stars from 1996 to 2002, more roster changes are expected once again. However, a lot of them are expected to take place with the roles and responsibilities of current players, particularly on special teams.
For example, Seguin is one of the league's elite scoring forwards who's really good at winning faceoffs, having taken 786 of them this year and winning 51 percent. However, he almost never plays on the penalty kill, and that's unfortunate because they could really use his faceoff skills there.
Already, fans are fantasizing about Hitchcock's magic hands, hoping he'll work them on Seguin and turn him into a two-way player who doesn't lack defense, just like he did with Brett Hull.
The Dallas Stars' 2016-17 season saw the consequences that came from a lack of two-way players, but with the advent of a new coach, they may have another chance to turn heads once again in the 2017-18 season.