This is not about what the Edmonton Oilers should do with prized prospect Ethan Bear. This is about what NHL teams usually do with a WHL defenceman of his calibre.
By now, you have likely heard the story. The kid from Saskatchewan's Ochapowace First Nation is chosen by the Seattle Thunderbirds in the second round (25th overall) of the 2012 WHL Bantam Draft. Following his second season with the Thunderbirds, Bear gets drafted by the Oilers in the fifth round (124th overall) of the 2015 NHL Entry Draft.
Bear proceeds to exceed all expectations of him offensively, registering 19 goals and 65 points in 69 games with Seattle the following season. In 2016-17, the blueliner scores 28 goals and 70 points in 67 regular season games, before putting up 26 points in 17 playoff games (including 10 points in six games in the championship final) as the Thunderbirds claim their first WHL title.
A Window of Opportunity
The consensus among Oilers' watchers seems to be that Bear is destined for the Oilers' AHL affiliate, the Bakersfield Condors, next season. That would be the smart play.  NHL teams shouldn't rush prospects, especially defencemen, so no one will bat an eye if Bear spends the first year or two of his pro career on the farm.
But is this how NHL teams typically handle a defence prospect of his stature? What is the case for Bear making the Oilers as early as next season?
#Oilers D prospect Ethan Bear & Seattle captured the #WHLChampionship last night with a thrilling OT win in Regina: https://t.co/UEKLF7lkNG pic.twitter.com/9Vb8G2BhTI

— Edmonton Oilers (@EdmontonOilers) May 15, 2017
Let's start by looking at the first pro season for recent players who won WHL Defenceman of the Year honours. The last five winners prior to this past season have averaged 24 NHL games in their first professional campaign. If we go back 10 years, the average is 27 NHL contests in their first-year pro. The average is 33 NHL games in the first pro season if we look at the previous 20 award winners.
Keep in mind, these averages include the games played numbers for busts. This is how the average NHL team has been handling prospects who win top defenceman honours in the WHL.  In other words, recent history shows this type of prospect gets more than the proverbial "cup of coffee" in his first pro campaign.
If we look deeper into the numbers, five of the last 10 WHL Defenceman of the Year award winners played at least 30 NHL games in their first professional season. However, only two of the last 10 finished with at least 40 NHL games played. Furthermore, three of them didn't see any NHL action in their first pro season.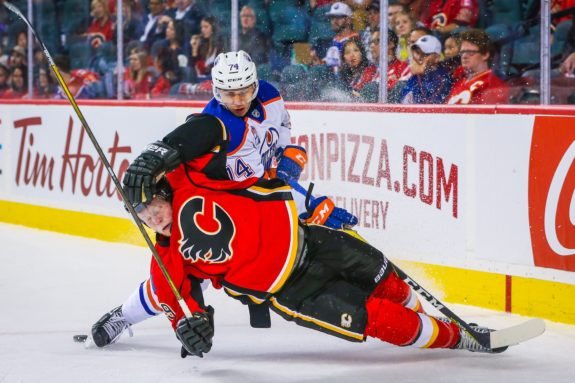 Recent History on Bear's Side
So are there any other factors that work in Bear's favour in his quest to crack the Oilers' lineup this fall?
As it turns out, the Oilers gave regular ice time to another young blueliner in his first season as a professional in 2016-17. We are, of course, talking about Matt Benning.
Benning played 62 regular season contests this past year as a 22-year-old. The problem with that comparison is that Benning entered the NHL two years older than Bear will be this fall.  Aside from being a slightly more mature prospect, Benning graduated from the NCAA ranks. While WHLers can face opponents who have reached their 21st birthday, the NCAA includes 25-year-olds and is regarded as a tougher level of hockey.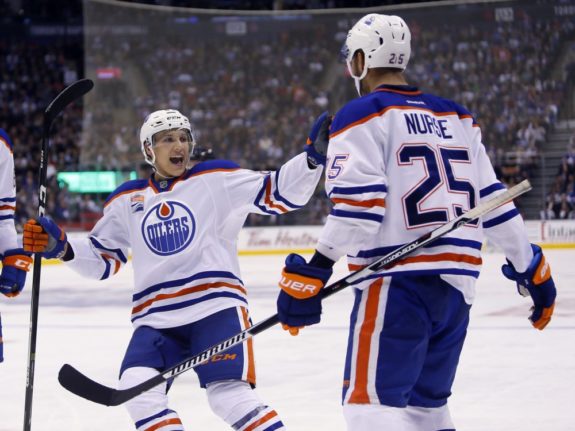 Thanks to the work of individuals such as Gabriel Desjardins and Rob Vollman, we can calculate NHL equivalencies (NHLe) of the point totals players put up in other leagues. The Projection Project has some of the latest standardized NHLe co-efficients that are publicly available, although the site credits Vollman.
Based on those numbers, Bear's 2016-17 regular season totals roughly translate to a 22-point season in the NHL (over 82 games). Benning's last season in the Hockey East saw him register point totals that are roughly equivalent to 13 points in an 82-game NHL schedule.
Making the Case for a 2017-18 NHL Debut
Of course, there is much more to being an NHL defenceman than offensive output. However, we can see that Bear does compare favourably to Benning in at least this regard.
Like Benning, Bear is also a right defenceman in an organization that is still a little short of them. He has a hard shot that the Oilers are hoping to see on their power play one day. As well, Bear has a sturdier build (5'11" 205 pounds) than Benning does and will find the adjustment to the pro schedule easier given how many more games WHLers play in a season compared to NCAA players.
The point of this comparison is to show that if the Oilers were willing to give Benning 62 games right out of the NCAA ranks in a year they finished eighth in the league standings, what is stopping them from giving Bear the same kind of opportunity in 2017-18?
Does this mean that the Oilers will, or even should, make Bear an NHLer in his first season as a pro? The general consensus seems to be that the Oilers likely won't and shouldn't go that route. But based on recent team and league history, don't be surprised if it happens.