The Edmonton Oilers got a steal of a selection when they took Ethan Bear in the fifth round of the 2015 NHL Entry Draft at #124 overall. A right-handed defenseman, Bear was drafted for his defensive awareness, but since then has taken giant offensive leaps forward for the WHL's Seattle Thunderbirds.
While he's yet to see any action with the Oilers professional club, in 2015-16, Bear broke out offensively with the Thunderbirds scoring 65 points in 69 games. He followed that up with 70 points in 68 games in 2016-17. The icing on the cake is that Bear broke a Thunderbirds record becoming the franchise's highest scoring defenseman with 63 goals in his WHL career. This season he ranks at the top of his team for defensemen in points and third among all scorers. As a result, he was recently rewarded with the Bill Hunter Memorial Trophy as the WHL's top Western Conference Defenseman.
Congratulations to @SeattleTbirds @Bear25E, 2016-17 Western Conference Defenceman of the Year! #WHLAwards pic.twitter.com/vzbuUsKoqi

— #WHLPlayoffs (@TheWHL) March 22, 2017
Ethan Bear's Specialty
Edmonton is excited about Bear's potential as a defensive prospect. Drafted where he was, he's proving to be a diamond in the rough and added shine to what was once a weak defensive depth corps. Bear, along with signings like Matthew Benning, — who has proven his worth in the NHL — budding defensemen like Griffin Reinhart, Jordan Oesterle and Dillon Simpson and fellow WHL'er Caleb Jones, is showing that the Oilers' defensive closet is nearly full and blue line prospects have to be considered a massive strength of the organization. Specifically, Bear is showing he's another legit piece of the puzzle and his affinity to provide offense only makes him a more attractive iron in the fire.
In short, Bear has turned out to be a dynamo from the blue line. He's gaining more confidence and he's becoming an offensive leader on a very strong Thunderbirds team. He's considered an excellent shooter, passer, read and react player who does pretty much everything well.
He's also a steady playoff performer. To go along with his impressive regular season numbers, in last year's playoffs, he finished with 22 points in 18 games. That was second on his entire team, in any position.
Why It Matters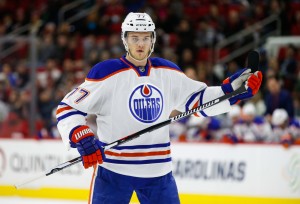 While it won't be this or even next year that Bear gets any significant time in the NHL, he's the type of player the Oilers have badly needed to emerge. He's a right-handed defenseman who can run a powerplay, shoot hard and on net and is sound in both zones. He's fast enough, he's physical enough and he's motivated enough to be a difference-maker in a game. On paper, he's everything the Oilers don't have in the NHL at that position.
Player's like Oscar Klembom have taken a step forward offensively, but Bear is that elusive righty that the Oilers don't employ. He may be someone the Oilers look to in the future as they decide what to do with defensemen and a tighter salary cap situation in the coming years.
If there's a flaw, it's Bear's size. At 5 foot and 11 inches and just over 200 pounds, he's not the biggest blueliner in the system. That said, if it is this flaw that saw his draft stock fall in 2015, he's already proven it was a mistake to write him off because of it.
What's Next?
Bear will move on from the WHL to the AHL and likely into a prominent role with the Bakersfield Condors. If he shines, it's possible that he gets a cup of coffee in the NHL next season. Edmonton could use a power play quarterback and in the AHL, he'll be groomed as such.
Ideally, the Oilers will slow-play his development and make sure they invest the time required to ensure his success. At least one full year in the AHL makes the most sense, but he's a prospect to watch for and all arrows seem to be pointing up.