The success of the Toronto Maple Leafs in 2016-17 was nothing short of shocking.
As a team structured upon a youth-laden roster, the Leafs went from a rebuilding pretender to a legitimate contender over the course of a single season. With young stars such as Auston Matthews, Mitch Marner, and William Nylander leading the way, Toronto quickly blossomed into a lethal offensive team whose potency was scarcely rivaled.
However, in the end, the Leafs were simply not good enough. Although they managed to give the Presidents' Trophy-winning Washington Capitals a serious scare in the first round, there were simply too many areas of weakness as well as a lack of depth within Toronto's roster – issues which, to date, still require significant attention.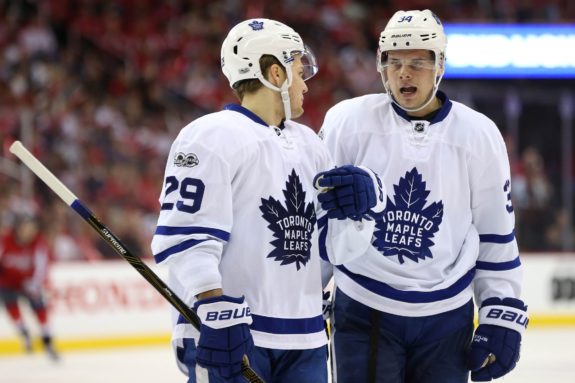 So, as the Leafs head towards the 2017-18 campaign with heightened expectations, the team's roster remains very much in flux. With contracts to be signed, player decisions to be made and an expansion draft to take place, Toronto's roster for the coming season is anything but set in stone. Although the team's lineup will largely resemble that of 2016-17, it goes without saying that there will be a handful of new faces come opening night.
Yet, who could some of these new faces be and what will Toronto's lineup look like? Well, given the team's salary cap situation, the contracts of numerous players and the overall direction of the team, let's make an early projection.
2017 NHL Expansion Draft
First and foremost, we need to consider the looming expansion draft. Slated to begin on June 18, 2017, the introduction of the Vegas Golden Knights will, quite obviously, strip one player from each NHL franchise. While a list of all protected players will, in fact, be made available to the general public, it remains unclear exactly which Leafs players will be exposed to selection.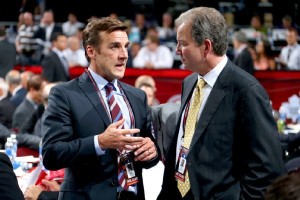 Given the selection criteria available, however, it is quite easy to project exactly who will be protected and who will be exposed. With virtually all of the Toronto's young talent protected both on offence and defence, there are only a handful of players truly available. Fortunately for the Leafs, none of which currently play a major role with the organization.
Of those expected to be made available, the likes of Josh Leivo, Garret Sparks, Alexey Marchenko, and Martin Marincin are undoubtedly the most notable. While players such as Brooks Laich and Ben Smith will, in fact, be exposed, they carry a much lesser value than those mentioned above, respectively.
So, exactly who will be selected will come down to the Golden Knights' liking. If they desire a power forward eager and deserving of greater NHL experience, Vegas will surely select Leivo. On the other hand, if the Golden Knights feel as though they need an upgrade defensively or in goal, then either Marincin or Sparks could be on the move.
Ultimately, Vegas' choice will boil down to the desire to address a perceived organizational deficiency. If they opt to choose the most valuable player of the bunch, then it will surely be Leivo who finds himself headed to Sin City; for the basis of this projection, such is the exactly the result I will be anticipating.
The Forwards
As mentioned, literally all of Toronto's exceptional young talent will be protected from the expansion draft. As such, the Leafs' forward lines for the 2017-18 season will be virtually the same, as almost every one of the team's notable forwards remains under contract.
Of note on the Ben Smith signing: The #leafs can now use him as one of two forwards with 40/70 experience exposed in the expansion draft.

— Chris Johnston (@reporterchris) May 2, 2017
However, there are a few exceptions.
In particular, there are Zach Hyman, Connor Brown and Brian Boyle. Although Boyle is a pending UFA, both Hyman and Brown hold RFA status while Hyman alone is arbitration eligible, meaning he and the Leafs can appoint a neutral, third-party arbitrator to determine a fair contract term and length. However, I have no doubts that both Brown and Hyman will come to terms on new contracts quite easily, ensuring their resounding presence in Toronto's lineup.
A Key Return?
On the other hand, there is Boyle. Acquired by the Leafs on Feb. 27, 2017, Boyle's experience and leadership was invaluable to Toronto's postseason run. Although he didn't produce a whole lot offensively, Boyle was sound in the faceoff dot and a veteran key to the team's success.
As such, I feel Toronto will do their darnedest to re-sign Boyle. Yes, he is 32 years-of-age and his production is dwindling, but if the Leafs can land Boyle on a minuscule one or even two-year deal, his presence will play a major role not only in the team's success but the further development of Toronto's youngsters.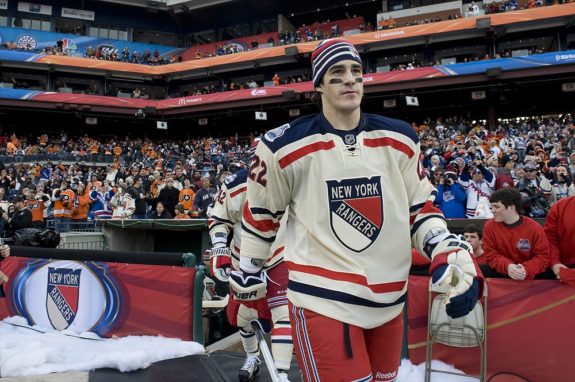 Outside of these three contracts, I highly doubt the Leafs will do much up-front. As the fifth-highest scoring team in the NHL in 2016-17, Toronto's offensive potency will only increase as its young stars continue to strengthen. As such, why fix what isn't broken?
So, here is my projected lineup for the Leafs' offence. While I'm not a huge fan of Matt Martin given his rough year, I'm hoping he can turn things around in his second campaign with the club. Also, Kasperi Kapanen will break Toronto's lineup and enjoy his first full season with the team.
| | | | |
| --- | --- | --- | --- |
| | Left-Wing | Center | Right-Wing |
| First Line | Zach Hyman | Auston Matthews | William Nylander |
| Second Line | James van Riemsdyk | Tyler Bozak | Mitch Marner |
| Third Line | Leo Komarov | Nazem Kadri | Connor Brown |
| Fourth Line | Matt Martin | Brian Boyle | Kasperi Kapanen |
| Extra | Nikita Soshnikov | Ben Smith | |
The Defenders
This is where it gets ugly.
As we discussed, Toronto could possibly lose one of its developing young defencemen to the expansion draft – an outcome which they would surely like to avoid. Due to such, the Leafs will undoubtedly be protecting Morgan Rielly, Jake Gardiner, and Connor Carrick from selection. Nikita Zaitsev, in case you were wondering, isn't able to be exposed as he has yet to reach the minimum exposure requirements as mandated by the NHL.
So, like the team's offence, Toronto's defence will be somewhat similar to what it was during the 2016-17 season.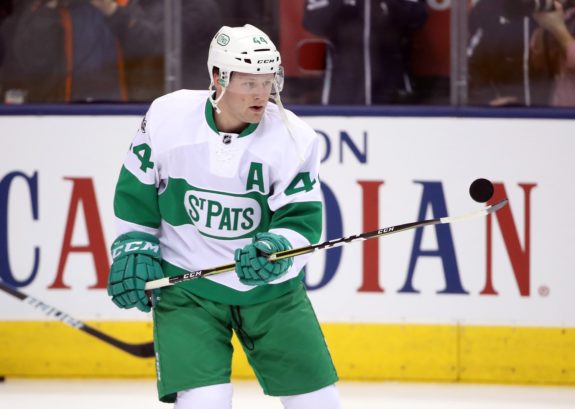 However, there will be a number of changes on the blue line. With Matt Hunwick and Roman Polak pending UFAs, it remains unclear whether or not both, one, or neither will be back with the club in 2017-18. Given the devastating knee injury suffered by Polak in the Leafs' first-round playoff series, Toronto will likely steer in Hunwick's direction and, in my opinion, ink the veteran defender to a contract extension, as he could be a valuable seventh-defenceman. While it won't be a long-term deal, securing Hunwick will provide the Leafs with much-needed depth and experience on the blueline.
Emerging Young Guns
Then, there are the new guys. Signed by Toronto on May 16, 2017, both Calle Rosen and Andreas Borgman will have a legitimate shot to crack the Leafs' opening night lineup. As two highly sought after defenders with experience in the Swedish Hockey League, Rosen and Borgman have the skill and ability necessary to acclimate quickly to the NHL game.
While both will likely skate with the Marlies to begin the season, a strong training camp could catapult one if not both into the Leafs' lineup. While Rosen is arguably more NHL ready, Borgman is the reigning SHL rookie of the year and, as two years younger, has more room to grow.
Calle Rosen and Andreas Borgman are both left-shooting defencemen. More depth for the #leafs.

— Chris Johnston (@reporterchris) May 16, 2017
But, let's not forget about those already developing within Toronto's organization. In particular Travis Dermott and Andrew Nielsen, who have each developed considerably and appear, now more than ever, to be legitimate NHL prospects.
Most notable of all is Nielsen, a solid two-way defender who is as consistent as he is lethal. Of great size at 6'3″ and 210 pounds, Nielsen appears to be NHL-ready and is currently in the midst of a strong, if not shocking playoff campaign. In my books, Nielsen, alongside Rosen, will break the Leafs' roster on defence to begin the 2017-18 season.
| | | |
| --- | --- | --- |
| | Left-Defence | Right-Defence |
| First Pair | Jake Gardiner | Nikita Zaitsev |
| Second Pair | Calle Rosen | Morgan Rielly |
| Third Pair | Andrew Nielsen | Connor Carrick |
| Extra | Matt Hunwick | |
The Netminders
In goal, Frederik Andersen was simply amazing in his first year with the Leafs and will surely carry his spectacular play over into the 2017-18 season. Capable of stealing wins for Toronto, something he did with frightening frequency last season, Andersen's play will once again be crucial to the Leafs' success, or lack thereof.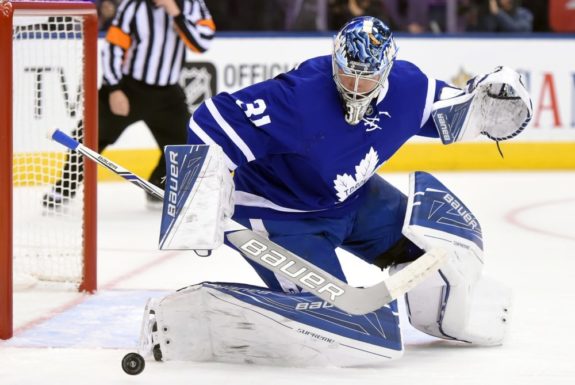 Entering the second campaign of his five-year deal with the organization, Andersen was heavily relied upon, if not overly, in 2016-17 – a fact which needs to change if Toronto wishes to ensure the health of their starter in the long-term. In order to do so, the Leafs will need to secure a backup goaltender who can be relied upon to not only remain healthy but also contribute to the team's overall success.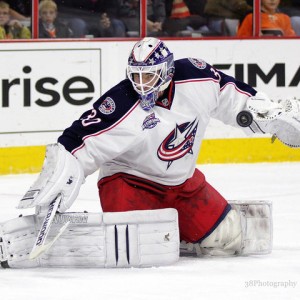 In 2016-17, Toronto began the season with Jhonas Enroth on the bench. Unfortunately, his play wavered heavily and the Leafs were never able to truly count on him for a consistent effort. So, once Enroth had been demoted to the Marlies and then traded to the Anaheim Ducks, the Leafs test-drove Antoine Bibeau over a two-game period.
In need of a more experienced netminder, Toronto grabbed Curtis McElhinney off of waivers and never looked back. Down the stretch, McElhinney absorbed a ton of tough ice time for the team and especially so as Andersen battled injury. If not for McElhinney, the Leafs' playoff push likely would have faltered, as the London, Ontario, native won a number of critical games as the season wound down.
As such, given his UFA status, Toronto needs to bring McElhinney back and I have confidence that they will. While Bibeau has been good with the Marlies and Sparks better, neither appear ready for the rigors of the NHL and especially those of a contending team. In McElhinney, the Leafs know exactly the product they are receiving and, given the horribly weak class of free agent goaltenders, the best option on the open market.
| | |
| --- | --- |
| | Goaltender |
| Starter | Frederik Andersen |
| Backup | Curtis McElhinney |
The Full Lineup
Well, there you have it, my projected opening night lineup for the Leafs' 2017-18 season.
Of course, it goes without saying that this projection is strictly speculative, as exactly how Toronto will approach the offseason of 2017 is quite obviously been yet to be determined. However, I feel as though the choices I have made will be fairly accurate given the stature of the club. With moderate money to spend and a team whose success in 2016-17 was based largely upon line-to-line chemistry, making major changes would simply make little sense at this juncture.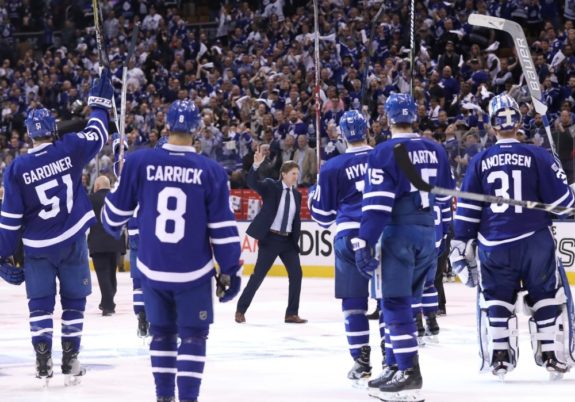 One important to fact to remember, especially during the Leafs' coming campaign, is that this is a rebuilding team. Yes, Toronto enjoyed incredible success this past season, yet it was entirely and undoubtedly unexpected. So, with this being said, I feel as though this fact justifies the presences of Kapanen, Rosen, and Nielsen within the team's lineup. In the business of developing young talent, the Leafs must continue to do exactly such if they want to build a strong, all-around team with oodles of depth.
Here is the full lineup:
| | | | |
| --- | --- | --- | --- |
| | Left-Wing | Center | Right-Wing |
| First Line | Zach Hyman | Auston Matthews | William Nylander |
| Second Line | James van Riemsdyk | Tyler Bozak | Mitch Marner |
| Third Line | Leo Komarov | Nazem Kadri | Connor Brown |
| Fourth Line | Matt Martin | Brian Boyle | Kasperi Kapanen |
| Extra | Nikita Soshnikov | Ben Smith | |
| | | |
| --- | --- | --- |
| | Left-Defence | Right-Defence |
| First Pair | Jake Gardiner | Nikita Zaitsev |
| Second Pair | Calle Rosen | Morgan Rielly |
| Third Pair | Andrew Nielsen | Connor Carrick |
| Extra | Matt Hunwick | |
| | |
| --- | --- |
| | Goaltender |
| Starter | Frederik Andersen |
| Backup | Curtis McElhinney |