Since the first of the year, we've been advising Vegas Golden Knights fans of players they should know ahead of next month's NHL Expansion Draft. We've reached the New York Rangers. It's not a simple answer.
There are a few other names that we could have added to this listed. Chiefly, Antti Raanta. At one time he would not have been on the radar of Golden Knights general manager George McPhee, but he played well enough this season to capture some attention. That said, I'm willing to bet Rangers GM Jeff Gorton is able to work him into a trade before he loses the 28-year-old netminder for nothing.
So educate yourself on these four guys, Vegas fans. If there's any time left, peruse a list of their other forwards. New York is young, talented, and will lose a quality piece thanks to the NHL's newest franchise. Here are four Rangers that Vegas fans should know.
Oscar Lindberg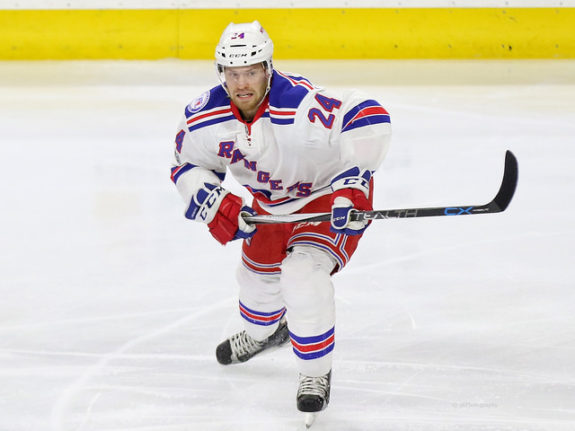 I'm really intrigued by the possibilities here. A year ago Lindberg had bilateral hip labral surgery. He finally made it back to the ice on Oct. 23, New York's sixth game of the season. An underwhelming first half followed.
But an impressive second half followed that. Though Lindberg's first goal didn't come until Jan. 7, he'd find the net eight times, to go with 12 assists. One could argue Lindberg has played himself onto the protected list. If not he's like Raanta in that he commands enough trade value to explore options before June 17.
Gorton and McPhee will be contemplating the same questions before now and then. What does that hip surgery last May mean for the 25-year-old long term, and can he continue to play at the high level demonstrated in the second half across an entire season? That's a tough one.
Michael Grabner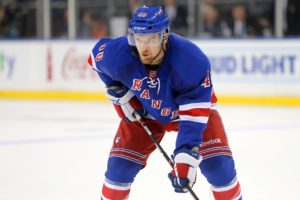 If Vegas is going with a "what have you done for me lately" strategy in the expansion draft, McPhee won't have a hard decision. The pick will be Michael Grabner.
The speedy forward put together his top season since 2010-11 when he finished third for the Calder Trophy with the Islanders. This year he racked up 27 goals, second on the team to just Chris Kreider. It's a far cry from the nine he totaled just a season before.
And that nine-goal effort may be a more realistic expectation of Grabner's production. There are younger, cheaper options with higher upside that McPhee has to choose from on the Rangers. Learn Grabner's name because he'll be picked if Vegas feels he represents a better scoring option than the other names that are exposed.
Kevin Hayes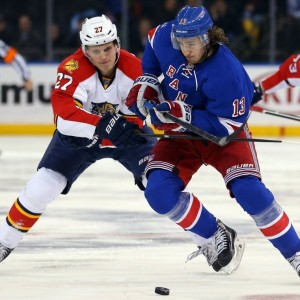 New York's expansion draft puzzle is a tricky one to solve. It's fun though because the options that Vegas will have to choose from are so very different.
Unlike the two names above, Hayes has been a consistent contributor across the last three seasons. In his rookie season, he tallied 17 goals and 28 assists. A year later those number turned into 14 and 22, this season they were 17 and 32. You know what you're getting with Hayes.
Or do you? Stats can be misleading. Where Lindberg accelerated his game the second half this season, Hayes was underwhelming, especially in the playoffs. Being a known commodity, the latter will command more on the trade market. The Rangers will have to shop someone around. If they don't find a buyer, and he's excluded from the protected list, there's a good chance he lands in Vegas.
Jesper Fast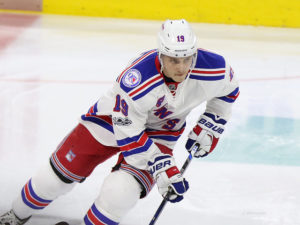 I like Jesper Fast and think he would make a solid addition to the inaugural Golden Knights squad. Also, his name would look great on the back of a VGK jersey.
For Vegas fans, he's not as compelling of an option as the other names on his list. He's a safe pick, though. And it's worth noting that he stepped his game up in the playoffs this year. His three goals in the postseason were half as many as he scored in 68 regular season games.
It's remarkably difficult to predict the Rangers expansion draft strategy. People will tell you they have it figured out. They're lying. Trades will further muddy those waters. So attempting to identify which Ranger will become a Golden Knight in May is a futile task. If it ends up being Fast, and McPhee approaches that pick with the goal of adding depth to the bottom six he could make a fantastic addition.