The Anaheim Ducks' general manager, Bob Murray, knows how to work the draft.
Its been almost a decade since the Ducks were given a top five pick (the last one was Bobby Ryan at No. 2 in 2005), but even so, Murray has built a successful team that is currently playing in its second Western Conference Final in three years. Just take a look at 2014. The Ducks selected Nick Ritchie 10th overall in the first round, Brandon Montour in the second round and Ondrej Kase all the way in the seventh round. All three of them have been integral parts of the lineup during this series against the Nashville Predators. Both Kase and Ritchie scored important goals in the Ducks 5-3 Game 2 victory; Kase scored to tie the game, and Ritchie tallied the game-winner.
Ever since Kevin Bieska sustained a lower-body injury in Game 1 of their series against the Edmonton Oilers, the Ducks defense has been comprised entirely of defencemen all under 25-years-old and all drafted by the Ducks, making them arguably the best homegrown blue line in the league.
According to this table, these are the most common defensive pairings Randy Carlyle used in the past 10 games. Though he enjoys mixing around his combinations, let's look at the most common ones:
| | | |
| --- | --- | --- |
| Defenseman 1 | Defenseman 2 | Frequency |
| Hampus Lindholm | Brandon Montour | 25.98% |
| Cam Fowler | Sami Vatanen | 18.92% |
| Josh Manson | Shae Theodore | 18.09% |
Hampus Lindholm and Brandon Montour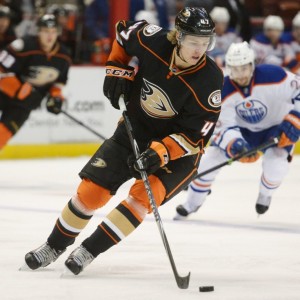 The highest defencemen drafted by the Ducks was Hampus Lindholm, who went sixth overall in 2012. He is considered a two-way defenseman and has drawn comparisons with another Swede, Erik Karlsson, because of it. However, Lindholm doesn't put up the gaudy offensive numbers that Karlsson does and his offensive production has been declining. His best year was during the 2014-15 season when he tallied 34 points, scoring seven goals with 27 assists. He scored ten goals the next year, but only ended up with 28 points. That number dropped again during this year's regular season as he ended with 20 points, though he only played in 66 games.
However, a defenseman shouldn't be valued just for their offensive contributions. Lindholm's possession numbers are great. Last year, he posted a 55.9 Corsi For percentage, even though he didn't have as much offensive production as the year before. As for his Corsi For per 60 minutes, that was at 60.6 last year and 58.55 this year. He has been paired up with Montour in this chart, but arguably the pairing of him and Josh Manson would be more successful and have been in the past.
Montour and Lindholm are similar players, making them a good pairing. Drafted in the second round, 55th overall in 2014, Montour is another defensemen with puck-moving and scoring skills, allowing him to draw a spot in Ducks' second power play unit. This is because last year, while playing for the Ducks' AHL affiliate, the San Diego Gulls, he tallied 12 goals and 45 assists for 57 points, second in scoring for AHL defensemen. Over half of the points, 30 of them to be exact, came from the man advantage.
Montour is young, but shows a lot of promise and may even out-shadow Shae Theodore as the Ducks' next great defenseman. While Montour has yet to score a goal, he has six assists, much better than Lindholm's three assists and one goal. Montour has come into his own as of late. During Game 2 against the Predators, he set up Nick Ritchie for the game-winning goal:
Cam Fowler and Sami Vatanen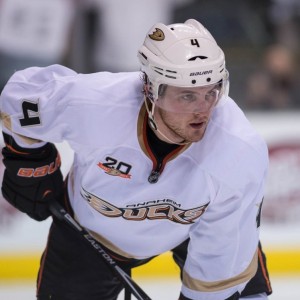 Drafted back in 2010 from a class that hasn't been known for producing elite defensemen, Cam Fowler was selected 12th overall. He had been ranked as the fifth-best North American skater, but despite that, he fell all the way to 12th before the Ducks snatched him up. Two other defensemen went before him, Erik Gudbranson and Dylan Mcllrath. They both are known as physical defensemen, and Fowler is not a hitter. Instead, he's more offensively minded and relies on his skating and puck-moving abilities, much like Montour. Because of that, he's also an integral part of the Ducks power play. This year, he has tallied five power play goals and 14 assists.
Fowler has been often paired with 25-year-old Sami Vatanen as the Ducks' top pairing. Vatanen was selected in the fourth round of the 2009 draft, though didn't begin playing as a Duck until the lockout 2012-13 season. Two years later, he drew completely into the line-up, providing 12 goals and 25 assists. At 5'10" and 176 pounds, Vatanen is a smaller defenseman, and because of that, he has been criticized for being pushed off the puck too easily. He makes up for this with his speed, something he and Fowler have in common.
Josh Manson and Shea Theodore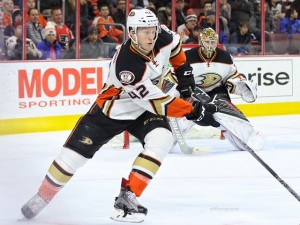 Manson's entry to the NHL was less glamorous than Fowler's or Lindholm's, but then again, he's also a very different type of player. Selected 160th overall in the sixth round in 2011, Manson decided to play three seasons with Northeastern University while preparing for the NHL. He bypassed his final year of eligibility to sign a two-year entry-level contract with the Ducks. Last year, he made himself part of the Ducks' lineup, playing in 71 games and scoring five goals with ten assists.
But scoring isn't what Manson is known for. At 6'3″, 205 pounds, Manson is a fighter. Though the violence of hockey has lately taken on unflattering light, no one can argue that fights aren't valuable to a certain extent. They often pump up the team and the crowd. Need an example? After Fowler was injured by Calgary Flames' Mark Giordano, which took him out of the first round of the playoffs with a knee injury, Manson took the team's collective anger out on him.
Manson exhibits what the Ducks represent as a whole. The Ducks are bullies and Manson may be the biggest bully of all. During the postseason, he ranks third out of all defensemen in hits with 45, averaging 3.5 a game.
After Game 1 against the Predators, coach Randy Carlyle said of Manson, "He's a physical defenseman and a big man that can skate. We think we're very fortunate to have him on our blue line. You'd have to classify him as our most physical player."
Shea Theodore, 21, adds the scoring touch to the pairing. Drafted in the first round at 26th overall in 2013, he has only recently drawn into the Ducks' lineup. Theodore started off the postseason very impressively. Against the Calgary Flames, he scored two goals, both in Game 3, and three assists. After that, he's been rather quiet. As the third defensive pairing, Theodore has had his ice time cut from a high of 22:19 during that Game 3 to a low of 12:19 during Game 7 against the Oilers. Since then, with the exception of Game 1 against the Predators during which he finished minus-1, he's stayed around 12 minutes. Theodore is young and young plays can make foolish mistakes, so Carlyle is doing the smart thing by limiting his minutes. In a couple of years, Theodore will be a fantastic defenseman.
Murray should be celebrated for the way he has built the Ducks' young defense. In every year from 2009-2014, Murray has selected a defenseman that has played an integral part in the playoffs. However, they will all need to play better after a poor performance in Game 3, but the Ducks defense is a key to the series.