The Minnesota Wild and their staff are heading into a very important offseason. Their team is coming off of a fifth consecutive season where they were bounced from the playoffs within the first two rounds. Although Chuck Fletcher has stated that there won't be a complete overhaul of the team, changes are coming nonetheless.
Key Players Drawing Interest
One of the ways the Wild could look to improve their team is through the trade market. By the sounds of it, the Wild's young key players are generating a lot of interest from other NHL clubs. According to Michael Russo of the Star Tribune, Fletcher has received several phone calls on young core players such as Matt Dumba, Jonas Brodin, Charlie Coyle and Nino Niederreiter. Fletcher told Russo that people have been inquiring about a lot of their players, but according to Sportsnet's Elliotte Friedman, Niederreiter and Dumba have drawn the most interest.
Possible Trade Bait
Now, I'm sure that Fletcher has no intentions of trading away several of his key young players, but it would be wise to listen to incoming offers. The Wild are going to be in a tight spot this summer. Niederreiter and Mikael Granlund are both RFAs (restricted free agents), and they are going to be losing a quality player to expansion in a month. If the Wild can address a need through a trade, maybe they should consider it? If the Wild were to trade one of these four key players mentioned above, who would be the likely candidate?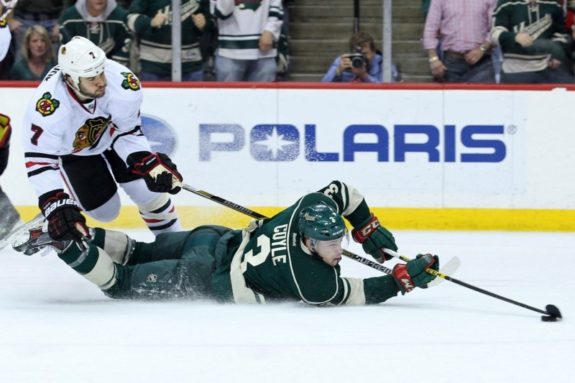 Charlie Coyle is coming off a career-best season. He scored 18 goals and posted a career-best 56 points, yet he struggled with consistency and went long stretches without producing goals. Jonas Brodin doesn't have much to offer offensively for the Wild but is essentially a younger version of Ryan Suter. Both him and Coyle are under longer term deals and likely won't be dealt. Dumba and Niederreiter are a different story.
Getting Value in Return
With the Wild not having much cap space, there's a possibility they won't be able to afford to re-sign both Granlund and Niederreiter. Teams are realizing this and are inquiring about the Swiss star. With Niederreiter's success over the past three years, it will be tough to pry him from the Wild's fingers. It would likely take a first-round pick, or a pick and a quality player in exchange for Nino.
Dumba is a young defenseman who shows a lot of promise. Even though he hasn't developed into a quality defenseman just yet, he still has value to him. If the Wild were able to trade Dumba, they'd create a little over $2 million in cap space which wouldn't help create much extra room. However, he could bring in a couple of draft picks in return. This would give the Wild several picks they could offer to another team to possibly move into the first round of the draft.
It's going to be a busy and exciting offseason for the Wild. The team has sat in playoff limbo for far too long and it appears management is ready to make some changes. The NHL Expansion Draft is on June 21st and you can be assured it's going to be chaotic up to that day. It's time for the Wild to take a plunge and make some bold moves this offseason. The question is, will the Wild be willing to take a gamble to better this team?
I am 25 years old and have been happily married for over three years. I have been writing sports blogs for the past five years and I love it!
I also enjoy hunting, fishing, playing hockey and riding dirt bike in the summer.