As we carry on towards the start of the regular season, we have made it to the Dallas Stars. Today we put Stars Insider editor Tony Jaremko. It is hard to believe but here at The Hockey Writers, the 30 team quest is just about two thirds of the way through.
Let's drop the pleasantries and get right down to business. Here are Mr. Jaremko's bout with the hot seat err answers.
========================================
1. Last year was a nice breakout season for the Dallas Stars. They made the playoffs and got a taste of it. What impressed you the most?
I think I was most impressed with how quickly the team adapted to Lindy Ruff's system. With the likes of Brendan Dillon, Jamie Oleksiak and some of the other young talent in the farm system, I always saw Dallas going the way of the big, bruising kind of team which would support the speed and skill of their top players.  Instead, the team became a puck possession team who was very deliberate in every movement.  I think the fans who keep up with hockey in the area only saw the Sabres and how they've been the last few years, so that might have raised some eyebrows with Alain Vigneault still available.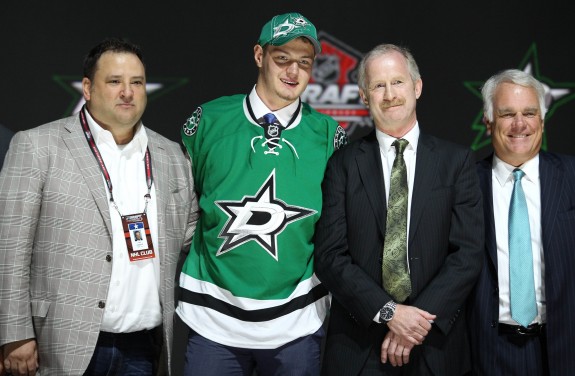 2. Now for a trip to a time far gone by (last year's draft). Which player did you want instead of Valeri Nichushkin? Aren't you glad you drafted Nichushkin instead?
You're just setting me up to get blasted by Yates, but yes, I wanted the Stars to draft Bo Horvat.  I thought he fit the most immediate need for the team which was a play-making forward who could quarterback the power play from the point.  Seeing how this team was ultimately built by Jim Nill, I couldn't be happier about Nichushkin being picked.  I think he established himself prior to the Olympic break, but then started to put some undue pressure on himself on top of being upset over his mis-use by the Russian team in Sochi.  This off season, he has spent a lot of time on ice working on drills focused on being close to the net.  It looks like he realizes that he's a big boy…and will only get bigger.
3. Jamie Benn and Tyler Seguin became one of those "it" duos last year. What can they do for an encore this year?
Lead.  I think they realized that for the most part, they were going to be the scoring threat for this team.  There were the typical injury situation along with the suspension here and there (Garbutt for his hit on Dustin Penner for one) that had Lindy shuffling lines often.  It seemed like towards the middle of the season, there was a call-up from the Texas Stars at any given time.  I think with the additions of Jason Spezza and Ales Hemsky, this is going to give Ruff several line combinations featuring a top-end talent on each of his 4 lines.  This will take some of the spotlight off Benn and Seguin as the only two who can score.  This can even allow Dallas to use them on separate lines which can help some of the younger guys who will undoubtedly fight for ice time.
4. The Dallas Stars did a little shopping during and just before the free agency period. What do you think about the new talent?
For the 2nd off season in a row, Jim Nill made the biggest splash by going after Jason Spezza.  What many don't realize is this is the 2nd captain from a Canadian team that Nill has gone after (Shawn Horcoff from Edmonton).  I think it was an un-official package by signing Hemsky as well, but it's still a huge get.  I think what may be the steal of the summer is getting Lindback from Tampa.  I think anytime you can have two legitimate starters as your 1st and 2nd goaltenders has to be a good thing.
5. Kari Lehtonen stayed healthy last year. With a bolstered defense and offense too, will we see an even better 2014-15 from him?
He had his typical 2-3 injuries that kept him out for an extended period of time, but yeah, for the most part, he was healthy and a big reason why the Stars returned to the playoffs. I think as I mentioned, the team in front of him may be improved, but the addition of Lindback will be perhaps the biggest addition that could help Kari.  Dan Ellis was serviceable as a back-up and trading him for Tim Thomas definitely brought a veteran presence that Kari never really had as a mentor.  With Anders, Kari can also deflect some of the spotlight that may get a little bright during a long season.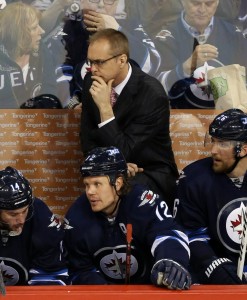 6. Which team worries you most in the Central Division?
All of them…except for the Jets.  The Jets extended Adam Pardy, so they're already looking forward to Connor McDavid.  But seriously, you had both wild card spots taken by "Conference III" teams, and each team improved this off season.  I think St. Louis will ultimately disappoint (again), but I think they have a lot of motivation stemming from last year's failure.
7. Has Jim Nill been nominated for sainthood among Stars fans yet?
I've harped on it ever since Las Vegas, but FIFTH!  Jim Nill finished FIFTH in the GM of the Year award.  He's the kind of person who is content with flying under the radar, so you'll never hear an ill word from him, but it's absolutely ludicrous that he didn't get more consideration.  I think, unfortunately here in DFW, hockey is such an after thought, I'm willing to bet you can poll 100 people on the street and ask them, "Who is Jim Nill," and maybe 40% could answer correctly…MAYBE.  Fact of the matter is, there's one GM who insists the spotlight stays on him, and Jerry Jones will do whatever stupid stunt he has to do to keep it that way. 
8. Congrats to the Texas Stars for winning the Calder Cup? What was their cup run like for you?
The Stars were the best team in the West during 2012-2013 season as well, but were quickly ousted by the Barons in the 2nd round. I think having Radek Faksa and Curtis McKenzie along with the league MVP, Travis Morin all together, the team gelled very quickly and were determined to win the Calder from the start of the season.  I think like most paying attention, the regular season was just a formality.  Honestly, the West Final against the Marlies I think worried all involved.  Not to take away from St. John's, and they took the Stars to a very formidable game 5, but Toronto I think made the Stars re-set their focus just in time for the Calder Final.  Sadly, there was absolutely no coverage outside of Mark Stepneski of the team.  The media does an absolutely horrible job making sure people are even aware of what is going on with the Stars organization, yet every media outlet will have people in Arizona covering Texas Rangers spring training.
9. So a couple players remain unsigned. What is the latest?
Cody Eakin and Brendan Dillon are still in talks. Unfortunately, I, like most folks are in the dark.  I've reached out to agents and haven't gotten any feel either way what the hang up is.  What I find absolutely shocking is the fact that both are RFAs, and not one other team has sent either a qualifying offer that would give the Stars the ability to match.  I seriously doubt either would receive enough of an offer that would entice the Stars to accept some kind of compensation.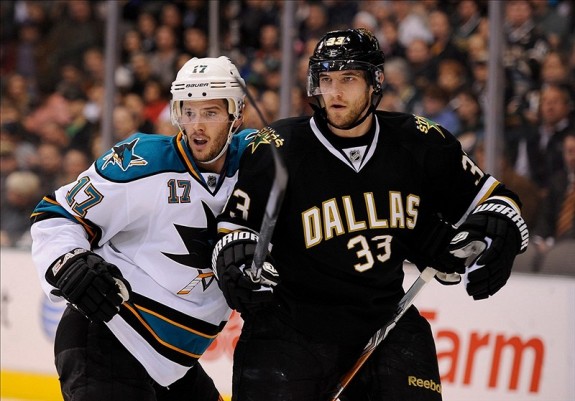 10. What is your biggest concern with the Dallas Stars at this moment?
Defense.  I think Lindy Ruff's system compliments Alex Goligoski's game very well and Trevor Daley is given the freedom to start a rush from time to time.  From there, it will be interesting to see where some of the new guys from the AHL will fill in, especially if Dillon goes unsigned for some time.  The Stars from the successful 90's made a name for themselves by shot blocking.  Kari last year faced the most shots of any goaltender in the league on a nightly basis, so it will be vital for the Stars to drop in front of shots more and lighten the load that Lehtonen has to deal with.
11. What prospects should we keep an eye on this upcoming year?
I will be most excited to watch how Colton Sceviour fits in for what will have to be his first full NHL season.  He got called up in the last month of the season and produced. Honestly, from there, there could easily be a dozen players that could potentially get called up for either injury or lack of production ranging from McKenzie to Oleksiak (who will make a case to join the team from the beginning) to Brett Ritchie.  From the other side of positive/negative will be watching Scott Glennie.  He was only signed to a one-year contract this summer, so I have a feeling the 8th overall pick from the 2009 draft will either light it up from the beginning or will be trade-fodder in the middle of the season.
12. Where will the Dallas Stars finish in the standings and how will they do come playoff time?
I've given up on doing predictions because, well, I stink at them, but I do believe the Stars will greatly improve over last year's standings and could make a push for hosting a 1st round playoff series.