The 2020-21 Dallas Stars season is now 10 games old. The NHL season began for the Stars with having to delay their first four games, due to a COVID-19 outbreak in the organization. The Stars were not on the ice till Friday, Jan. 22, 2021, nearly 10 days after the rest of the league began play. What have we seen from them in these first 10 games? What takeaways do we see from the defending Western Conference Champions in this shortened 56-game season? 
Games 1-4: Nashville and Detroit
Dallas did not start the season on the originally planned Jan. 14 opener versus the Florida Panthers. Dallas was slated to start the season in Florida, playing the Panthers twice then a rematch in Tampa Bay. The Stars delayed their season till Jan, 22, starting the season at home against the Nashville Predators and Detroit Red Wings. 
Dallas came out swinging, beating Nashville 7-0 and 3-2. Anton Khudobin and Joe Pavelski had significant impacts. Pavelski earned seven points (3 goals, 4 assists) in those games while Khudobin stopped 49 of 51 shots in the series. Nashville really shot themselves in the foot, committing penalties that Dallas capitalized on, scoring eight goals in those games.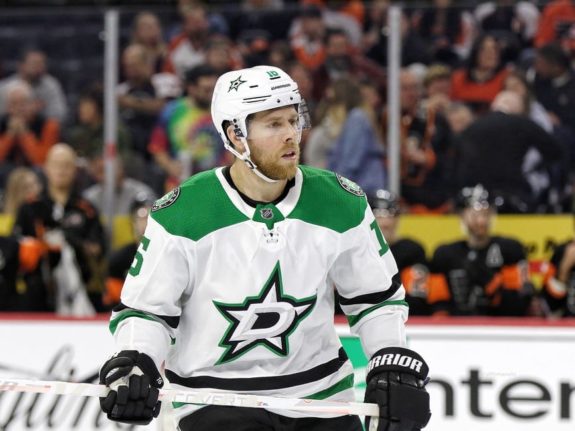 Next, the Red Wings lost a close 2-1 game, in overtime, and were polished off 7-3 in game two. The Stars had some injuries start to pile up, with Roope Hintz, Jamie Benn, and Joel Kiviranta sidelined for the game. Young forward Jason Dickinson notched the overtime winner. Stars' prospect Jake Oettinger recorded the victory in the next game, stopping 20 of 23. Both players are good prospects in the Dallas system, filling in for injured players and showing off their talent at the NHL level.
Games 5-8: Carolina and Columbus
Dallas had to leave the friendly confines of American Airlines Arena, traveling to the Carolina Hurricanes, then up the road to the Columbus Blue Jackets. Carolina and Columbus, by most standards and experts, have more talent and higher expectations. Both teams were also supposed to contend with Dallas in playoff contention, to points were very important to all teams. Carolina took an early lead in the first game of their series, winning 4-1 and handing Dallas its first loss. 
The only bright spot was Pavelski continuing to keep up the hot pace, on the power play, scoring their only goal. The second game had Dallas come back from behind in the third period, only to lose the lead, and lose in a shootout. Captain Jamie Benn notched a goal and assist, in his return from injury. Dallas would leave Carolina with only one point, heading to Columbus.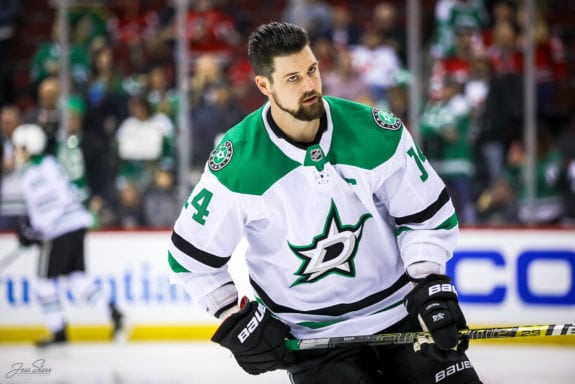 Columbus was next, playing right after the Pierre-Luc Dubois for Patrik Laine and Jack Roslovic trade. The Blue Jackets had been under some scrutiny with Dubois and making the trade would have been a fresh start. Pavelski and Benn would again be key figures in the first game, notching seven points. The second game was the debut for Laine and hometown kid Roslovic getting his first goal.  Columbus held the lead the whole game despite a late charge by Dallas. The Stars headed home with only one point in four games versus some tough opponent
Games 9 & 10: Chicago
The Chicago Blackhawks, like the Red Wings, were projected to be draft lottery eligible teams this season. Chicago had several departures and a gap in goaltending, along with a conflicting philosophy of "Rebuild' and "Reload" with their ranks. For Dallas, games against Detroit and Chicago would be easy points and a great team to end a losing streak or gain some momentum. The Stars had a little bit of some off-ice issues when goalie Anton Khudobin overslept and missed a practice. 
Khudobin would be scratched from the Feb. 7 game and Dallas looking again to Jake Oettinger. He held down the net, in both games, but lose 2-1 in overtime in each outing. Jason Robertson scored his first NHL goal in the first game with Roope Hintz getting the goal in the second game. As Chicago left town, they came away with two hard-fought wins while Dallas started their homestand with close overtime losses and missing out on some valuable points in the standings.
Takeaways From 10 Games In
What did we see in the first 10 games for Dallas?  First, Pavelski was on a roll, earning Player of the Month honors. He notched seven goals, eight assists while scoring five power-play goals. Second, in three of the wins, Dallas put up six or more goals. Every loss was a one-goal defeat. Dallas can score in bunches and still be in the game if they get down early. Third, young players are getting playing time. Robertson, Ty Dellandrea, Jason Dickinson, and Oettinger have made noticeable plays and getting the experience that will take a back seat when Tyler Seguin and Ben Bishop return from injury.
Their early season experience will be valuable later in the season if injuries still linger or the team needs to inject some youth or mix up the line matchups. Lastly, Dallas has 13 points (out of a possible 20 points), sitting in sixth place in the division, but have a few games in hand. To finish out the month of February, Dallas plays the Florida teams seven times. Points will be a premium in those matches, and Tampa Bay is looking just as good as last year's team.   
---
---
I am covering the Dallas Stars and I live in St. Louis MO. My day job is in the casino industry, I work in a poker room. I deal cards and supervise. I have a passion for goalies, hockey, history, and good times. I have two dachshunds, I enjoy beer and coffee, and took up some cooking in the pandemic.