Hockey Day in America got me thinking, what would an All-Time Dallas Stars USA roster look like? Guess what? It just might be the best All-Time USA lineup an NHL franchise could put together. The 2015-16 Stars roster only has two U.S. players (Patrick Eaves and Alex Goligoski), but the Stars USA history is rich with talent.
Dallas Stars Forwards Lines
Bill Guerin-Mike Modano-Brett Hull
Erik Cole-Neal Broten-Jamie Langenbrunner
Trent Klatt-Corey Millen-Jeff Halpern
Patrick Eaves-Ted Donato-Scott Young
Extras
Toby Petersen Eric Nystrom and Paul Broten.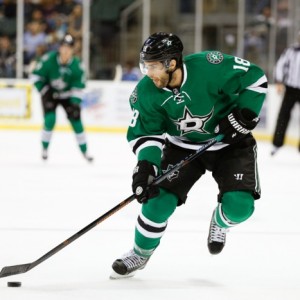 How about a first line loaded with HOF talent, a second line with 4 Stanley Cups and Olympic Gold, an honest two-way third line and current Stars' forward Patrick Eaves rounding out a scrappy fourth line. We're putting Eric Nystrom, Toby Petersen and Paul Broten on reserve in case someone gets injured or their game goes to hell. Technically Hull and Eaves were born in Canada but have dual citizenship.
Dallas Stars Defensive Pairings
Derian Hatcher-Kevin Hatcher
Craig Luwig-Shawn Chambers
Alex Goligoski-Matt Niskanen
Extras
Doug Zmolek and Mike Lalor.
The Hatcher brothers make up the top pair on defense. As the captain of the Stars only Stanley Cup winning team, the physically imposing Derian Hatcher is the logical choice to captain this team. Brother Kevin Hatcher will be counted on for offense from the blue line. The second pair will be filled by steady Cup winning veterans Craig Ludwig and Shawn Chambers. Rounding out the third pair will be current Stars' alternate captain Alex Goligoski and former Stars defenseman Matt Niskanen. Ironically Goligoski and Niskanen were traded for one another. Oh and James Neal was also part of that trade.
Doug Zmolek and Mike Lalor see above reference to extras.
Dallas Stars Goaltenders
Tim Thomas and Richard Backman.
Tim Thomas gets the starting call between the pipes. His Cup winning pedigree gives him the nod over Richard Backman.
I have a Bachelor of Arts Degree is Sociology from Bridgewater State College. I have covered amateur hockey prospects with Texas roots for the scoutingreport.org, and I am a Dallas Stars writer for The Hockey Writers. I can be reached via Twitter @EdTexmass09.