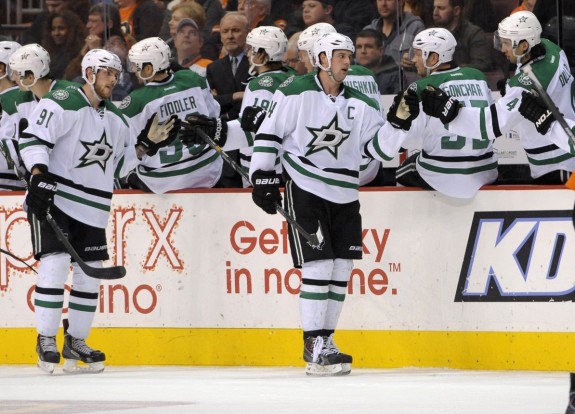 With the Dallas Stars down 2-0 in their first round Western Conference series against the Anaheim Ducks, it's quickly becoming do-or-die time for the Stars' postseason hopes.
After dropping 4-3 and 3-2 losses in Anaheim, the series now heads back to Dallas for games 3 and 4. The Stars have gone 8-1-1 in their last 10 games at the American Airlines Center, so home ice looks like it will be an advantage.
Despite losing both games so far, the Stars know that there is still a lot of hockey left to be played. To their credit, the team is staying positive and keep their focus on the next game and not what might lie beyond.
"It doesn't feel like an 0-2 series," Ruff said, as per ESPNDallas.com. "We definitely haven't been dominated. In fact, the last game we dominated, we just didn't win. We've got to clean up some of our mistakes and take advantage of some of those key opportunities."
How true. Those "key opportunities" that Ruff was talking about have precisely been the reason why the Stars are currently in the hole that they are in.
More specifically, the Ducks' top players have been converting regularly on those opportunities, while the Stars' top players have not been.
Through two games, Anaheim's dynamic duo of Ryan Getzlaf and Corey Perry have produced the lion's share of the Ducks' offense. Getzlaf has two goals and two assists, while Perry has a goal and assist, with the goal he scored snapping a long playoff goal-scoring drought.
More importantly, though, the goals coming from Anaheim's top line have been big, momentum-swinging goals at key intervals. Perry's goal late in the second period in Friday night's 3-2 win gave the Ducks an all-important lead heading into the third period.
In contrast, Dallas' 1-2 offensive punch of Jamie Benn and Tyler Seguin has not been able to have the same level of impact. Benn has a goal and an assist, while Seguin has a goal, but it's no secret which of the two top lines has been better so far in the series.
Now, that's not to say that Benn and Seguin have been had bad, because they haven't been. Overall, they've still been two of Dallas' best players so far in the series, whereas much of the roster behind them has struggled: Sergei Gonchar has been a puck possession black hole, Ray Whitney has been invisible, and Erik Cole has made some rough giveaways.
The problem is that Gonchar is only a third pair defenseman, while Whitney and Cole play limited minutes. The Stars don't need contributions from those players nearly as much as they do from Benn and Seguin, fair or not. In both games the Stars have pushed hard in the third period, led by those two players, trying to tie the game, but have failed to do so both times. Seguin is the type of player that can completely take games over (five separate times this season he's had games with four or more points), and the Stars will need Seguin to start  to match the work of Getzlaf and Perry if they want to battle back.
In net it's the same story, although the players involved are a little unexpected. Ducks rookie Frederik Andersen, a surprise starter this series, has been steady, currently sporting a .930 save percentage. However, Stars netminder Kari Lehtonen, who has been the team's bonafide number one goalie for the last few seasons and is in the prime of his career, has had issues, and is sitting at a troublesome .870 save percentage. In his defense, the majority of Anaheim's goals have come off of turnovers or because of poor defensive coverage by the Stars, but Lehtonen has not consistently made the stood-on-his-head types of saves that could have kept his team in the game. While the Stars were expected to have the advantage in net heading into this round, the Ducks have had a clear edge through two games. It's hard to imagine Dallas advancing to the next round unless Lehtonen steals at least a game or two for the team.
Two-game deficits have been overcome in the NHL playoffs many times in the past, so the Stars are still very much in this thing. Now back home with what is likely to be a raucous home crowd behind them for the next two games, Dallas' top players will need that extra boost to lead their team and keep their playoffs alive.