Ottawa Senators: Daniel Alfredsson to Enjoy Swan Skate During Sens Warmup
Daniel Alfredsson hasn't packed in his skates yet.
In a classy move by both the Senators and Alfredsson, the team and its former captain will reunite on Thursday during the pre-game skate.
As per the Ottawa Senators Twitter account:
BREAKING: #Sens can now confirm that Daniel Alfredsson will join the Sens team on the ice for the pre-game warm-up at 7 p.m. on Thursday!

— Ottawa Senators (@Senators) December 2, 2014
Alfredsson will formally announce his retirement before the game. In order to make the pre-game skate possible, the Senators sought and received permission from the NHL for the exceptional circumstance.
Ahead of the game, the Ottawa Senators released a Daniel Alfredsson tribute video. After 17 seasons with the Senators, there was no shortage of memorable moments to highlight:
The arrangements for Alfredsson's send-off are fitting. Wayne Gretzky (here) and Jason Spezza (here) have both recently proclaimed that Alfredsson remains the face of the modern Ottawa Senators franchise. The treatment the Sens have planned for their former captain certainly recognizes "Alfie" as the team's greatest player.
Daniel Alfredsson Bound for the Hall of Fame?
As Alfredsson wraps up his career, Senators fans are left to wonder if their former captain will eventually enter the Hall of Fame.
Dave Lozo at Bleacher Report argues that Alfredsson is a clear HOFer, writing:
Alfredsson was better than a point-per-game player for a decade, excelled in the playoffs and internationally and was only surpassed in his career by the likes of Jagr, Selanne, Sundin and Sakic. If you don't see Alfredsson as a Hall of Fame slam dunk, should you be allowed a vote on such a thing? Probably not.
Here at The Hockey Writers, Joshua Weissbock has argued that Alfredsson's chances aren't strong:
If I were a betting man I would guess that Alfredsson is not a likely candidate to be inducted into the Hockey Hall of Fame because of his lack of All-Star Voting.  This doesn't mean that Alfie shouldn't be in the Hall of Fame, it's mere analysis of the probability based on the past behaviours of the voters.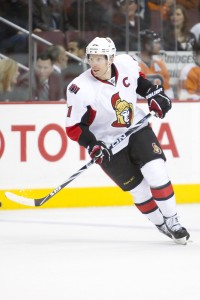 While an argument for and against Alfredsson's HOF induction is possible, Hockeyreference.com provides a tool that settles the debate. By analyzing player "point shares," it is possible to compare Alfredsson with players who provided similar all-around value during their careers.
And Alfredsson's comparables? They're outstanding.
HOFers like Frank Mahovlich, Bryan Trottier, Stan Mikita, and Jean Beliveau each posted comparable point shares for their careers, putting Alfredsson in great company. Each of these former stars played for many years, played predominantly for a single NHL teams, and produced great offensive statistics. If values such as career longevity, importance to a single NHL club, and consistently strong offensive production are valued at the HOF, Alfredsson won't wait before he joins.
What do you think, Sens fans? Is Alfie a safe bet for the Hall of Fame?