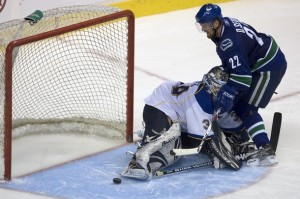 With an assist on the only Vancouver Canucks goal on Wednesday night, Daniel Sedin moved into sole possession of fourth overall in franchise scoring. His 674 points are one better than the career totals of Stan Smyl, who played all of his 896 NHL games in Vancouver colours. The younger twin (Henrik is the elder by a full six minutes) has 255 goals and 419 assists in 806 games after the completion of the 5-1 loss to the Chicago Blackhawks.
Daniel Sedin is 13 points behind brother Henrik on the all-time list. The most beloved of team alumni, Trevor Linden, leads all Canucks with 1,140 games played for Vancouver, but sits in second in scoring behind Markus Naslund – Nazzy potted 756 points in his time with the Canucks.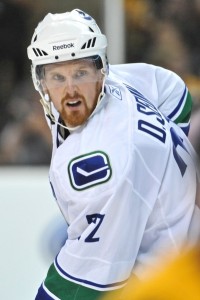 Barring injury, it is almost certain that the Sedins will pass both of these former captains to sit one-two in franchise history. They are already in the top two spots for franchise-best plus-minus records, more than +50 above the closest player on the list – not surprisingly, it's longtime linemate Alexandre Burrows who sits in third place.
Putting the Sedins in perspective, they have each won an Art Ross trophy as the top point-getter in the NHL. Henrik is 213th in league history, currently three points behind widely respected Pittsburgh Penguin veteran Steve Sullivan – Henrik has played 79 fewer games over five fewer seasons than the ex-Predator sniper. Daniel is 227th in NHL history, tied with perennial Flyer goal machine Tim Kerr. (To be fair, Kerr played 151 games fewer than Sedin, but he also put up those big numbers in an era when dozens of players could put '40-goal-scorer' on their resumes.)
Think you can name a few more of the top 30 scorers in Vancouver Canucks history? Try this Sporcle quiz: www.puckedinthehead.com/top-30.
Jason Kurylo is the creator and co-host of Pucked in the Head, a hockey podcast with listeners on four continents – that suggests a minimum of four listeners, but who's counting? PITH also includes an occasional blog that balances knowledgeable hockey analysis with an admittedly bent sense of humour. When he is not memorizing useless hockey trivia, Jason can be found making googly eyes at his wife Nadia and young daughter Milla. He is almost certainly eating a chewy nougat-filled treat at the very moment that you read this.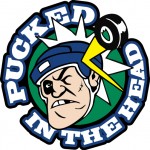 Jason [at] puckedinthehead.com
Recent articles here at The Hockey Writers by Jason:
Seven Things about Zdeno Chara
Jason Kurylo is addicted to hockey, chocolate things, and more than anything else, chocolate-covered hockey things. He cannot wait to write a better bio.