The Craig Rivet trade is the gift that just keeps on giving.
Bob Gainey, in what was likely his best move as general manager, managed to flip a very average, and aging, defenseman for Josh Gorges and a first round pick which would later be used to select Max Pacioretty.
Gainey managed to turn a utility player into two of the organization's major building blocks. Pacioretty is quickly becoming the team's most dangerous forward while Gorges has emerged as the most reliable d-man on the team.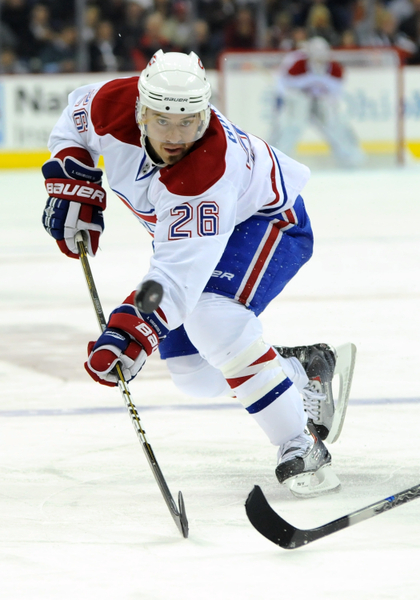 With the Canadiens defense corps currently being ravaged by injuries, Gorges' importance has become that much more relevant.
Over the past five games, he's averaged over 24 minutes of ice time. He leads the team in plus/minus despite being given the task of shutting down the top players in the league on a nightly basis. With Markov, Spacek, Gill and Campoli out of the lineup, Gorges has led and stabilized a defense that, minus Subban, could very well be playing in the American Hockey League right now.
Unfortunately, because of a mistake made this past summer, this could be the last year that Gorges plays for Montreal Canadiens.
Coming off major knee surgery, Pierre Gauthier thought it would be prudent to only offer him a one year contract. Of course, this begs the question as to where that prudence went when he gave Andrei Markov a three year deal, but that's a discussion for another day.
Of course, anyone can understand the basic reasoning behind giving Gorges the one year deal. Gauthier wanted to make sure that the Kelowna native wasn't damaged goods. Unfortunately, he painted himself into a corner.
Gauthier negotiated a deal with no best case scenario. If Gorges has an average year, you resign him long term only for slightly more money because he's an unrestricted free agent. If he has a great year, and shows everyone that his knee is stronger than ever,  you run the serious risk of losing him to free agency.
The only way the Habs win by signing him to a one year deal is if he has a sub-par season. The only victory the Habs could have gotten out of a one year deal is potentially avoiding being stuck with a bad long term contract and a wonky knee.
At his point the team needs to rely on Gorges having some attachment to this city and the organization, which isn't something I would bet on.
The decision to only offer him a one year deal becomes even more puzzling when you consider the type of surgery he underwent. Gorges wasn't repairing a healthy knee that suffered an injury. He was playing without an ACL for over eight years. How could a procedure that would supposedly give him a body part he hadn't had for his entire professional career possibly have made him worse? How could it have made his knee less reliable?
Gorges' performance this season is making Pierre Gauthier's medical acumen look suspect at best.
Gauthier needs to "think outside the box" and start negotiating with the man right now. Every game he plays, every solid mistake free shift he takes, he gets a little more expensive.
For his part, Gorges is better off waiting for the off season to negotiate. Let's just hope he knows as much about business as his GM knows about knee ligaments.