Daniel Sprong, Pittsburgh's second-round draft pick in 2015 reflects the newest version of the Penguins. A franchise that looks determined to develop within and change their approach from recent years, which was mortgaging the future of the franchise for rentals in order to maintain a win-now attitude.
Thankfully, Jim Rutherford and company has realized that organizational youth can still mean immediate success. And, this new approach starts with individuals like Sprong.
Many have questioned and criticized the Penguins for their handling of Sprong earlier this season. After a very good camp, Pittsburgh kept him in the NHL to start the year and eventually, they decided to keep him past the nine-day tryout period and burn the first year of his entry-level deal.
Then, after he sat in the press box quite often and seemed extremely underutilized, they assigned him back to the Juniors.
There are holes in his game, as you'd expect from an 18-year old forward in this league. Defensively, he needs a lot of work. The encouraging thing is that he knows where his deficiencies are and he's working to improve them.
I'm offensive-minded, and I think of that first before defense sometimes. Maybe leaving the zone too early to get a breakaway, thinking ahead a little bit. I'm working at being better in the d-zone, and my goal is to be a 200-foot player and threat in all three zones.
You can argue that if the Penguins didn't plan to use him more, they should have sent him down earlier and preserved his entry-level contract. However, while losing that year is a bitter pill to swallow, his time in the NHL should be a tremendous boost to his development.
No Signs of Slowing Down in the Q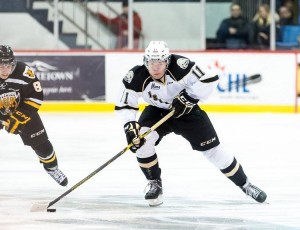 With the Charlottetown Islanders of the QMJHL, Sprong has played in 29 games since leaving the Penguins. According to TheQMJHL.Com, he has 15 goals and 38 total points in that time frame for an average of 1.31 points-per game. As you'd expect, he also leads the Islanders in shots-per-game.
Those numbers aren't surprising, but they are encouraging.
It isn't out of the question for a player to lose confidence in his situation. After being kept in the NHL to start the season, no one wants to hear that they're being relegated to juniors to develop further. In fact, as the Jonathan Drouin situation will show, any demotion can be detrimental to a player's attitude toward their employer.
Sprong is different, of course. He's turning 19-years old later this month and doesn't have the NHL sample size that Drouin does. Still, with all of the reports about how Sprong is easily coached and willing to earn his spot, it's great to see him taking this as an opportunity to get better.
See You Soon
Charlottetown currently sits in fourth place in the Maritimes Division of the QMJHL. While nothing is impossible, they aren't expected to make a deep run into the playoffs, which should begin later this month. If and when they are eliminated, Sprong will join the Wilkes-Barre/Scranton Penguins for the AHL playoffs.
You'll probably remember a similar situation with Kasperi Kapanen last season. After spending an entire season in the Finnish Elite League, he joined Pittsburgh's AHL affiliate and participated in four playoff games. Again, invaluable experience for a young forward vying for a full-time NHL roster spot.
After his stint at the NHL level and so many fans excited about Sprong and why wouldn't they be?
Here's that first Daniel @sprong97 @IslandersHKY goal. #DanielSprong #QMJHL @penguins #Pittsburgh #NHLProspect #goal pic.twitter.com/B82N6YjOXd

— Darcy Cudmore (@DarcyCudmore) February 18, 2016
I imagine a lot of Penguins' fans will be tuning into any AHL playoff games they can find to see how he looks. Will he be a mainstay in the NHL next season? It's obviously too soon to tell but the idea isn't far-fetched by any means.
Thanks for reading. Follow me on

Twitter

at

@Michael29Angelo

for more conversation around the Pittsburgh Penguins and everything NHL.
Can't get enough hockey? Want to talk about it with our writers, and fellow fans? Join The Hockey Writers Group on Facebook today for the best hockey conversations on the web!