At the 2015 NHL entry draft, the Pittsburgh Penguins selected wing Daniel Sprong in the second-round. Many experts and scouts had considered him a first-round draft pick, but he still fell to Pittsburgh in the second round. He was the Penguins top pick and has been the only young forward to make a significant impact at the NHL level since Beau Bennett.
It was believed that Sprong's offensive game was NHL ready, but his defensive play needed some significant work. And it was also believed that Sprong would be sent back to the minors after preseason and training camp concluded. Yet, after 11 regular season games, the 18-year old wing is still with the Penguins.
Pittsburgh's Management Continues to Misuse Sprong
The Penguins have a very interesting problem on their hands. General manager Jim Rutherford has liked what he's seen from Sprong and has hinted that he will remain with the team for the season. There were some concerns whether or not Pittsburgh would send one of their most explosive players back to the minors due to losing a year of Sprong's NHL entry-level contract.
According to the NHL's collective bargaining agreement:
In the event that an 18 year old or 19 year old Player signs an SPC with a Club but does not play at least ten (10) NHL Games in the first season under that SPC, the term of his SPC and his number of years in the Entry Level System shall be extended for a period of one (1) year.
Daniel Sprong has played eight games with the Penguins, has a goal and has shot the puck 13 times. Since he only has two games remaining before a year of his SPC (Standard Player Contract) will be used, Pittsburgh has a decision to make. Do they keep him at the NHL level like Rutherford wants or do they send him to the minors.
Here are Rutherford's comments on Sprong's situation.
I don't view it as the clock is ticking. I don't like deadlines in a situation like this. It's more about what's best for the player and best for the team. Right now, we have a player that is capable of helping the team. He's good with the puck. He takes the puck to the net. And what's best for his development? I don't look at any timelines. I just look at what's best for the player. Daniel, he has done very well, and I really don't see that changing
But Rutherford isn't the only person inside the Penguins organization who has an opinion on Sprong's performance. Head coach Mike Johnston has a radically different view of the rookie's play and it seems that he would rather send Sprong back to the minors.
As I said, we don't talk to him a lot about his offensive game. He relies on his natural instincts. It's more play away from the puck. But I still believe he's continuing to improve. I still consider him a junior player
And Johnston's thoughts on Sprong can be seen in how he's used the talented rookie. Through eight NHL contests, Sprong has been on the ice for about ten minutes per game, usually on the third or fourth line. That mark is third lowest on the team just ahead of Bryan Rust and former Penguin Bobby Farnham, who was claimed off of waivers by the New Jersey Devils.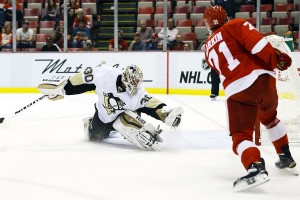 So on the one hand, Sprong might stay at the NHL level because of Rutherford's willpower, but is that the best thing for him? This situation is very similar to another talented Penguins prospect Matt Murray. Should Sprong or Murray be at the NHL level, using a year of their entry-level contract, only to be used sparingly in a role they aren't suited to fill or should they play in the minors?
Both of these young men can help the Penguins team, but it becomes a question of is the small marginal benefit actually worth it? Pittsburgh's model of building a hockey team relies upon superstars with high cap hits and you have to have some viable depth players on cheaper contracts. However, the Penguins are trying to balance their future with an attempt to win now with Sidney Crosby, Evgeni Malkin, Kris Letang and Marc-Andre Fleury in their primes.
If Johnston will start playing Sprong in a role where he can thrive, top-six or even top-nine, he should stay. However, if he continues to not use Sprong, the Penguins should bite the bullet and just sent down to the minors.
Thanks for reading! Feel free to leave your comments below or tweet me anytime @MPityk
Michael Pityk is an analyst who has written for numerous sites since beginning his professional career. He's acted as a credentialed member of the media for the Philadelphia Phillies, Philadelphia Flyers, Pittsburgh Pirates and the Pittsburgh Penguins. His work has been featured in Sports Illustrated, The Sports Journal, MSN, PensLabyrinth, Montreal Hockey Talk, ESPN Pittsburgh, The Hockey Writers, Todays SlapShot and The Bleacher Report. He formerly was the editor of Pens Labyrinth and an analyst for The Sports Journal. Michael presently acts as an NHL Analyst for The Hockey Writers