When Darius Kasparaitis played in the NHL, the bodies quite literally "hit the floor." Again. And again. And again. For 14 seasons, Kasparaitis was a wrecking ball. He was often vilified for his hits, perhaps mainly because he threw every ounce of himself at opposing players with seemingly no discretion and no prejudice. Eric Lindros, Mark Messier, Mario Lemieux, Jaromir Jagr, and even "The Great One" were all on the receiving end.
What most fans and possibly a lot of former players would not fathom is that Kasparaitis has a lot of depth to him. He is reflective and insightful, and sometimes even a little insecure. Maybe behind all of those huge hits he delivered was always an equally huge heart that was overlooked or masked.
Kasparaitis opened up to THW about his present aspirations and dreams, and even on fatherhood. There is far more to the man who played 863 regular-season games in the NHL. Now at the age of 45, Kasparaitis is in the midst of a remarkable comeback to play in a World Championship for his native Lithuania.
Playing for Lithuania in International Competition
Kasparaitis's final NHL season was 2006-07 as a member of the New York Rangers. After that, he played two seasons in Russia with SKA St. Petersburg. At the end of the 2009-10 KHL season, he officially retired as a professional player.
But here is where the plot thickens. Since Kasparaitis has retired professionally, he has sought to get all of his ducks in order so that he can represent his homeland in international play. It has been far from easy and there are plenty of hoops to jump through. This stems namely from the fact that Kasparaitis previously represented Russia in all of his prior international competition appearances. In the process, he won Olympic gold, silver and bronze medals, as well as gold and silver at the World Junior Championships. Now he wants to bring his hockey career and an important piece of his life full circle by playing for Lithuania.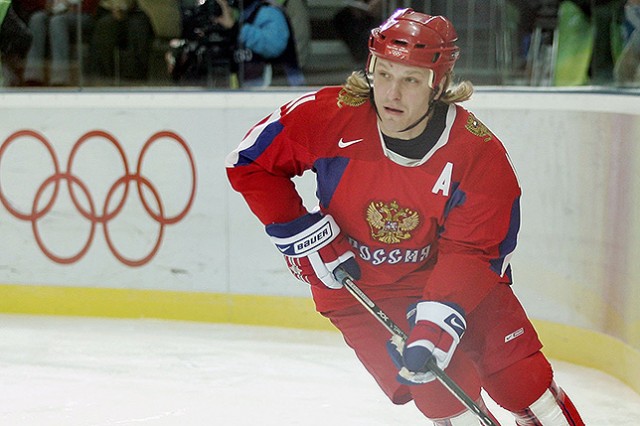 "Since I retired, I've always said it's an unfinished story in my career," Kasparaitis said. "I was born in Lithuania. I grew up there and I left when I was 14. So I never represented my country in any official international tournament. When I retired, I said I really want to play for Lithuania. I realized that you have to go through so many hurdles because I was representing Russia before. So I had to do a lot of things before I even qualified to do that (play for Lithuania)."
Four Years Playing in Lithuania
From the 2013-14 season until just last year, Kasparaitis played for the Hockey Punks from the city of Vilnius in Lithuania. In seven games across those seasons, he scored six goals and added 16 assists for 22 points. Those 22 points in seven games are the best points-per-game total in the Hockey Punks' seven-plus seasons of play. In order for Kasparaitis to even be considered for representing Lithuania internationally, this was a necessary step in the process.
https://www.facebook.com/HockeyPunks/photos/a.166870982576.141784.82129582576/10155899985702577/?type=3&theater
"I played four years in Lithuania," he said. "You cannot be absent from playing for the country where you want to be able to play—you have to still participate in the country where you want to qualify. So I was flying every year for maybe two or three games a year, just playing in Lithuania, so that that way I could qualify. So many times I asked my wife, 'Why do I do this? Why do I do this?'. And she would tell me, 'If you want to do this, you have to finish it.'
We All Have Self Doubts Sometimes
How could a player who played every shift with reckless abandonment have any such doubts or fears? After all, Kasparaitis played with the best of the best in the prime of his career. He stared down all of the aforementioned NHL legends and was even teammates with Lemieux, Jagr, Messier, Ron Francis, Joe Sakic, Pavel Bure, and many more.
It is because there is a most human element to Kasparaitis. One that any person on God's great earth can relate to. We can all have feelings of self-doubt seep in even if we have handled more trying circumstances or deeper waters before. It is natural. Kasparaitis is no different.
Kasparaitis shared, "Even before I went to play for the first time, I was thinking, 'My god, what if I suck? What if I am so bad? What if I'm so slow? I'm a 45-year-old dad with six kids'. But I said, 'You know what? I will never find out if I'm not going to do it.'"
Kasparaitis Prepares Himself for April 2018
From April 22 to 28, 2018, Lithuania will be host to 2018 IIHF World Championship Division I B in the city of Kaunus. Besides the host nation, the countries of Ukraine, Estonia, Japan, Romania, and Croatia will each be participating. This is the goal. This is what Kasparaitis has been aiming for.
"For the past six months I've tried to watch what I eat," he said. "Tried to increase my training and see where I'm at. And that's what I did. I went into Lithuania, and I played four games for the national team and one game for my town team. I felt like I've still got it. I know that I still have to work on a lot of things to get ready to play in April, but it gave me hope that I can do this. I feel like it's coming true, and now I have my friend here, Dainius Zubrus. He retired recently and he also played for Lithuania and in the NHL. We met (in) Miami to train and get ready to represent our home country in April. It's still a long process to do that, and hopefully I can do it."
Kasparaitis seems well on his way to making this come to fruition—the opportunity to wear the white crest of a knight upon a rearing steed and the red backdrop. Last week he partook in the Baltic Challenge Cup. For the first time, he donned the colors and emblem of his homeland. Named captain for Team Lithuania, he picked up a goal and two assists in a 7-2 win over Estonia.
How the Game of Hockey Has Evolved Since His Prime
Today's NHL is not Kasparaitis's NHL. Nor was the NHL before his generation of play. None of that is a bad thing, though. The game has certainly evolved, and Kasparaitis feels that today's league is endeavoring to look out for its players.
"I think that the game became less physical. Maybe faster. Less fighting in the game, and I think it's more in line now. I think guys are making a lot of money, and I think teams are investing a lot in players. I think they've tried to clean up the game as much as they can to make it less injury-prone. It's changed a lot, but the game is still very exciting to watch."
Long-time NHLer Darius Kasparaitis still active at 43. Played for 3rd year games in his native country Lithuania. pic.twitter.com/TNOkryzXnt

— IIHF (@IIHFHockey) March 2, 2016
The no-holds-barred style of play that Kasparaitis exuded when he was in the NHL would likely not fit in with today's game. He believes it himself, but he also comments that each generation of the NHL possesses its own unique qualities or even eccentricities.
"I would never tell anybody that I could play in the NHL now," Kasparaitis shared. "When I played in my era I was lucky to be there. I always tell everybody that if I played 10 years before, I would've probably gotten killed. Somebody would have hit me with a stick in the head. But if I played now, I'd probably be suspended a million times even though I was hitting clean. I feel that every generation has their own plus and minuses."
The Impact of His Return on Lithuanian Hockey
There is a bigger picture to Kasparaitis playing for his country at 45. The only Lithuanians to have played in the NHL thus far are he and Zubrus. With a population of just over 2.8 million people, the country's most popular sport has typically been basketball. The country also has numerous ice rinks available to communities to further fuel hockey and other winter sports, but this has yet to generate more professional Lithuanian players. So could Kasparaitis's return to play for his country spark a newfound growth for hockey in Lithuania?
"I hope so," he said. "I've been trying to do this for the past 30 years. Even when I was representing Russia in the Olympics, I was always representing Lithuanian hockey because I came from Lithuania. I was raised there and my first hockey was in Lithuania."
45-year-old Darius Kasparaitis is back on the international stage! After four seasons in the Lithuanian league he for the first time played for the national team of his native country in an exhibition game against Estonia. Read more about it here: https://t.co/nvV35XzZra pic.twitter.com/zHy6WIoSJv

— IIHF (@IIHFHockey) November 11, 2017
Kasparaitis hopes that more Lithuanians than just he and Zubrus will have played in the NHL. He has been endeavoring to open the floodgates for young athletes in his country. He is still very much viewed as an inspiring hero of sorts to his countrymen. At the same time, he has not lost his will to compete.
"I am always hoping that we can have more Lithuanian players who can play in the NHL. By me participating in the World Championships I want to make a difference but at the same time, like any athlete, you want to perform the best. Even right now when I play, I feel like kids know who I am and they cherish me and they adore me, and it feels good. That they still know who I am. Usually sometimes when you get older they forget about you, but in Lithuania, they still treat me as one of the heroes there."
The Kasparaitis Kids and Their Papa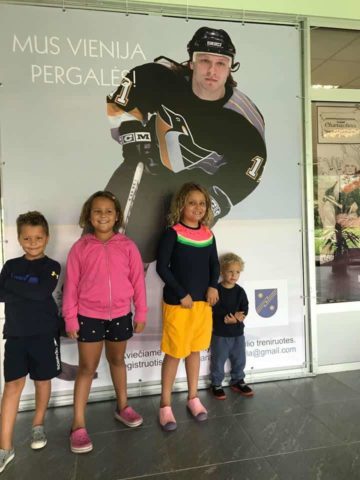 Kasparaitis is a family man through and through. If you follow him on Instagram you will see that he has tons of photos of himself and his family. It is love for family that eclipses his love for hockey. And with six kiddos in tow, you wonder if they realize dad's hockey prowess and the mission he is on to represent his country.
"I don't think they realize it," Kasparaitis figured. "My oldest, she's 20. She's the only one that understands and she's very proud of me, but she's also seen me play in the NHL. But the little ones and the nine-year-old girls, they have the perspective that it's cool but I don't think they really care."
His younger kids get a kick out of seeing dad as a bit of a celebrity. Someday soon they may have the opportunity to cheer for him from the stands and see the admiration that strangers have for their father.
"I think that maybe when I walk with my kids and somebody recognizes me and asks me for my autograph, then they get very excited and proud," Kasparaitis surmised. "They get 'Oh my god, that's cool!' I think that if I can take them and they watch me play and see people cheering for me, maybe they would be more appreciative. But right now they love me for who I am and I don't think they really care. They always ask why do I have to go play hockey in Lithuania? Why can't I just play here? I don't think they understand that I want to play for the national team."
For Kasparaitis, It Is About Dedication
Kasparaitis was all of 19 years old when he first skated in the NHL. A quarter of a century has since gone by. As time has passed he has realized that one concept has had more of an impact on his life and on his career than any other. It is how he goes about fatherhood, and it coincides with achieving this same dream of playing for his homeland.
"I think it's dedication to anything," Kasparaitis shared. "I think being a professional athlete, without dedication, without full commitment, you're not going to succeed. So I think bringing it to my real life and being a dad—you cannot be a half-ass dad because that's not going to work out. I think that has taught me a lot. You have to totally commit to something to have success."
Hockey Has Brought More to Life and to Family
We encounter a wide variety of people throughout our lives and in all possible facets. Family, friends, co-workers, strangers, acquaintances, and teammates. It is the essence of our social makeup. Just because a person is a professional hockey player, it does not mean that he or she does not go through similar experiences. Rather, a career in pro hockey might accentuate the turning of pages and chapters in life.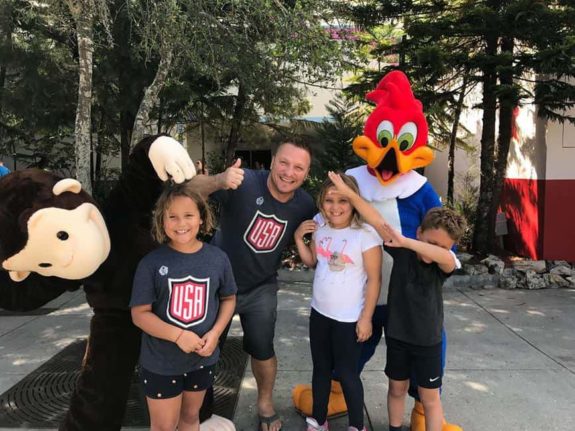 "Hockey made me who I am today, but also made me adapt to a lot of things in life," Kasparaitis further shared. "You go through a lot of teammates and players. In life you meet a lot of people. I feel as long as I have my mind open and try to invite people into my life, and let them be part of my life, I think that I have more. I can share my life more, rather than just close myself off."
A Necessary Pride Entitled to All of Mankind
Kasparaitis takes the life of a hockey player and has applied it to life in general. Hockey lessons are life lessons in many, many ways. Stemming beyond dedication, his accomplishments on the ice help him give himself a mental check if ever he is feeling down. His accomplishments as a hockey player give him reassurance. Do not mistake it for arrogance—it is not that at all. Instead, it is a necessary pride that every human being is entitled to.
"I think hockey gave me a lot. Sometimes I feel that I should have more humility and just let it go, but I still have this thing—I think to myself, 'I play hockey and I have an Olympic medal.' I feel happier to have these crutches to lean on if sometimes I feel insecure or maybe I don't think I'm good enough. Or maybe I feel a little old. So I always like that that's what I did and that's what I am. Which is a good a thing."
Believe it, Darius—you are good enough. See you in April in Lithuania.