When you play in as many NHL games as Dainius Zubrus has you get to experience a lot of things and you get to play with a myriad of players. The memories are priceless and you can bet many young, aspiring hockey players would love to have the longevity and kind of career he has had. He is now in his 17th NHL season and has appeared in 1,104 games for five teams (Philadelphia Flyers, Montreal Canadiens, Washington Capitals, Buffalo Sabres, New Jersey Devils). The large Lithuanian (he's 6'4" tall) has been to the Stanley Cup Finals twice — once in his rookie year with the Flyers and again in 2012 with the Devils — and was on the losing side both times. His best two seasons came with the Caps as he put up 50-points in consecutive seasons when some hotshot rookie entered the league.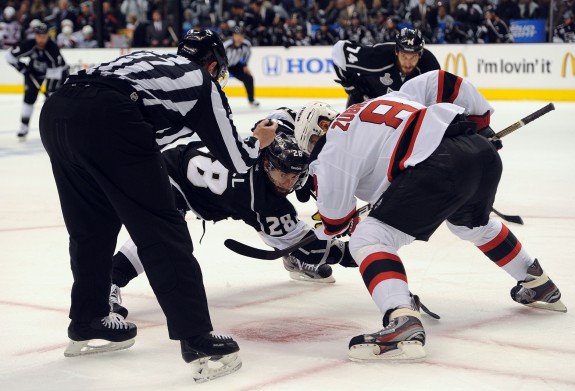 With only 552 career points (210g-342a) some might say his career has been a bust since he was a first round pick (15th overall in 1996), but the 35-year-old Zubrus has been a valuable part of some very good teams that just couldn't get over the hump. At every stop he's made in the NHL he has been teammates with some great superstars: In Philly with the likes of Eric Lindros and Ron Hextall, in Montreal with Saku Koivu, in Washington with Jaromir Jagr, Alexander Ovechkin, Peter Bondra & Adam Oates, in Buffalo with Daniel Briere & Thomas Vanek and in New Jersey with Martin Brodeur, Brendan Shanahan, Ilya Kovalchuk & Patrik Elias.
Recently the Hockey Writers caught up with Zubrus to ask him about his first NHL goal, what it's been like to play alongside some dynamic players and why his teammates call him 'Genius Bar.'
The Hockey Writers: Any reason why you chose to re-sign with New Jersey in the offseason?
Dainius Zubrus: I think highly of this organization, I think every year the management tries to put a team together to win. That's important to me, I'm not 20-years-old anymore; I want to win (a Stanley Cup), I haven't won yet. Just overall I enjoy being a Devil, I like everything about being here and so does my family. There was no reason for me to change.
THW: Do you remember your first goal in the NHL?
DZ: Yeah, it wasn't the prettiest goal (smiles). It was a long time ago, I think 1996, October; I was 18-years-old. It was on John Vanbiesbrouck I believe.
Dainius Zubrus recalls his first playoff experience:
THW: Do you have the puck still?
DZ: Oh yeah, for sure. My mom has it on a wall somewhere.
THW: So rumor has it that you are the resident DJ for the Devils, does that include for the pre game warm-up skate, or is it limited to just the locker room?
DZ: I guess you could call me that; I kind of took over a few years ago. Not so much anymore in the warm-ups, but definitely in the locker room.
THW: I also heard that you are a big gadget guy, big into the Apple products; can you confirm this?
DZ: Well yeah (smiles) the boys call me 'Genius Bar', you know when you go to the Apple store and you need some help, they can troubleshoot you. The boys want to give me a blue shirt.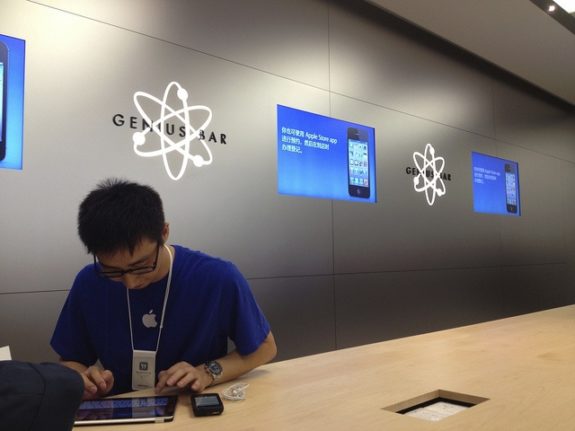 THW: You played on the same team with Jaromir Jagr in Washington and now again here in New Jersey, talk about what that's like…
DZ: We had some good games together and then he went to the Rangers, while I stayed with the Capitals. So now here we are a little bit familiar with each other; it's not a complete new thing for me to play on a line with him as I am now here with the Devils. I know sort of his tendencies a little bit; I've watched him a lot over his career too. For the most part he played in the Eastern Conference, I've played a lot of games against him and I know how good he is. He's still…he's always been very strong on the puck; it's tough to take it away from him. He controls the puck in the opponent's end (of the ice) very well and he has great vision too. I kind of try to do the same when I am playing on a line with him, and we try to keep the puck in their end as much as we can.
THW: Have you noticed and or been amazed at how consistent he has been this year at age 41?
DZ: He has been very consistent, but it doesn't surprise me. His whole career, I mean, look at his numbers (laughs); seeing how hard he works, seeing what he does day-to-day, honestly to me, age is just a number. I see the preparation he goes through; you guys (the media) don't see it but I do. He has been very good for us this year and we are happy he's on our team.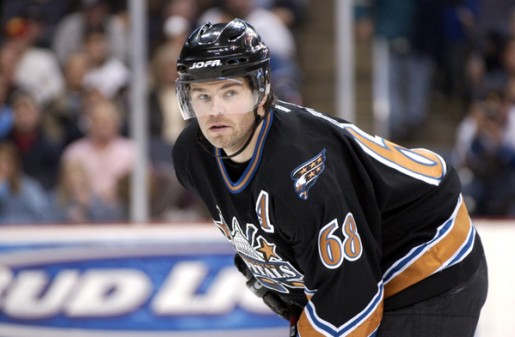 THW: When you were on the Washington Capitals some guy named Alex Ovechkin came into the league; what was that like and how are he and Jagr different or alike?
DZ: I was there his first two years in the league; he's a little bit different player than Jagr is. Their tendencies are different, Jagr likes to protect the puck, control the play. Alex is, I don't want to say a pure goal scorer, but he's a sniper. When he gets the puck on his stick in our end, he will shoot it. From anywhere; and he shoots it as hard as anybody. It's tough to compare the two, but they are both great players. Even though they are at different times in their careers, but I'm happy that Jags is back — not in Europe wasting time; he's back in this league again.
Dainius Zubrus & Jaromir Jagr work together & set up Travis Zajac for a nifty goal:
THW: Can you imagine what his career numbers would be like if he didn't play in the KHL for a few years?
DZ: Of course it would have been good, I mean he's consistent, he does what he does, I'm sure when he was there he was doing the same preparation and that's why he's in good shape, why he's able to do this at his age. It would have been interesting to see what would have happened with his total numbers if he had stayed in the NHL.
Dan Rice can be reached via Twitter: @DRdiabloTHW or via Email: drdiablo321@yahoo.com
Dan Rice is in his 9th year of reporting for THW & has covered NJ Devils home games for 15+ years at various websites. He began his journey working for legendary broadcaster/writer Stan Fischler from 2002-04 & completed an internship at the ECHL; he also has been writing features for the NWHL (nwhl.zone) website since 2016.