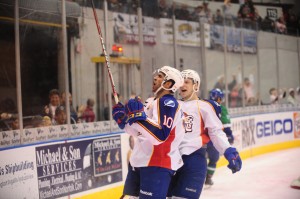 It's a memorable moment in an athlete's career when they win a championship so when they get the opportunity to come back and play in the city that propelled them to a title it's always a date they circle on their calendar. Mike Angelidis was the Captain of the 2011-2012 Norfolk Admirals, the team that won the Calder Cup–the American Hockey League's Holy Grail.
Angelidis recently returned to Norfolk competing in back-to-back contests in the town he called home during that magical season; however; this time it was different. He was the enemy wearing blue and white, the colors of Tampa Bay's top development team the Syracuse Crunch.
The Calder Cup is still a topic that Angelidis talks about. "It's only been two years, it's still fresh. It's always nice to come back and see all the great people in this community,"  said Mike on his return trip to Norfolk with the Crunch.
Returning to Norfolk is a homecoming one could say for the eighth year pro out of Toronto who shared what he looks forward to on his return trips to Scope, the home of the Norfolk Admirals. "I look forward to seeing all the fans. We made a lot of friends here. We made friends at the restaurants. We had a lot of people here who we were close too. It was a magical year and you make a lot of good friends."
The 1985 born forward spent two seasons living and working in downtown Norfolk so there are certain places he stops in to catch up with the locals. Mike commented on some of places he visits when he returns, "They are always spots we go to when we are here. We will go to Bodega's, Nana's, Scotty Quixx, and Hell's Kitchen. We have a lot of friends there."
There is one spot in particular that Angelidis holds close to him and that is the local coffee shop aLatté Café which is situated in the heart of downtown Norfolk.  "Angie" as he is known in the hockey community noted that the team went there for chapel which he always thought highly of.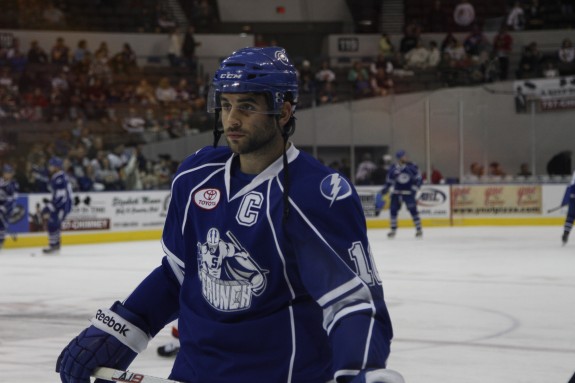 When the left-handed shot strolls down Granby Street, an avenue where he frequently rode his longboard, he is often recognized. "When I go into certain places I will be recognized. We still keep in touch with them. We always run into someone on the street. It was great making a lot of friends here," chatted Angelidis.
When the Lightning uprooted their AHL affiliation from Norfolk to Syracuse after the 2011-2012 season, his fan-base changed. Angelidis chirped about the two fan bases, "They're both good cities for fans. Syracuse gets a good draw. A lot of people come from far out. It's the same here in Norfolk. We were having sellouts that 2011-2012 year. Both cities get good fans and it's the same in Syracuse. You have your loyal fans that come out and support you all the time."
Angelidis also listed some things he misses about being in Norfolk, "Going to the beach, the weather was always nice and the people were always nice and the fans were great. I miss the longboarding, that's for sure. I can't say anything bad about Norfolk. It was a great time and great city."
The current Crunch Captain started last season with Syracuse and didn't get to see the 28 game win streak and Calder Cup banners drop from the rafters. Angelidis spoke about what those two banners mean to him, "When I look at them, it brings back all the memories. I wish we were here to see it. Every time I look at them it reminds me of how amazing and how special that year was. It's tough to let go sometimes. It was a huge and special moment for everyone on that team. It helped guys get to the NHL. It was great for the community. When we went to the end of the year rally it was amazing to see all the people celebrating and it will be in our hearts forever."
So whenever Mike Angelidis is back in Norfolk he will always look up at the banners and reminisce about the memories and friends he made during his tenure in Norfolk.
Follow Ted on Twitter @Bauerhockeydude
Ted grew up in Virginia. Warren has a passion for the AHL and dishes out articles about the Norfolk Admirals and the AHL. Follow him on Twitter @bauerhockeydude