This season, The Hockey Writers will have a recurring "Three Takeaways" feature after every Columbus Blue Jackets matchup, meant to serve as postgame quick hits.
1) Contract Relief for Cam Atkinson
The Blue Jackets officially extended forward Cam Atkinson's contract Friday morning with a seven-year, $40.25 million deal.
It was a huge relief for the 28-year-old, and it showed in Friday night's 2-0 win over the New York Rangers.
"I felt light; I felt good," Atkinson said after the win. "I was confident, definitely, with and without the puck. It felt like my legs were pretty light, which is nice [because] that hasn't happened for the most part of the season. I'm happy and that's the most important thing. When you're happy, you play kind of loose and let your offensive instincts take over."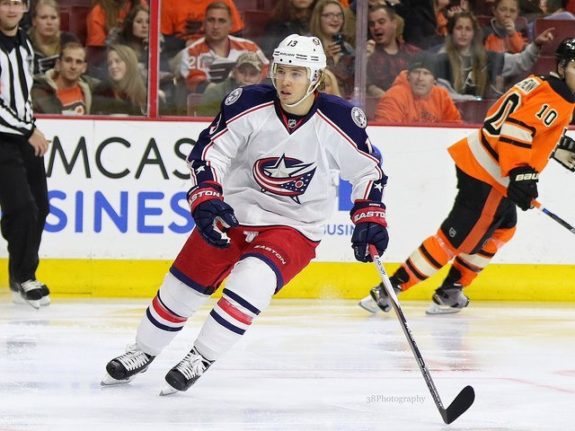 Even Blue Jackets head coach John Tortorella thought Atkinson was a new player after signing the deal.
"It's the most energy I've seen him play with all year long," Tortorella said. "I thought the organization did a great job. It's a great deal both ways. They treated Cam with respect and I thought that [tonight] was the best he has played all year long."
The rest of the Blue Jackets fed off his energy as Atkinson threw everything he could at the net. He finished the game with 10 shot attempts–something he said was on par with the style he wants to play moving forward.
"Everyone [on the team] knew I was buzzing," Atkinson said. "It was an exciting day. Hopefully I'm back to playing the way I know I can play and get back to scoring goals."
The Blue Jackets' players, personnel, and fans hope Cam is right about that, and they will need him to be back on his game for the entirety of his new deal.
2) Defining The Blue Jackets' Identity
With Atkinson getting back to his typical self, the Blue Jackets showed signs of the team they want to be in Friday's win.
Tortorella said he posed a question before the start of Friday's game: who are we?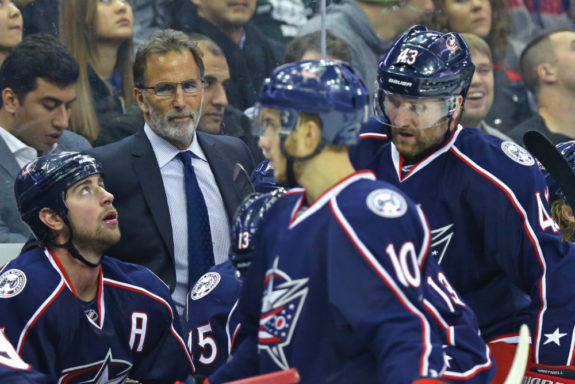 "I think that is the biggest thing I have my eyes set on at the quarter way through of the season: we have to straighten out who we are," Tortorella said after Game 20. "We can talk about it, we can show tape about it, but we have to play like who we are."
What does that look like, exactly?
"We need to be under the hash marks," Tortorella said. "It was the major point of emphasis in our pre-game meeting. It's not about making plays to the hash marks, it's about getting in. That's the most we have been there in the past few games. You could see the concentration of the guys of trying to get the puck there. They're thinking that way."
Werenski also said the Blue Jackets took a step forward in their identity Friday night.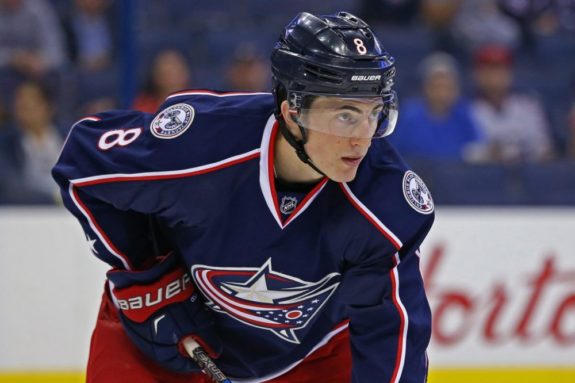 "When you're playing like we did in the D-zone [Friday], we're being stiff and creating turnovers," Werenski said. "We're such a fast team when we play that way. We weren't happy with the way we've played lately, and we wanted to prove something out there.
"It's the kind of team we are and the way we need to play," Werenski reiterated. "We got away from that in the last 10 or so games and it hasn't worked out for us. That's what we need to get back to and the way we need to play. It's awesome when we do play that way, and we're going to look to continue to play that way moving forward."
Forward Brandon Dubinsky said that it is about doing those things day in and day out.
"We're getting back to who we need to be," Dubinsky said. "Now, it's about trying to be more consistent with it day in and day out at practices and games. You see what we can do. We talked about how when we're forechecking and reloading, we're generating opportunities and making it tough. We get bounces and luck on our side when we're working. We got out of our zone, we worked and it made a huge difference."
Related – Blue Jackets 3 Takeaways: Self-Evaluation & Panic
3) Power-Play Prowess from Artemi Panarin
After going 0-for-19 on the power play dating back to Nov. 2, the Blue Jackets' power play—and Artemi Panarin in particular—finally broke through.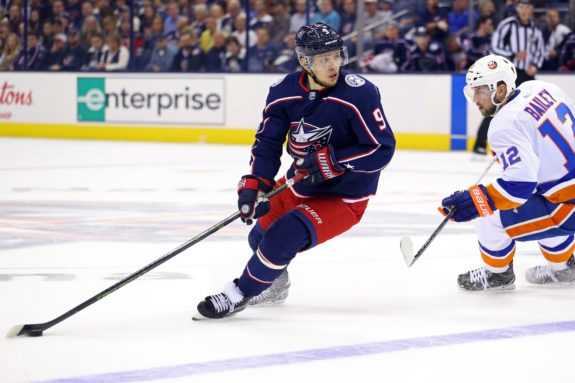 So, what was different about the power play on Friday night compared to past nights?
"We kept it simple," Atkinson said. "When there was a play meant to be there, we made it. We got shots through. It's amazing when we shoot the puck how much we get it back. That's the most crucial thing: keep it simple, have fun and seams are going to open up eventually, but just get pucks through and break them down. That's what we did and it paid off."
Additionally, Dubinsky added that a power-play goal, especially for a player like Panarin, is a confidence-booster.
"Hopefully it gives us some confidence out there," Dubinsky said. "These guys are great players. Sometimes, it just takes a break. It's a working goal—it's not your typical set-up-in-the-zone-type of goal—but we won a huge battle along the boards there and find Breadman there in the middle. With his skill, he made no mistake about it. That's the kind of player he is."
That said, Panarin and his partners hope to keep the power play powered through the remainder of the season. The Blue Jackets will need it if they want to position themselves at the top of the Metropolitan Division and in the playoff picture at the season's end.