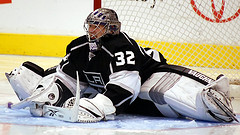 It required 28 games of the 2013 regular season, but Darryl Sutter's patience with Jonathan Quick has finally paid dividends. Quick was the well deserved recipient of the Conn Smyth Trophy last season, after permitting just 29 goals in LA's 20 playoff games. He also attained an exceptional 1.41 goals-against average, and a .946 save percentage during the postseason. He was arguably the team's best player in 2012, and deserves everlasting accolades for all that he accomplished while helping his team secure its first Stanley Cup in franchise history. In addition to that lustrous resume, he is a team player in every respect. Always reluctant to receive praise, yet fast to hold himself accountable when the results are not favorable.
All of which created a certain level of hesitation on the part of most observers and Kings fans, to criticize Quick for many of his underwhelming performances during the initial eight weeks of the 2013 regular season. But those negative comments were based solely upon what he had done in the aftermath of  last year's captivating success. And they were certainly warranted.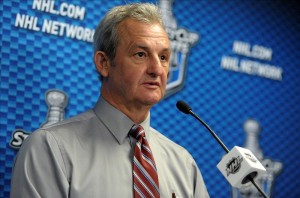 Darryl Sutter utilized Quick as LA's starting goaltender in 21 of the Kings' first 27 contests, even though the results were often unfavorable. Prior to facing the Coyotes on 3/18, Quick had recorded wins in just nine of those 21 games, while losing eight times. And his numbers had degenerated sizably in comparison to last season. A whopping 39 goaltenders had a better GAA than the 2.69 that he possessed. And a nearly unbelievable 61 goalies managed to achieve a higher Sv% than his unsightly .891. Quick led the NHL in a dubious category, by generating eight games with a -.850 Sv%. Plus, that .946 Sv % from 2012 appeared even more distant, because he had only managed a .950% in four contests this season. Even though the Kings had suffered defensive lapses that left him vulnerable on some occasions, shots that he would have engulfed last season were slipping beyond him in unsettling fashion.
Perhaps the most symbolic setback that exemplified his season occurred in Detroit on 2/10. The Kings generated an exhaustive effort to tie the contest with 52.8 seconds remaining in regulation, and appeared to have secured at least one critical point in the standings. But Quick allowed an extremely soft goal with a mere 4.5 displayed on the clock, which resulted in a heartbreaking loss for LA. Teammate Jonathan Bernier was then elevated into the starting slot for the Kings' road encounter the following night in St. Louis. He responded by stopping 21 of 22 shots, as his performance helped launch a sequence in which the Kings won seven of eight contests. Five of which occurred when Bernier was anointed as the starter between February 11 and March 4. In each contest, he allowed just one goal, and registered a win. LA's lone loss during that stretch occurred in Vancouver, when Quick allowed five tallies to the Canucks.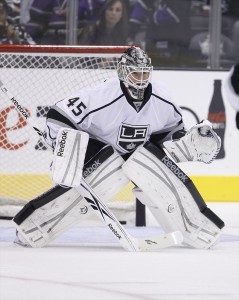 However, Sutter's employment of Bernier was brief, and his belief in Quick was unrelenting. Particularly when Bernier delivered his lone unstable start this season against St. Louis on 3/5. Sutter pulled him after three goals were generated on the Blues' first eight shots. Quick resumed duties in net from that point forward, but only managed a save percentage above .900 once in the Kings' next five contests. Sutter's staunch reliance upon Quick appeared to backfire, when the head coach decided to employ him in both games during back to back contests on 3/11 and 3/12. Quick surrendered several more questionable goals in a 5-2 loss at Phoenix during the 3/12 encounter, as the result abruptly terminated the momentum that had been gained during a two game winning streak.
Since Sutter is on record on stating that "we need a goalie to get hot", it appeared likely that he would return to Bernier, who had been exactly that almost without fail this season. He currently has allowed just one goal in six separate contests, which remarkably ties him for fifth among all goalies in that category despite his limited participation this season. His 1.94 GAA is also the NHL's fourth best among goalies with at least seven appearances. Plus, his strong performances on 2/11, 3/4 and 3/16 helped direct the Kings to victories immediately following losses by Quick.
Surprisingly, Sutter eschewed a return to Bernier two nights later, and instead kept Quick as his starter for LA's next contest at San Jose. Unfortunately, Quick delivered another alarmingly disappointing performance, and was then benched after allowing three pucks into the net among San Jose's initial 12 shots. When Sutter decided that Bernier should return to the lineup for the Kings' return engagement against the Sharks on 3/16, his strong performance was instrumental in helping LA secure a much needed victory. It was the third time that a Bernier win had helped reverse the team's momentum, following a loss by Quick. Yet, Sutter once again jettisoned Bernier to the bench, and reinserted the struggling Quick back into the lineup for the Kings' game with Phoenix on 3/18.
The result was a reminder why Sutter is a highly respected coach, whose exceptional decision making guided the Kings to last season's Stanley Cup. His belief in Quick paid dividends, as his goaltender's magnificence suddenly returned. He registered his first shutout of the season, in a dominant 4-0 victory that was vastly reminiscent to what we witnessed throughout 2012. Even though it occurred in his 22nd appearance of the year, the record will forever reflect that Quick blanked the Coyotes. And his level of effectiveness possessed an unmistakable resemblance to the type of brilliance that he routinely registered last season.
While one performance certainly does not in itself demonstrate that last season's Conn Smyth Trophy winner has now returned to his previous degree of dominance, Quick should be commended for his accomplishment. As should his head coach, whose persistence proved to be highly appropriate.