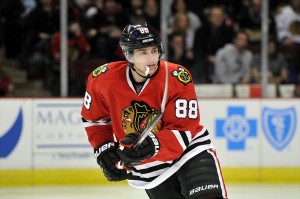 Previous Previews:
In the 2010 Vancouver games, Team USA beat the Canadians in the preliminary round and brought them to overtime in the gold medal game, before Sidney Crosby famously won it with a sick wrist shot from the left circle. At the time, no one expected the Americans to even make it to the final game with a mostly young team in transition.
What the critics soon learned is that the USA hockey program has been pumping out a steady stream of brilliant young netminders, two-way defensemen, and forwards matching physicality and skill over recent years.  In the World Junior championships, the Americans have won gold twice in the past four years. In the spring, the top overall draft pick is likely to be defense prodigy Seth Jones, hailing from Texas, of all places. Has the Americans' time come to rise to the top of the hockey world?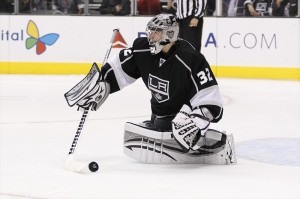 Goaltending
Starter: Jonathan Quick
Back-Up 1: Ryan Miller
Back-Up 2: Craig Anderson
Going into last season, Quick was perhaps the most underrated goalie in the NHL, but winning a Stanley Cup has put him on the map as one of the top puck-stoppers in the world. No one gets post to post faster, and his big-game acumen was proven in one of the finest post-season runs a goalie has had in recent memory.
Quick will be usurping Miller, who was brilliant starting for Team USA in the 2010 games. Miller went on to win the Vezina that year, but injuries have dimmed his star a bit in recent campaigns. Anderson opened the 2013 season on fire for Ottawa before being sidelined with injuries of his own. Still, no nation can boast a deeper top three between the pipes than the Americans.
Grade: A+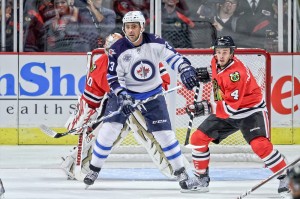 Defense
D1: Ryan Suter – Dustin Byfuglien
D2: Ryan McDonagh – Kevin Shattenkirk
D3: Keith Yandle – Jack Johnson
Spare: Brooks Orpik
Byfuglien is the complete package on D. There is no harder hitter in the league, and at 6'5″ and 260 pounds his terrific skating ability create a rare size/speed combination. Add in Big Buff's offensive skill and competitiveness and you have one of the best d-men on earth. Then add Ryan Suter to the top pairing. Suter was brilliant in the 2010 games, brilliant for years in Nashville, and continuing his brilliance in his first season in Minnesota. Thus far this year, Suter leads NHL blueliners in scoring when many critics predicted him to fail without Shea Weber as his partner.
McDonagh has blossomed in recent years into one of the top handful of shut-down defensemen in the NHL for the New York Rangers. Meanwhile in St. Louis, Shattenkirk has bloomed into one of the top puck-moving blueliners in the league. They will compliment each other on a sterling second pairing.
On the third pairing, Yandle's offensive skills made him one of the top-five scoring d-men in the NHL over the past three seasons. The sometimes polarizing Jack Johnson sometimes makes mistakes going for the big hit or game-breaking offensive rush, but his terrific play was crucial for the Americans in the 2010 games.
If the USA needs more defense against the skilled forwards of Canada, Russia and Sweden, Orpik is the shut-down man in Pittsburgh and can ably sub in for Yandle or Johnson. Cumulatively, the Americans may lack the sheer star-power of Canada or Sweden, but their blueline offers an elite juxtaposition of defensive thunder and offensive lightning.
Grade: B+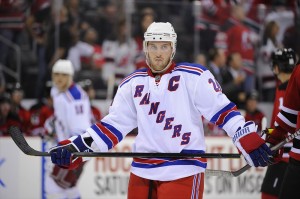 Forwards
First Line: C David Backes – LW Zach Parise (Team Captain) – RW Patrick Kane
Second Line: C Joe Pavelski – LW Max Pacioretty – RW Bobby Ryan
Third Line: C Ryan Kesler – LW Dustin Brown – RW Ryan Callahan
Checking Line: C Derek Stepan – LW James Van Riemsdyk – RW TJ Oshie
Spares: RW Blake Wheeler, C Alex Galchenyuk
Team USA's top line can match up with anyone's. Parise is not just an elite scorer and leader, but also an outstanding defensive forward and penalty killer. His clutch late goal in the 2010 gold medal game got the Americans to overtime and caused more wide-spread fear than anything in Canada since that rumor that Tim Horton's was going out of business. Kane has perhaps the best hands in the NHL and is a leading candidate for MVP this year. Backes is a shut-down defender as good as any in the league, hits like a truck, and has more offensive skill than people realize — the huge and hugely underrated pivot will create a great deal of space for his smaller line-mates.
On the second line, Pacioretty and Ryan are both big, young power forwards with several 40+ goal seasons still ahead of them. Pavelski is a face-off stud, a two-way center who threatens 30+ goals and 70+ points on an annual basis for the San Jose Sharks.
With their third line, the Americans can assemble the hardest-hitting line in the history of international hockey. Kesler, Brown and Callahan all like to throw the body, all play ferocious defensive shut-down roles, and all are capable of scoring 25-30 goals per year. If the modus operandi of the American team is balance, no line in the tournament will be more representative of this than a line of Canucks' star Kesler, Stanley Cup hero Brown, and the NHL's ultimate hustler, Ryan Callahan.
On the checking line, Stepan has become a two-way force this year for the Rangers, while Van Riemsdyk is scoring like an elite power forward for the Maple Leafs. Oshie is another tough, well-rounded, two-way player who likes to throw the body around. If needed, Wheeler is huge and skilled, while Galchenyuk is a prodigal talent who represents the future at center for Team USA, though he will be barely 20 at the time of the Sochi Olympics. Consummately, there are forward groups with more skill, but none with more two-way acumen, character and physicality than the Americans' group.
Grade: A-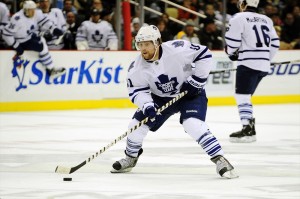 Why I Left Them Off/Put Them On
Though I am certain to get "Kesseled" by the Maple Leafs' Mafia, the strength of the American forwards is that virtually every player in their group of forwards is well-rounded, plays offense. defense and can hit. Kessel's all-offense repertoire does not fit this mold, which will be the strength of their team. Though Patrick Kane is also strictly an offensive weapon, his skill-set is far superior to Kessel's.
It would be wiser to have Galchenyuk coming off the bench. If the Americans have one weakness up front it is that they have no elite offensive centermen. Galchenyuk oozes potential to fill this hole in the future, but he still offers an upgrade up the middle if the Americans need one in Sochi.
Many hockey fans thought Erik Johnson would become an elite d-man after being selected first overall in the 2006 entry draft. Though solid, he has not. It would be preferable having Orpik coming off the bench, or perhaps Kings' shut-down specialist Rob Scuderi.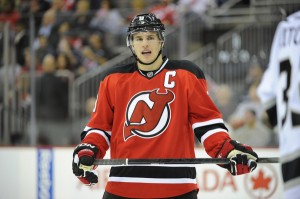 Prediction: Gold Medal
You heard it here first: Team USA will win the gold medal in the 2014 Sochi Olympic Games. Though lacking the offensive skill of Canada, Russia and Sweden, they are a hockey team through and through. All four offensive lines and all three defensive pairings can score, shut you down, and play the physical game at an elite level. Mix that in with perhaps the top goaltending depth in the world, and Team USA will be golden in 2014.