Dave Bolland has arguably been the Leafs MVP through 12 games. Yes Phil Kessel is absolutely on fire and leads the team with 14 points. James van Riemsdyk is turning into a tremendous power forward and has 11 points to show for it. Joffrey Lupul is proving to be a dynamic offensive player too. But Bolland has been as clutch as any of them while at the same time plays the toughest defensive minutes of all the forwards.
Dave Bolland's value to the Maple Leafs is so high it's ludicrous. His value in a close game skyrockets. He's CLUTCH. http://t.co/lXd3hxlI0n

— Dame (@99_Dame) October 27, 2013
Was he expected to do this well when he was traded for at the NHL Draft? Most certainly not, as, at the time, fans and media alike were left scratching their heads as to why Nonis acquired a center who was certainly not going to be filling the #1 spot beside Kessel (at the time Bozak hadn't been resigned).
On Saturday night against Pittsburgh not only did Bolland shut down the Crosby line, but he provided offense as well with a shorthanded and an empty net goal. He played over 22 minutes and was 17-for-31 on faceoffs (55%) including 12-for-22 against Crosby.
Bolland Scoring Totals a Bonus
Dave Bolland was going to struggle to fill the Grabovski void. He couldn't produce last season and he spent ALL HIS 5-ON-5 TIME WITH KANE.

— Sean Gentille (@seangentille) September 10, 2013
Dave Bolland played all but 33 minutes of his 5-on-5 hockey with Patrick Kane this year, so what's Dave Nonis saying? http://t.co/rUKbzfCcvG

— Jesse Spector (@jessespector) July 9, 2013
Clearly, at the time of the trade, plenty of Leaf fans didn't agree with the decision to replace Grabovski with Bolland. It is true that he did spend most of last season playing with Patrick Kane, a bona fide star, as well as Patrick Sharp, another offensive dynamo, yet Bolland put up a measly 14 points in 35 games. Which is what left Jesse Spector, writer for Sporting News, to correctly question Dave Nonis' statement that, "[Bolland will]…probably be put in more of a prominent role with us than he was in Chicago." Can it get more prominent than playing with Kane and Sharp? He was also given more than two minutes of powerplay time per game playing with Kane and Sharp during the regular season.
Fast forward to this year, where most expected Bolland to simply play a good shut down game, yet he has 10 points through 12 games. That is a bonus for someone who has never scored 20 goals or 50 points in an NHL season. Take a look at this rocket of a shot though and tell me he doesn't know how to find the back of the net:
So who is he producing with in Toronto? The short answer is everybody, as he has had just about equal ice time with Lupul, McClement, Raymond and Leivo; all different types of players. Basically, Bolland is getting very similar ice time to what he was getting last season (16:48/game vs. 16:20/game last year) but with worse linemates and yet he has far superior scoring totals. He's even getting less than half the powerplay time he was getting under Quenneville. A head scratcher isn't it?
One thing the stats say however is that it probably isn't likely to last. He has a 25% shooting percentage (six goals on 24 shots), which is the 8th highest in the NHL for players with more than four goals. His career shooting percentage is 14.9% (still high in itself).
Bolland the Shut Down Man
Along with Phaneuf, Gunnarsson, and (strangely enough) Mason Raymond, Bolland has been tasked with shutting down the opposition's top players night in and night out.
The stat that illustrates this is Relative Corsi Quality of Competition (Cori Rel QoC). For those who recall, Corsi refers to all the shots directed at the opposing goal, including missed and blocked shots. On-Ice Corsi is the shot differential of all goals, saves, missed shots and blocks. Cori Rel QoC refers to the weighted relative Corsi of a players opponents. By taking into account how high a player's opponents Corsi is, it gives a clearer picture of that player's own Corsi rating.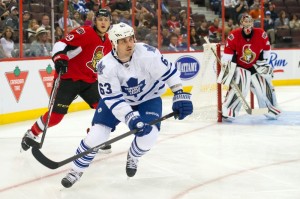 For example, Carter Ashton has the highest On-Ice Corsi rating of all Leaf players this season at 12.51. This mean's he directs a lot of pucks to the net when he is on the ice compared to what he gives up. But other than Jamie Devane, he faces the easiest competition, as he has the second lowest Cori Rel QoC (-5.563). This is because he plays primarily on the fourth line.
What's impressive is that Dave Bolland has the fourth highest On-Ice Corsi on Toronto (-3.61) but faces the second toughest competition of all the forwards with a rating of 2.987 (this doesn't include Clarkson and Abbott who have only played a couple games). In fact, his Cori Rel QoC is the 8th highest in the entire NHL for players who have played more than two games.
In short, Bolland has one of the highest puck possession ratings on Toronto (who remember, don't really play much of a puck possession game to begin with) even though he faces the toughest opponents. The best way to shut down an opponent? Not let them have the puck, which isn't easy to accomplish, even if it's only been 12 games. Good on you Dave Bolland and let's hope you can keep this up.
*All Corsi stats above courtesy of www.behindthenet.ca, a great place to find all your advanced hockey stats
** Line Combos above courtesy of Dobbersports Frozen Pool, which offers line combos, line production, matchups and much more