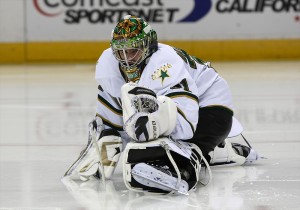 Another game, another loss for the Edmonton Oilers. But somewhere, in the midst of the wilderness, a light shines from the Oilers crease. A diamond in the rough perhaps? An underrated pick-up that may help solve the team's goaltending woes? Well it's only been one game so don't get too excited, but Richard Bachman's 47 save performance was one that deserves some discussion.
With Devan Dubnyk nursing an ankle injury, the Edmonton Oilers called up former Dallas Stars back-up Ricahrd Bachman from the AHL. Good plan. Bachman was spectacular and kept his team in this game. They got a loser point out of it, when they probably should have lost in regulation. The performance had some fans suggesting that Dubnyk take his time getting healthy. Bachman's coach and teammates were equally impressed.
"Bachman was excellent… he was square to the puck and the puck was sticking to him. He really settled our team." – Coach Eakins

— Edmonton Oilers (@EdmontonOilers) October 28, 2013
"He did a fantastic job. They're a tough team to play against for a goalie… it was a great performance by him." – Ference on Bachman

— Edmonton Oilers (@EdmontonOilers) October 28, 2013
"Obviously we wanted the win, but that was a good point for us… Bacher was great for us tonight, kept us in the game." – Gordon

— Edmonton Oilers (@EdmontonOilers) October 28, 2013
So now who exactly is this Richard Bachman? Well he's a veteran of 32 NHL games, all with the Dallas Stars organization. He has a record of 14-10-1 with a career GAA of 2.94 and save percentage of .901 coming into this season. A reliable back-up, numbers that don't jump off the page at you. But is the 26 year-old ready for a bigger role?
Jason Labarbera was a great back-up, particularly during his years in Phoenix. But he hasn't impressed thus far during his tenure with the Oilers. Dubnyk has played much better of late. It makes a lot of sense to send down Labarbera and keep Bachman on the roster, especially after his debut last night. Oilers fans are used to disappointment, so they're probably waiting for the other shoe to drop and Bachman to start underwhelming. But he deserves another chance, much more than Labarbera does.
Is Richard Bachman really the answer in Edmonton? It would be a really nice story. Devan Dubnyk is a UFA this summer, as is LaBarbera. The Oilers have nice goaltending prospects. Unfortunately, we just haven't seen enough of Bachman to know what he really is, and this might end up being another Dubnyk situation. Hopefully for Bachman's sake he gets another shot, and gets a real chance to show what he's worth. He's the best they've got at this present moment.
Yak City is Alive
It took a while, but much maligned forward Nail Yakupov finally found the back of the net, scoring the Oilers only goal last night against the Kings. With constant trade speculation and rumors swirling, it had to feel good for Yakupov to notch his first. He barely celebrated afterward, which can mean one of two things: he learned from last season to temper his excitement, or he was just really relieved to get the monkey off his back. Here's one thing Oiler fans can be sure of: Nail Yakupov won't be traded for any sort of package involving Thomas Vanek, at least not right now.
The Buffalo Sabres traded Vanek to the New Islanders for Matt Moulson, a first round draft pick and a second round pick. Interesting trade for the Islanders, who have no trouble scoring goals, but are a little shaky on defense. Vanek is a UFA this summer and there was no deal in place for him to re-sign in New York. But the Islanders are an exciting team. Perhaps playing with John Tavares and fellow Austrian Michael Grabner might entice him to stay. Don't worry Oiler fans. Ryan Miller is still available.
Nugent-Hopkins Avoids Scary Injury
Ryan Nugent-Hopkins had just recently returned from a shoulder injury and was playing quite well until a nasty hit sent a scare into Oilers nation. Kings forward Kyle Clifford stuck out his knee during a hit and caught RNH, who needed help to get off the ice. He would eventually return, no worse for wear, and the team is hopeful there are no lingering effects. Head shots seem to get all the attention in the NHL these days, but knee on knee hits should be looked at a lot more carefully. They are reckless and dangerous and could end a guys career.
There was no penalty on the play. Ryan Jones came to his teammates defense, fighting Clifford later on the game. If RNH is hurt in any way, it would be yet another huge blow to what has been a tough year so far in regards to injury. Taylor Hall and Sam Gagner are both still on the sidelines. This team hasn't been fully healthy yet, and it always begs the question as towhat the real line-up can do over the course of a season. But it's hard to find a team who doesn't battle injury, and no one will ever feel sorry for Edmonton.
The Oilers have games at home against the Maple Leafs and Red Wings this week before heading back out on the road.
Marcy, a former hockey player, is a hockey correspondent on CTV News and TSN radio. She began her career as a Sports Journalist in 2009 and has been part of The Hockey Writers since 2010, where she is currently a senior writer and editor.